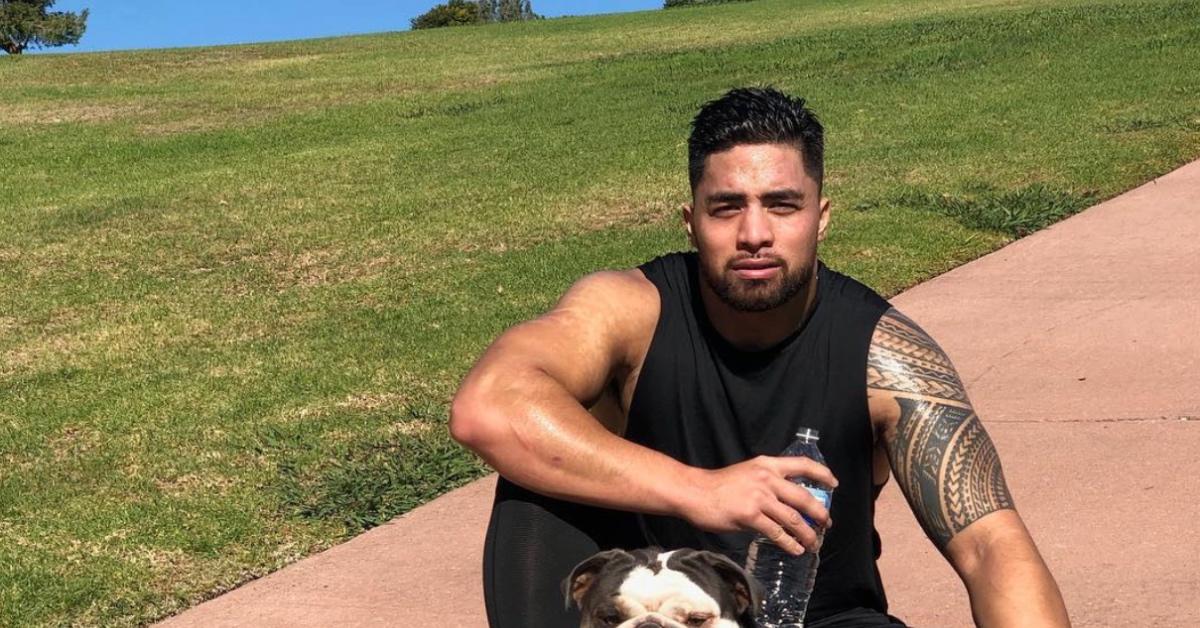 'The Girlfriend Who Didn't Exist' Revisits Manti Te'o's Curious Tale — Where Is He Now?
A two-part documentary series on Netflix titled The Girlfriend Who Didn't Exist revisits the catfishing scandal involving Manti Te'o, the former NFL player who became embroiled in a false relationship in January 2013. Now that it's been almost a decade, what is Manti's life like? What has the athlete been up to?
Article continues below advertisement
'The Girlfriend Who Didn't Exist' explores Manti Te'o's years-long relationship with Lennay Kekua.
Manti Te'o first started talking to Lennay Kekua on Facebook in 2009. Lennay introduced herself as a student attending the Stanford University, excusing herself from in-person meetings because of her geographical location. Manti and Lennay stayed in touch for several years.
Article continues below advertisement
"That wasn't the culture back then," Manti explained in The Girlfriend Who Didn't Exist. "In 2009 ... there's no such thing. Nobody knew anything about catfishing."
Unbeknownst to Manti, Lennay's profile was created by Naya Tuiasosopo. Naya was experiencing gender dysmorphia, and the internet afforded her the opportunity to project an idealized version of herself.
"Being a natural-born male, I could never be what I wanted," Naya said in The Girlfriend Who Didn't Exist, via the Independent. She explained, "And so I created this whole fictional character." Back then, Naya used the name Ronaiah in her day-to-day-life. She has come out as a trans woman since.
Article continues below advertisement
"[The profile was] something where I can act upon what makes me happy," she said. "I knew what was right and wrong. But I was too far in love with being looked at in this way."
Article continues below advertisement
Naya tried to quit the project several times. She claimed that Lennay died in a car accident. Another time, she said she was diagnosed with leukaemia, and that she was dying. She would ask relatives to call Manti on the phone. One time she introduced herself as a worried relative of Lennay's, claiming that she was standing next to her hospital to facilitate a call with Manti in this way.
Naya stopped talking to Manti in September 2012. According to some accounts, she informed him of the decision within six hours of his grandmother's passing. Other outlets state the conversation took place in a few days. The pro footballer tried to draw strength from the horrific losses, delivering his best performances on the field in the aftermath of the tragedies. He cited grief as a source of motivation in media appearances, which is how it came to be described as a hoax.
Article continues below advertisement
What is Manti Te'o up to these days?
Manti Te'o attended the University of Notre Dame between 2009 and 2012.
He earned eight national awards during his time at the Notre Dame Fighting Irish football team. In 2013, the San Diego Chargers drafted him on the No. 38 overall place in the second round. He played for the team for three years, signing with the New Orleans Saints in 2017. In 2020, he joined the Chicago Bears. Manti joined the active roster of the team in January 2021.
Nowadays, Manti frequently posts about his family online. On occasion, he also shares content about his training sessions. Manti married Jovi Nicole Engbino in an intimate beach-side wedding in La Jolla, Calif., on August 28, 2020. They share a daughter, Hiromi. They are expecting their second child. Hopefully, he has been able to put the whole catfishing incident behind him.