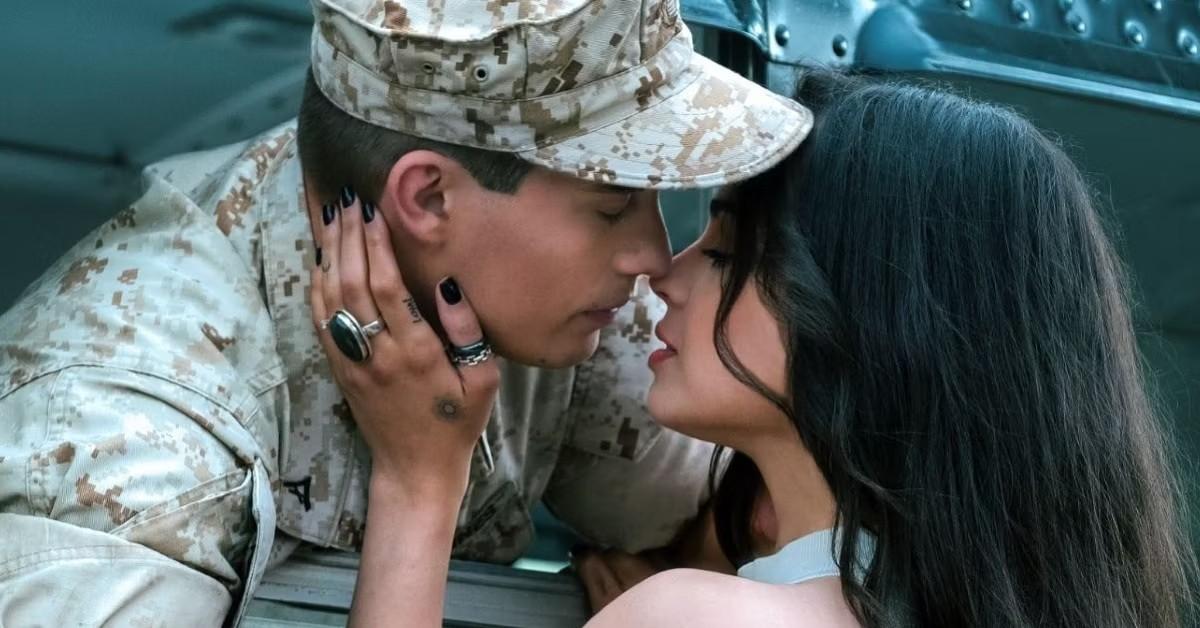 What's the Controversy Behind Netflix's 'Purple Hearts'? Prepare for "Propaganda," Viewers Say
Streaming giant Netflix's newest sappy love story is yet another film that plays on the fraudulent marriage trope — this time from a military standpoint (hence the title). From director Elizabeth Allen Rosenbaum, Purple Hearts follows an aspiring musician who "agrees to a marriage of convenience with a soon-to-deploy Marine, but a tragedy soon turns their fake relationship all too real," as detailed by the official synopsis.
Article continues below advertisement
See, Cassie Salazar (Sofia Carson) marries U.S. Marine Luke (Nicholas Galitzine) for a year of health insurance, as she suffers from type 1 diabetes (the film being praised for depicting it accurately). She's a liberal, dedicated artist, one who refuses to let her soul die at a traditional 9-to-5 job. When she's not working on making her music career a reality, she's a hostess and teaches piano lessons when she can, neither job being one that comes with benefits.
So why is conservative, macho, traditionalist Luke marrying to-the-left Cassie? Well, the recovering drug addict is seeking a life with structure, a life that will earn him his father's approval. Oh, and he owes his former drug dealer Johnno (Anthony Ippolito), like, a lot of money. But when Luke is injured in Iraq, he's sent home to be with his real fake wife, and soon enough, real real feelings develop between the two opposites.
Article continues below advertisement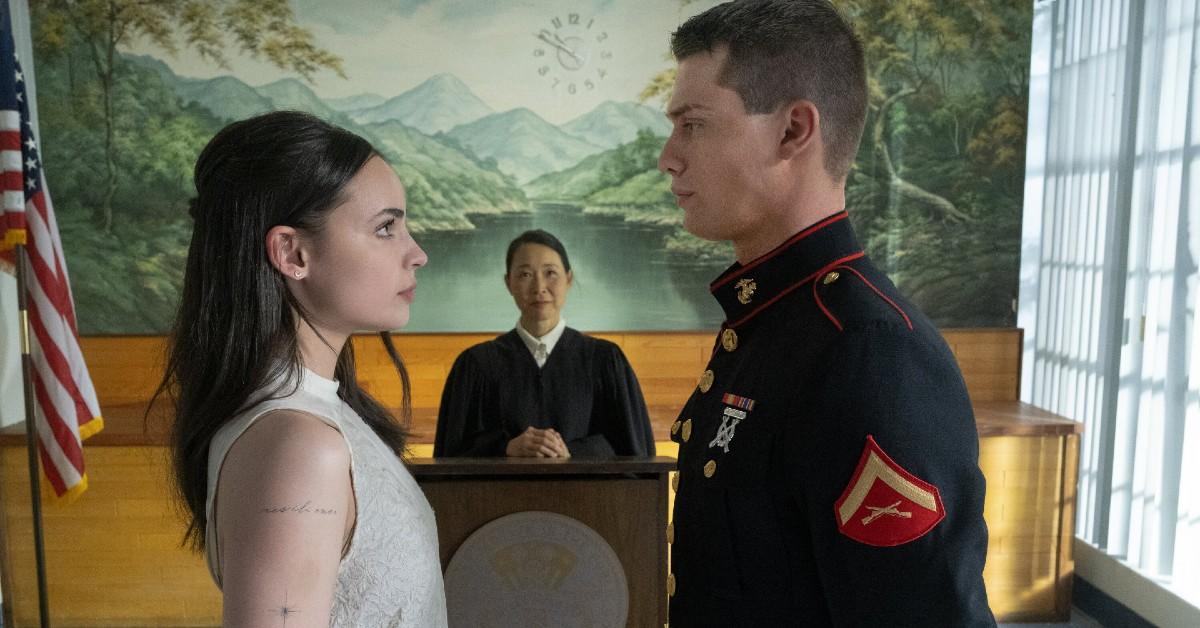 It's honestly expected, as there's nothing revolutionary about the film's premise — heck, it has a rough Rotten Tomatoes score of 35 percent. But besides its quality and execution, Purple Hearts — which premiered on July 29, 2022 — has stirred up a controversy, and Sofia Carson has plenty to say on the matter.
Article continues below advertisement
What's the controversy behind 'Purple Hearts'?
While Purple Hearts — which has been watched for more than 100 million hours — offers an opposites-attract love story, many viewers feel that it does so while projecting misogyny, racism, and pro-military propaganda.
The line gaining the most buzz involves a Marine toasting at a going-away dinner for Luke, spewing, "This one is to life, love, and hunting down some goddamn Arabs, baby!" It's wrong and cruel for a plethora of reasons; plus, it's just cringe-inducing.
Article continues below advertisement
At said dinner, Cassie storms away in disgust; meanwhile Luke brushes the comment off like it was only mildly offensive — which is obviously far from the case.
Because the two fall in love despite their opposing views, many feel as though Purple Hearts excuses bigoted, racist comments, as if they're something that can easily be looked past.
Article continues below advertisement
"I hope that people understand that in order for characters to grow, they need to be flawed in the beginning. So we very much intentionally created two characters that had been bred to hate each other," director Elizabeth Allen Rosenbaum told Variety.
"They are flawed at the beginning and that was intentional. In order for the red heart and the blue heart to kind of turn purple, you have to have them be kind of extreme. Some of the people that they're surrounded with are even more flawed than they are. They both have been neglected by the system; he's hurt in a war that doesn't seem to be ending and she's slipping through the cracks of the healthcare system. So they're both neglected by the system, and then they live under one roof, and in these extreme circumstances, they learn to become more moderate and to listen to each other and to love."
Article continues below advertisement
Sofia Carson — who's an executive producer for the project — told the outlet that she fell in love with the film because, well, it's a love story, "but it's so much more than that."
Article continues below advertisement
"It's two hearts, one red, one blue, two worlds apart, who are really raised to hate each other. Through the power of love, they learn to lead with empathy and compassion and love each other and turn into this beautiful shade of purple," Sofia continued. "We wanted to represent both sides as accurately as possible. What I think I've learned to do as an artist is separate myself from all of that and just listen to what the world is feeling and reacting to with the film. That has been so beautifully overwhelming and so many people have felt seen or are comforted by this movie."
Listen, there's a difference between "let's agree to disagree" when it comes to political views, and ignoring racist tendencies. Sadly, Purple Hearts seems to represent the latter, whether or not it intended to.
Purple Hearts is currently streaming on Netflix.