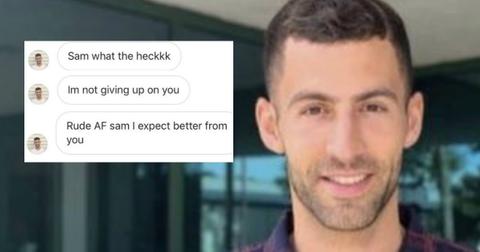 A 'Bachelorette' Contestant Just Got Outed for Being an Instagram DM Creepster
By Mustafa Gatollari
If you scroll through your social media feeds long enough, you'll probably come across a person you find absolutely stunning and beautiful. Which could pose a very real problem when you're single (or maybe if you're unhappy in your relationship). And that problem is love-sickness.
Thanks to the advent of text communication, and the ability to follow people with public profiles on these social media platforms, saying whatever you want to whoever you want is super simple, with the removed stress of having to actually talk to someone face to face.
It's way less stressful to DM someone, "hey" than to approach them at a bar and offer them a drink, or make some small talk while at the grocery store as you try and come up with something witty to say about the jar of guacamole they're holding.
Not everyone can be as lucky as this couple who met at Whole Foods buying celery and rosé, and when you try and hit on someone in person, you're usually smacked in the face immediately with just how uninterested they are.
But with DM'ing people online, you know, it's kind of hard for some people to get the hint. Usually, no response is a good indicator you should pack it up and move on. Unfortunately, Bachelorette contestant Matt Dione didn't take that approach with Sam Smithburger.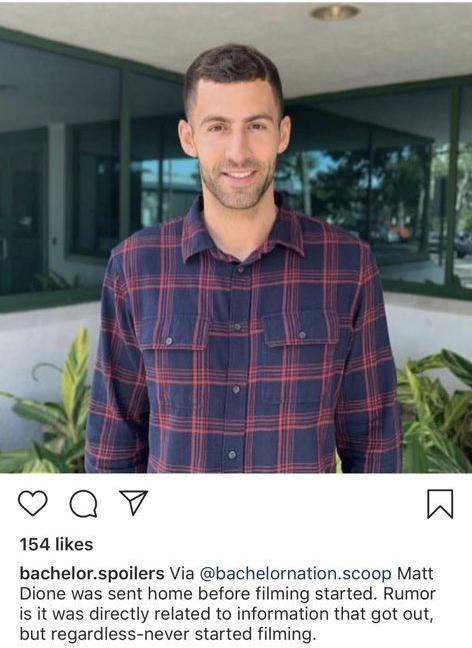 News broke out that Matt was sent home before filming on the show happened, and the internet rumor mill started churning. If a reality TV contestant was "outed" for something unsavory and there was a record of it online, the a TV network would take that kind of scandal very, very seriously. It turns out that's exactly what happened with Matt.
I'd imagine things would be different for Matt if he said mean things about golden retrievers, or made culturally insensitive jokes about a particular nation's cuisine, like, "Lol the English can't cook worth a damn." It's not like he's going on The Great British Bake-Off or Golden Retrievers Lovers Inc. But since he was appearing on a show that's all about wooing women, it's probably not a good look to be Instagram stalking a beautiful woman on and off for two years straight.
Yeah.

Sam shared the screenshots of Matt's constant messages to her account, and it's something you'd see pop up on Reddit's r/cringepics subreddit.
Listen, I know what it's like to fall in love with a stranger just based off a few photos online. Heck, I stalked my now wife's Facebook account (although I knew her from middle school), but if she didn't respond back to my DM, I would've just cut my losses and moved on. Just like I did back in my Tinder days.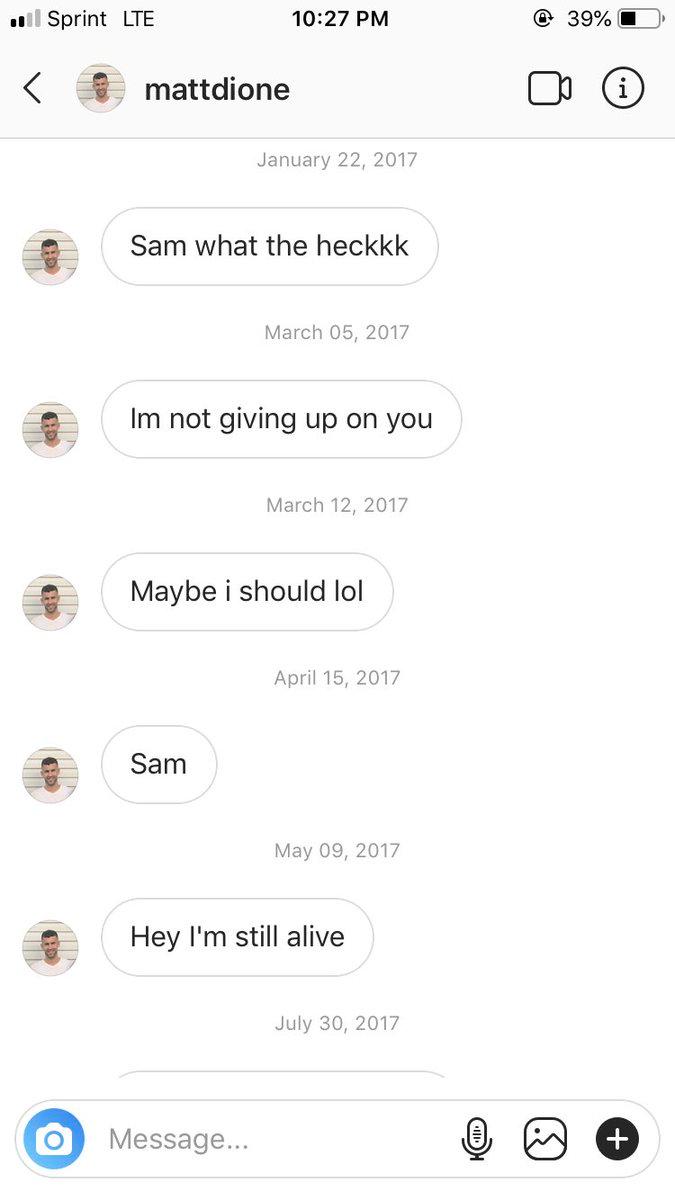 But every few months, Matt would reach out to Sam and remind her that he was "still alive." What's really staggering is that this wasn't a string of messages he sent her while he was drunk one night. Look at the dates: they're all spread out.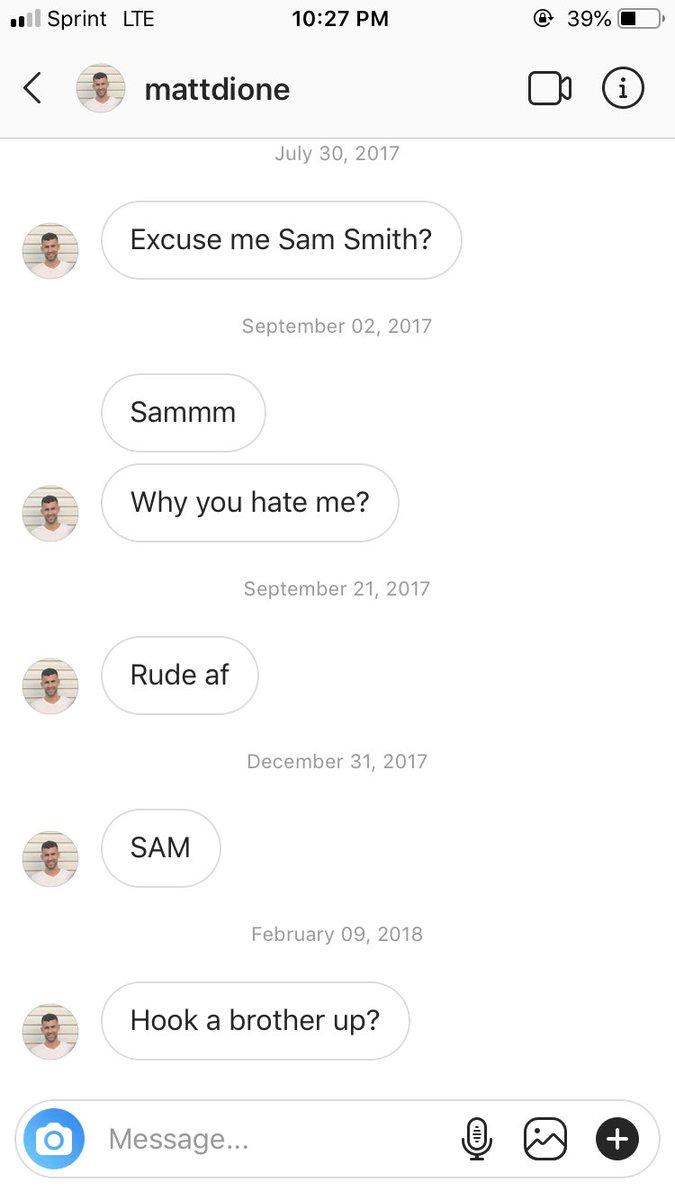 He tries every which way to get her attention and runs the gamut of approaches. He tries cracking jokes before ultimately accusing her of being "rude" for not responding to his messages. I don't know, it seems kind of rude to me to demand responses from someone you've never met before.
I don't even know how to interpret the "hook a brother up" line but obsession makes us do crazy things, I guess.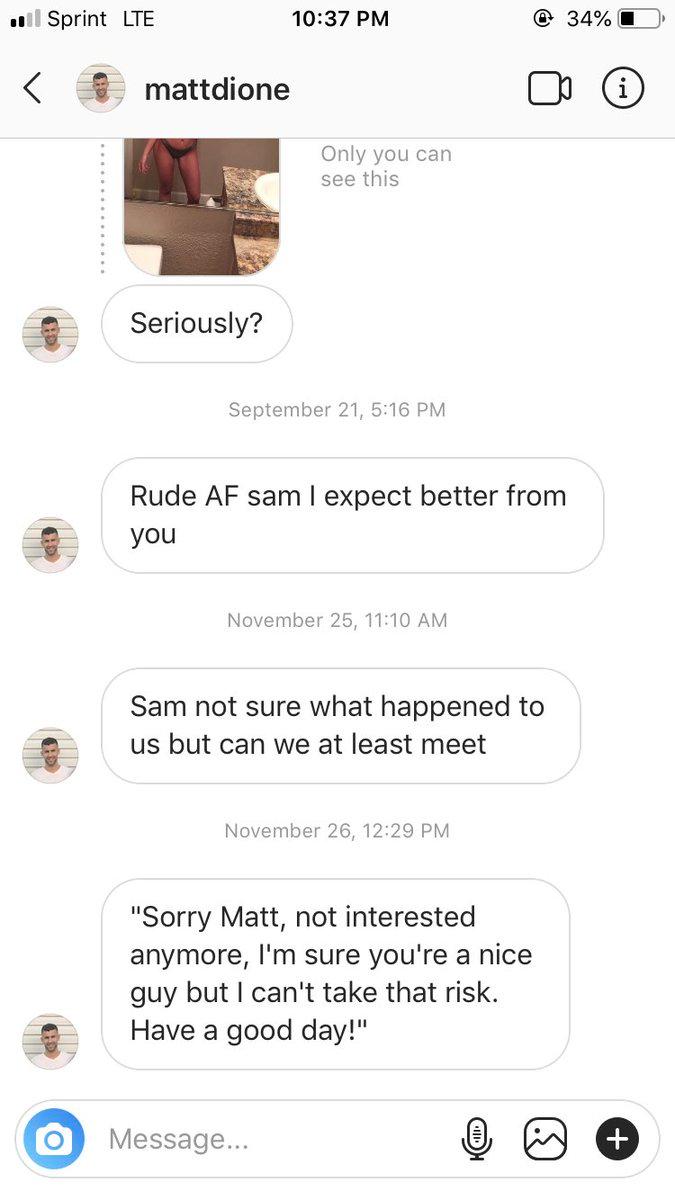 It appears his last message to Sam was on November 26, 2018, or about five months give or take before he was getting ready to tape the upcoming season. That kind of negates all of the people on Twitter suggesting he may have "changed" since then.
The plot thickened when a woman who saw Sam's tweet revealed she and Matt actually dated for a spell.

She confirmed that the dude was "crazy," which got other people wondering whether he was messaging Sam while he was dating Victoria.

After checking through Sam's screenshots, Victoria confirmed that, yep, Matt was indeed messaging another woman while he was already romantically involved. Looks like the Bachelorette dodged a bullet there.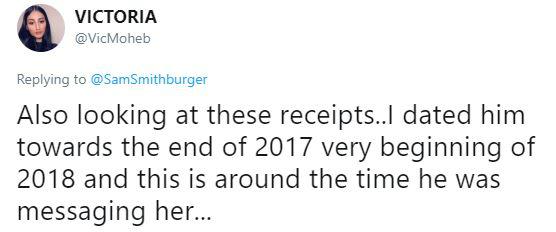 While reality TV shows have been known to keep people who are a little "extra" in the hopes of ratings boosts, it looks like they didn't want to take that chance with Matt. Or maybe his incessant Instagram DMs were the tip of the iceberg.