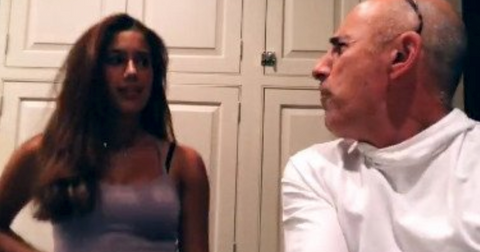 Matt Lauer Is Lip-Syncing in His Daughter's TikTok Videos and We're All Very Confused
By Abi Travis

Updated
Today, in news you probably weren't hoping to read anytime soon: Matt Lauer has returned to the public eye. But wait! Before you sever your internet connection forever, there's something more you should know. Matt Lauer has returned to the public eye...via his daughter's TikTok account. 
OK, we've got your attention now, right? We're guessing you have plenty of questions — so do we! Here's what we know about this bizarre turn of events.
Matt Lauer recently appeared in his daughter's TikTok videos.
Man. No matter how many times you read it, it doesn't get any less weird, right? Unfortunately for all of us living on this planet in the year of our lord 2019, it only gets weirder from there.
Matt Lauer — disgraced former host of the Today Show — didn't merely appear in his daughter's TikTok videos. It seems as though he was heavily featured in them. Dancing and lip-syncing to show tunes. Yep.
According to PageSix, Lauer has shown off his goofier side in several of his daughter Romy's TikTok videos. In one, he dances to Chance the Rapper's "Hot Shower." In another, he eats a bowl of cereal while lip-syncing to "Big Fun" from Heathers: The Musical. 
Matt Lauer returns to public eye by appearing in daughter's TikTok video. Let's review: he went from long time co-anchor of the Today show, to a TikTok video. There are many lessons to be learned here. pic.twitter.com/l5qvr1xNDB

— Mike Sington (@MikeSington) October 8, 2019
Having spent more time than we ever anticipated scrolling through Romy Lauer's TikTok feed, we've determined that she's most likely deleted both the "Hot Shower" and "Big Fun" videos — or at least blocked them from public view. But that hasn't stopped the internet from reacting to them.
Who is Romy Lauer, anyway?
If you've never heard of Romy Lauer before, you're not alone — at only 16 years old, she hasn't had a huge online presence prior to what we're going to go ahead and call the TikTok Debacle (although she did appear with her dad in a 2016 direct-to-DVD Sesame Street special).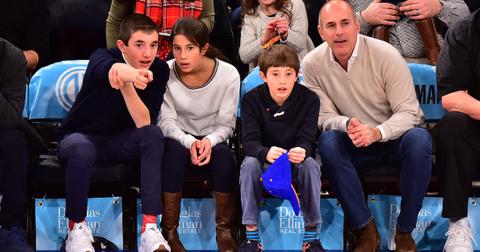 However, despite their estrangement and divorce, Lauer and Roque have appeared together in support of their children. Last month, TMZ reported that they both showed up to cheer on Romy as she competed in the Hampton Classic Horse Show.
Sesame Street, horse shows, and controversial TikTok videos! Romy certainly is carving out quite the niche for herself, eh?