"How Is the McChicken $4.29?!" — McDonald's Customers Slam Price of Former $1 Item
One McDonald's customer went Instagram viral slamming the chain's decision to sell the once $1 McChicken for $4.29.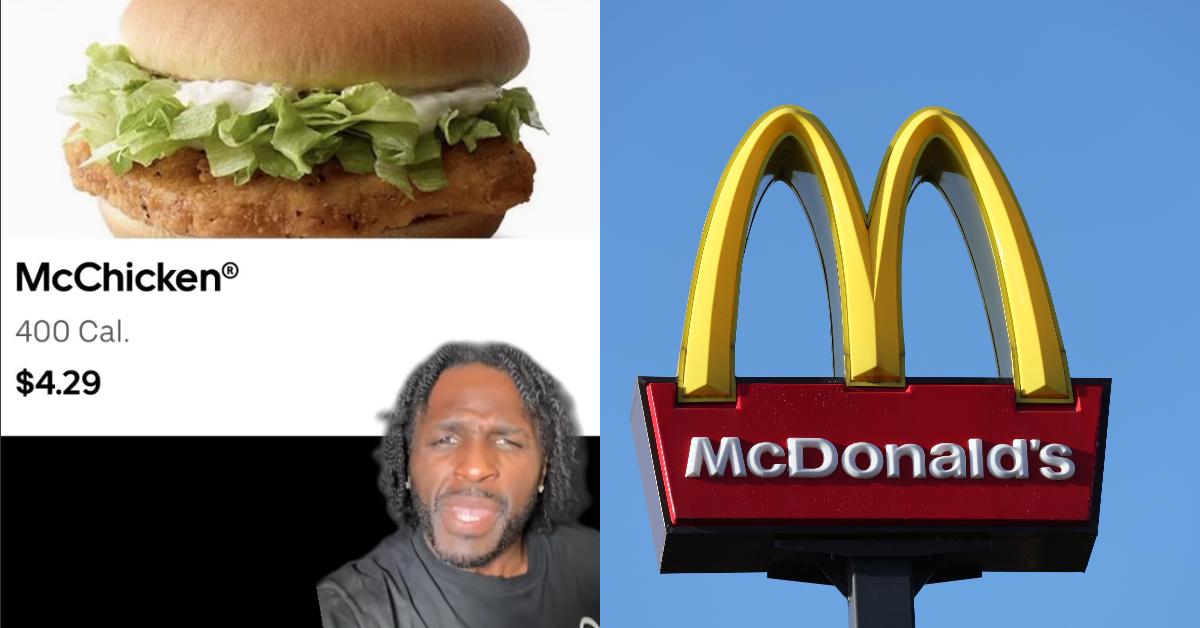 Article continues below advertisement
One Instagram user, Sirlance Woods (@sirlancewoods) expressed his frustration at seeing the cost of a McChicken sandwich going for $4.29, which he heavily criticizes in a viral clip he's posted to his account.
He says in the video: "$4.29 for a McChicken? Ain't no way that's the same McChicken we grew up on with just the patty, and the lettuce, and the glob of mayonnaise? $4.29 I thought that was the time!"
Article continues below advertisement
He continued, "That's a gallon of gas! For a McChicken? Is this a Gucci McChicken? A Louis McChicken? This chicken better have a gold chain. And two hit singles. Paying $4.29 for no regular McChicken. What happened to the dollar menu? What happened to that?"
Article continues below advertisement
He continued to question the price of the sandwich, stating that there was no way it should cost that much, "$4.29?! Not a double McChicken, just a regular, plain, Great Value, basic McChicken. For that I want the McChicken and the chick that made it."
Commenters seemed to agree with Woods' assessment of the quality-to-price ratio of the McChicken sandwich, with one person writing: "McDonald's nobody was eating there cause of high quality, it was just cheap. The dollar menu ain't dollaring like it used to"
Article continues below advertisement
Someone else highlighted the pricing inequity when compared to the previous menu meal prices of Mickey D's older offerings: "Shiiiiiiid, that cost what the combo used to cost."
Article continues below advertisement
And then there were folks who just couldn't believe that McDonald's was selling the McChicken for more than a buck: "These ain't a dollar no more?? That's crazyyy"
"No Fries??? Just a sandwich? That's robbery," one Instagram user quipped while someone else said that that sandwich wasn't even worth any amount of money because they weren't a big fan of the taste: "No taste either rather taste a gallon of gas"
Article continues below advertisement
It would seem, however, that Woods' ire over the McChicken sandwich price may be due to regional pricing of the offering, as various online resources have it priced at lower costs.
Article continues below advertisement
Fast Food Price says that the average cost of a McDonald's McChicken sandwich is $1.79. McDonald's own website states that the McChicken can often be found on the site's special $1, $2, and $3 dollar menu deals.
Article continues below advertisement
The Food XP states that it updated its McDonald's menu prices as of September 2023 and according to this resource, the McChicken sandwich costs $3.09.
The CBC also reports that McDonald's menu item prices (as do other popular fast food chains) vary from region to region, as does Business Insider, which highlights areas in New York and California, due to these specific areas' relatively high real estate costs, generally result in increased prices.
Article continues below advertisement
And there are plenty of Mickey D's stans who've pointed out how the classic "dollar menu" still lives on...folks just need to use the McDonald's app in order to utilize limited-time deals to get their favorite offerings from the chain on the cheap.