A Twitch Streamer Says She Pulled a Receipt Out of Her Burger at KFC (EXCLUSIVE)
Twitch streamer hazunats says she pulled a crumpled receipt from her burger at a KFC in Germany, and she claims it might be a "revenge thing."
Though most fast food companies aren't known for gourmet meals, most can be counted on to provide something edible and safe — and fast food chains overseas have an even higher reputation to uphold.
Article continues below advertisement
But one Twitch streamer had a less than pleasant experience when she sat down at KFC one afternoon for lunch. Streamer hazunats (real name Hazu) shared a particularly disturbing experience where she says she found trash in her food.
Article continues below advertisement
Twitch streamer hazunats (Hazu) says she found a receipt in her KFC burger in Germany.
While filming herself for her stream and digging into her sandwich (which she was already halfway through), Hazu pulled a little ball of paper out of her mouth and showed it to the camera. She immediately chose to spit out the rest of the bite she had been chewing off-screen.
Understandably, Hazu began to gag, especially as she had already consumed so much of the sandwich. She was visibly upset and told her followers as much.
"I got trash from the burger," she said during the stream, holding up the unfolded receipt she had just pulled from her mouth. "Just give me a second. I'm trying to calm down here."
Article continues below advertisement
Though it's clear that Hazu felt sick from having eaten a burger with a folded-up receipt inside, she manages to stay calm as she continues to talk to her followers.
Her followers were also upset, chiming in with their own displeasure in the chat.
Article continues below advertisement
"They crumpled a receipt into the burger," one said.
"Good job holding it in," another follower commended Hazu, noting how calm she was remaining.
"It was in the middle of the burger, like in the middle ... I thought that was bones, but actually," she said.
One commenter asked if it was the order ticket for her burger, which Hazu said may be a possibility.
Article continues below advertisement
"I think it's a revenge thing because I asked them to remake it," she said, munching on the other pieces of her meal that (thankfully) did not have trash in them.
Via DM, Hazu told Distractify that she had asked the workers to remake her burger, as she had originally ordered it without mayonnaise but it came with it anyway.
"The employee insisted that I told him 'with mayonnaise.'" she told Distractify. "I told him I didn't and he agreed to change it. They gave me a new burger I noticed was cold and missing cheese but I decided to eat it anyway because I didn't want to cause any problems and I wanted to move on with the livestream."
Article continues below advertisement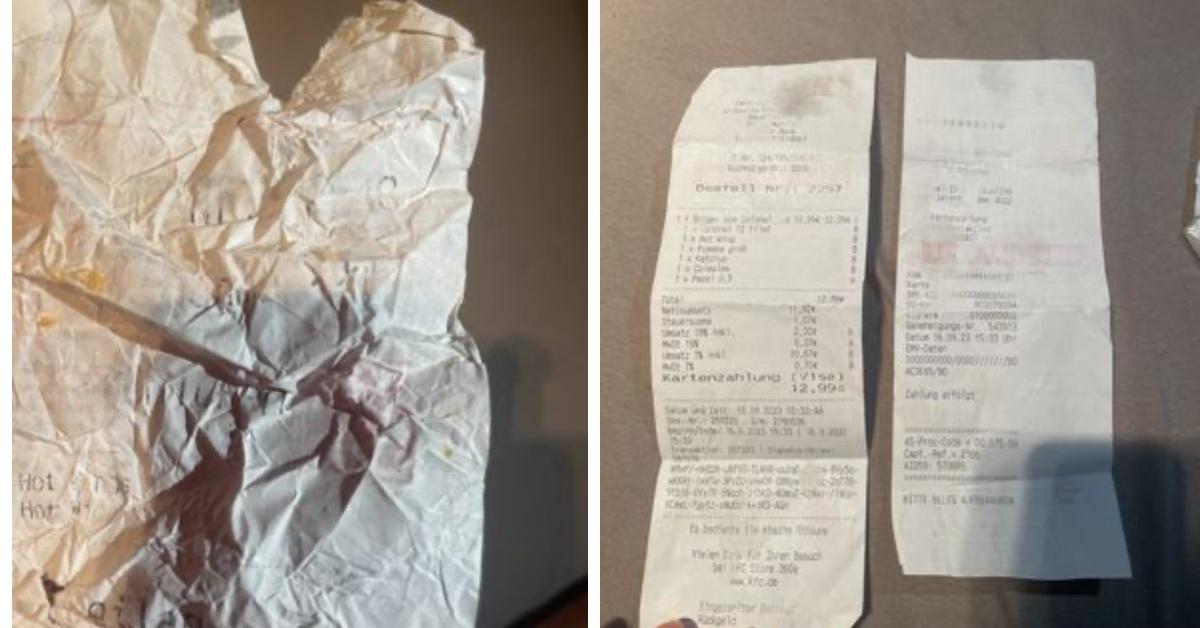 It was during the livestream that she found the receipt.
"I thought it was a bone but it was a receipt with numbers that didn't match mine," she wrote.
Article continues below advertisement
When Hazu attempted to address the situation with the manager at the KFC, she told Distractify that she was dismissed.
"I was gonna just send an email to KFC and leave but my viewers insisted I should go and ask for a refund so I did," she shared. "When I asked for the manager and told him what happened, his first question was 'where are you from?' and then told me 'it's not possible' dismissing me as if I was trying to scam a burger and tried to throw away the receipt."
Hazu then decided to leave the restaurant, only to have to circle back for her jacket immediately after. She said the manager "accosted [her] again" when she reentered the restaurant."
"I can't believe that. I am so p-----," she said to her stream.
Article continues below advertisement
Much of Hazu's content is centered around traveling and eating food, as she usually does Just Chatting streams on Twitch. She's visited a variety of restaurants throughout her time streaming, and she was visiting Munich for Oktoberfest when the KFC incident happened.
Hazu told Distractify she did hear back from KFC about the incident and the company offered her a 25 Euro voucher for her troubles.
"But I feel it's insulting and I don't wanna go back to be treated like that again," she said.
KFC has not responded to Distractify's request for comment.