McDonald's Worker Gets Unicorn Pin for Doing a Good Job, Others Say It Should've Been a Raise
A McDonald's worker who happily received a unicorn pin from corporate for a job well done is being told by her followers she should've gotten a raise.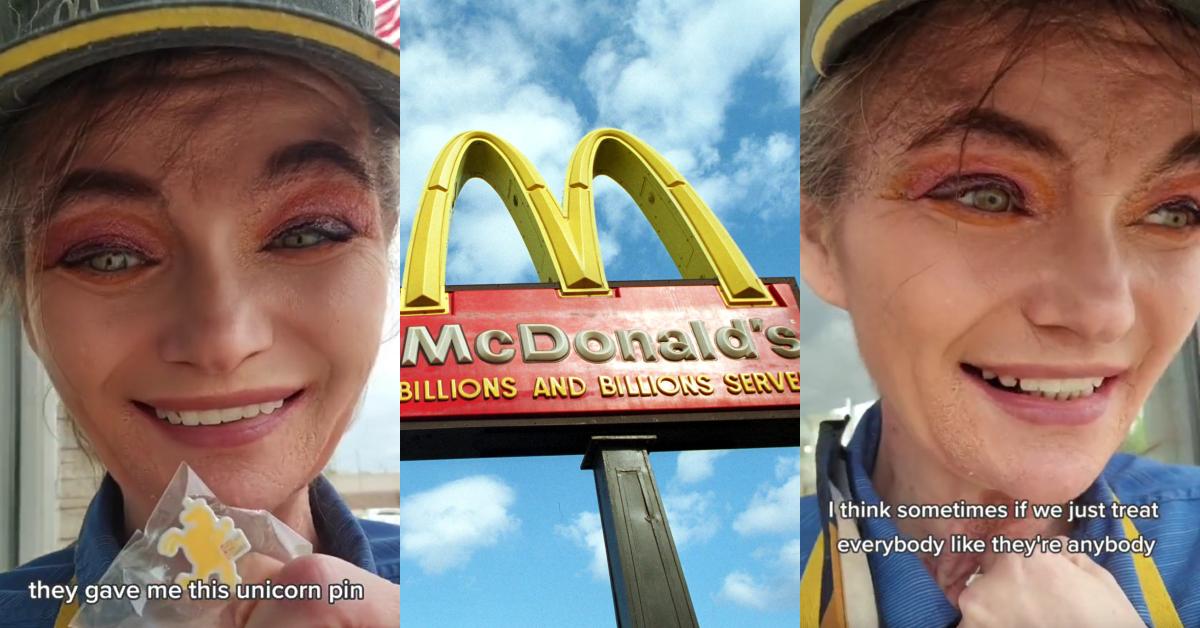 Employees are often trashing the ways corporations try to congratulate workers or make them feel appreciated for doing a good job. Instead of giving folks raises or monetary bonuses, businesses have been lambasted for throwing pizza parties, or a mass of grilled cheese sandwiches like this one Amazon warehouse did for its workers.
Article continues below advertisement
And a flood of comments from TikTok users on a video posted by a McDonald's employee who expressed gratitude for receiving a "rare" unicorn pin for a job well done are saying that her clip is giving them very strong congratulatory pizza party vibes.
The Mickey D's employee, who goes by @justcallmeleaf says in the video, "Hey McFam, so this really cool thing happened today I just got into work and there was a curbside order where we have to take it outside, I looked at my coworkers and I thought they look a little tired so I decided I would take it out for myself."
Article continues below advertisement
Leaf continued her story, "And I went out there with my usual bubbly self and I hand them the order here you go and thank you so much and do you need anything else and then I go back inside and I see him coming in the building."
Article continues below advertisement
Her tone changes at this point in the video as she thought something was wrong or that the customer was upset with their meal, "I worried a second I asked him if everything was OK with their order and they said yeah it was fabulous."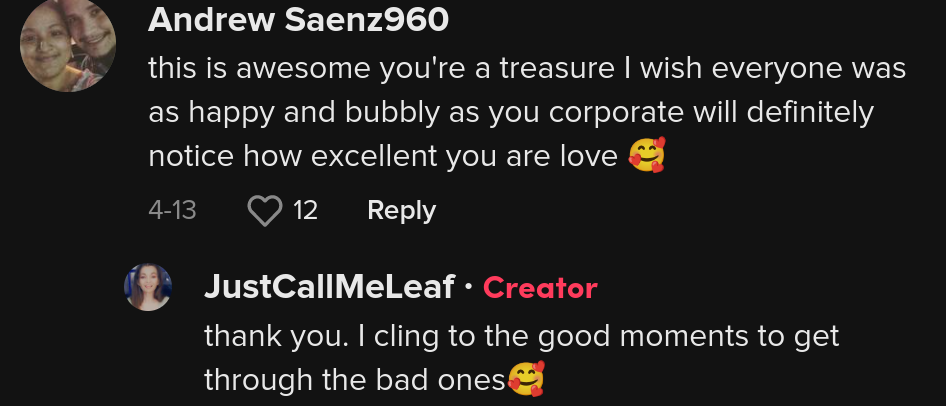 Article continues below advertisement
Not only was there nothing amiss with the food order that they paid, but the customer revealed that they had something for the employee for her work, "I thought it was a little weird if it was fabulous why you coming back in the building?" she pondered.
She said that the individuals who placed the order at McDonald's were actually from corporate: "They were corporate people here to do inspection and make sure we were doing things right and they were so impressed that they gave me this unicorn pin."
Article continues below advertisement

She shows the pin off to the camera and smiles, "That's apparently pretty rare ain't it cute? I'm so delighted! I think sometimes if we just treat everybody like they're anybody and treat everybody the same good things can happen. Welcome to my break," she smiles again before the video ends.
Article continues below advertisement

The woman adds in a caption for the video: "treat everybody the way you treat them when you know you're being inspected and good things happen"
Article continues below advertisement

Throngs of TikTokers remarked that McDonald's should give the woman a raise instead of just a unicorn pin for her upbeat attitude and exceptional customer service: "@mcdonalds_corp - give this woman more than a unicorn pin."
Article continues below advertisement

Another penned, "@mcdonalds_corp unicorns don't pay bills," while someone else said "this precious gem of a human deserves a MCBONUSSS"
Article continues below advertisement

Someone else wrote that the scenario seemed like another corporate "good job" gesture for its employees: "This is like getting a pizza party instead of a raise. Give this woman a raise!!!!!"