Tekashi 6ix9ine Challenged Meek Mill to a Physical Fight Amid Their Ongoing Feud
Rappers Meek Mill and Tekashi 6ix9ine have been feuding for years now. Find out what happened between them and why they're fighting here.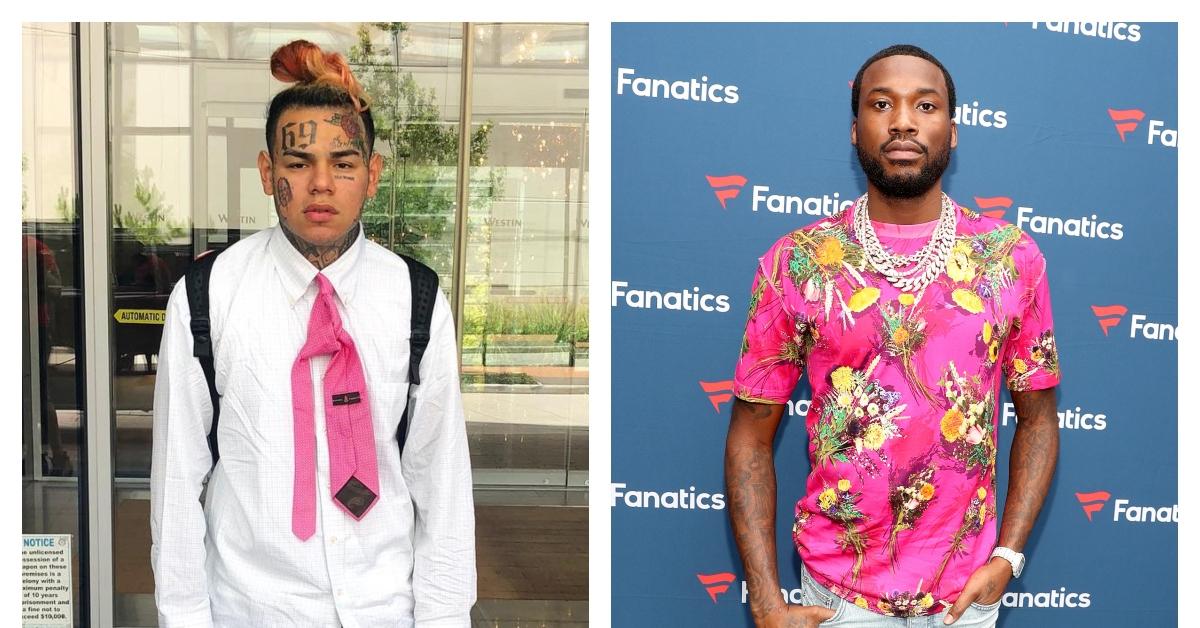 Would the world be normal if there wasn't some type of celebrity feud going on? The answer is not really. In today's news of which rappers aren't getting along at the moment, Meek Mill and Tekashi 6ix9ine are on everyone's minds.
If you weren't already aware, the two music stars have been in some beef for a couple of years now — but it seems like it's really taken a turn these days since one of them called out the other to physically fight. Are we shocked? Not in the slightest.
Article continues below advertisement
So, if you're someone who just learned that Meek and Tekashi had some beef between them, or if you just need a refresher on why the heck they don't like each other so much, keep on reading. It's kind of a lot, just to warn you.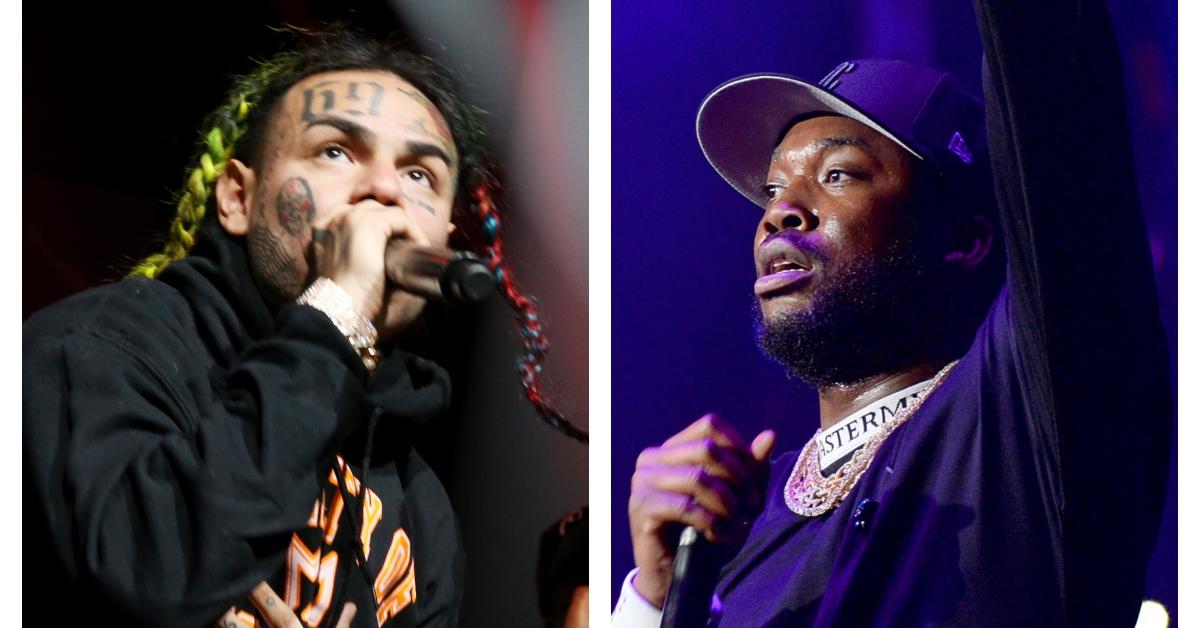 Article continues below advertisement
The Meek Mill and Tekashi 6ix9ine beef goes back to 2018.
This feud isn't anything new, but it started off a bit one-sided. Basically, when Tekashi went to jail for racketeering crimes relating to his alleged gang activity, he had also agreed to testify in a racketeering case against two alleged Nine Trey members, Aljermiah "Nuke" Mack and Anthony "Harv" Ellison. Harv was accused of kidnapping Tekashi in July 2018. Many people called out Tekashi for his disloyalty to his gang and for being a snitch. One of those people was Meek.
In an interview with Power 106 back in November 2018, Meek said he wished he could've offered Tekashi advice about the way he should've handled the situation he was in. "I used to always want to tell that kid, 'You give out that certain kind of energy. You give out that energy, and that energy actually comes back,'" the rapper said.
Article continues below advertisement
Meek didn't stop there though! In June 2019, he held an #AskMeek Q&A session on Twitter and a user asked him, "How you feel about takashi 69."
He responded with: "He's a vicious kid ... started all that drama and start telling." He opened up more about his feelings on the topic in an Instagram comment saying: "What he did was wrong plain and simple.... trouble making.... clout chasing... Don't follow that path young kings be great!"
Article continues below advertisement
And on the day that Tekashi was going to take the stand to testify against his Nine Trey Gangsta Bloods fellow members, Meek sounded off on Twitter: "69 going up in s [sic] federal courthouse today kids! Message of the day don't be a Internet gangsta... be yourself! #cloutisnottheroute get money." As you can see, so far at this point, this is just Meek making shots at Tekashi with no actual rebuttals from him.
Tekashi finally publicly responds to a jab from Meek.
In 2020, amidst news that Tekashi was going to be released from jail early, Meek took to his Instagram to post a throwback clip of him freestyle rapping. But it's important to note that some of his lyrics were about how he was against snitching and telling on people he was close to.
Article continues below advertisement
Meek also tweeted: "I hope that rat going live to apologize to the people he told on or the victim….. Y'all forgot that fast a 'rat' killed Nipsey he wasn't suppose to be on the streets! That's the only thing ima day [sic] because he's dead… left his baby mom and child like a coward as targets!"
Tekashi posted this tweet from Meek on his own Instagram and captioned the post: "Imagine having a new born baby come into the world & be pressed about a Mexican with rainbow hair." Meek had just had his third child.
Of course Meek had to respond, and he was pretty heated at this point. "Now you just a informant behind a keyboard tryna troll families you ruined so it's not gone hit the same... and by the way I'm doing this for my 'sons' so you won't be around to impact their lives ever!!!" Meek said via Twitter.
Article continues below advertisement
After it stayed quiet between them for a little, Tekashi called out Meek.
The now-deleted Instagram post where Tekashi called out Meek was in regards to a new song Meek had dropped at the time called "Otherside of America." It was released last summer — amidst the Black Lives Matter movements — and touched on the way Black people have been treated in the U.S. Tekashi had some strong opinions on it.
Article continues below advertisement
Tekashi felt like a song wasn't enough to show solidarity from Meek, and that he should also be practicing what he preaches, aka protesting for what he says he believes in. "If Kanye, who is way more famous than all these rappers is outside protesting with the people, why is the wannabe Martin Luther King Not but has no problem dropping a song. BUT YOU THE VOICE FOR THE STREETS YOU F--KIN CLOWN," he wrote in the IG post.
A few days after, he hopped on an IG Live saying he's more "popping" than Meek.
After almost a year of not saying anything to each other via social media, they almost fought in-person.
The two had a run-in in a parking garage in February 2021 where Tekashi recorded most of the interaction. The video shows many people protecting both celebs and Tekashi yelling at Meek saying he has police to back him up.
Article continues below advertisement
But Meek claimed on Twitter that they just didn't run into each other by coincidence, but that Tekashi had premeditated the encounter. "We did not run into eachother [sic] I was getting in my car he just popped out ....we almost was smoking on that 69 pack for the love of a viral moment ..... he tryna get something locked up no cap lol," he said.
Article continues below advertisement
Tekashi posted the footage he got of the altercation on his Instagram account (which has been deleted) saying: "Stop letting these rappers lie to you. They too tough for security. @MeekMill running around with police. This how you expose these fake gangstas."
And a few weeks later, in March 2021, Tekashi posted a video of him telling Meek they should fight one-on-one.
"TELL @MEEKMILL COME FIGHT ME 1 V 1... 'THE STREETS' VS THE REAL LIFE. I DONT DO NOTHING FOR FREE & I GOT MORE MONEY THEN THIS BOZO AND HE BEEN RAPPING FOR 10 YEARS," he said in the caption. See the video for yourself:
Article continues below advertisement
But who thinks this fight will actually happen? We're sure Meek is going to have something to say to this, so we shall see!