'Leaving Neverland' Skeptics Want Michael Jackson's Accusers Arrested
Viewers want to know if Michael Jackson's accusers Wade Robson and James Safechuck are guilty of perjury after admitting to lying under oath on 'Leaving Neverland.'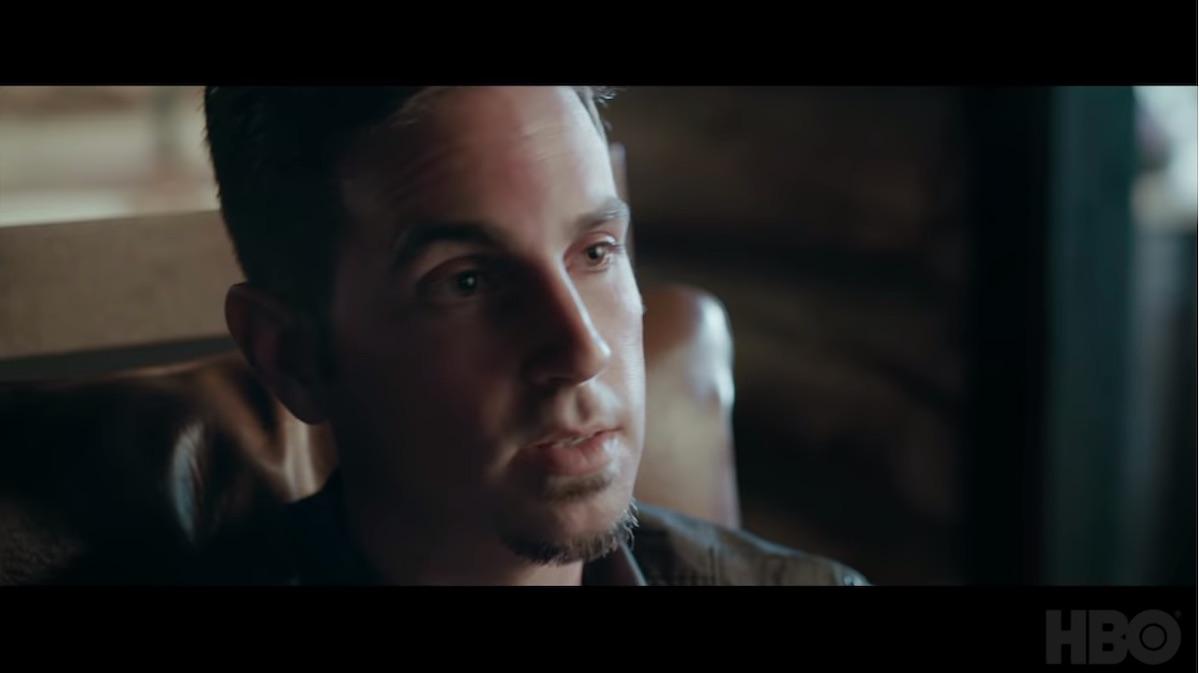 During the HBO documentary Leaving Neverland, Wade Robson and James Safechuck detailed the abuse they say the King of Pop, Michael Jackson, inflicted on them.
Article continues below advertisement
The choreographer and aspiring director, who grew up around the "Thriller" singer, revealed they were sexually molested for years — claims that go against testimony Wade and James once provided in court in defense of Jackson.
This has some viewers wondering how the two accusers could tell their story without facing some sort of legal repercussions for previously lying under oath.
So, are Wade and James guilty of perjury? 
In 1993, James, 40, testified during Jackson's trial, when he was accused by Jordan "Jordy" Chandler of sexual molestation for the first time. At the time, James denied he was molested by Jackson, but now claims he was "groomed" by Jackson and his legal team to lie under oath. He was 14 at the time.
Article continues below advertisement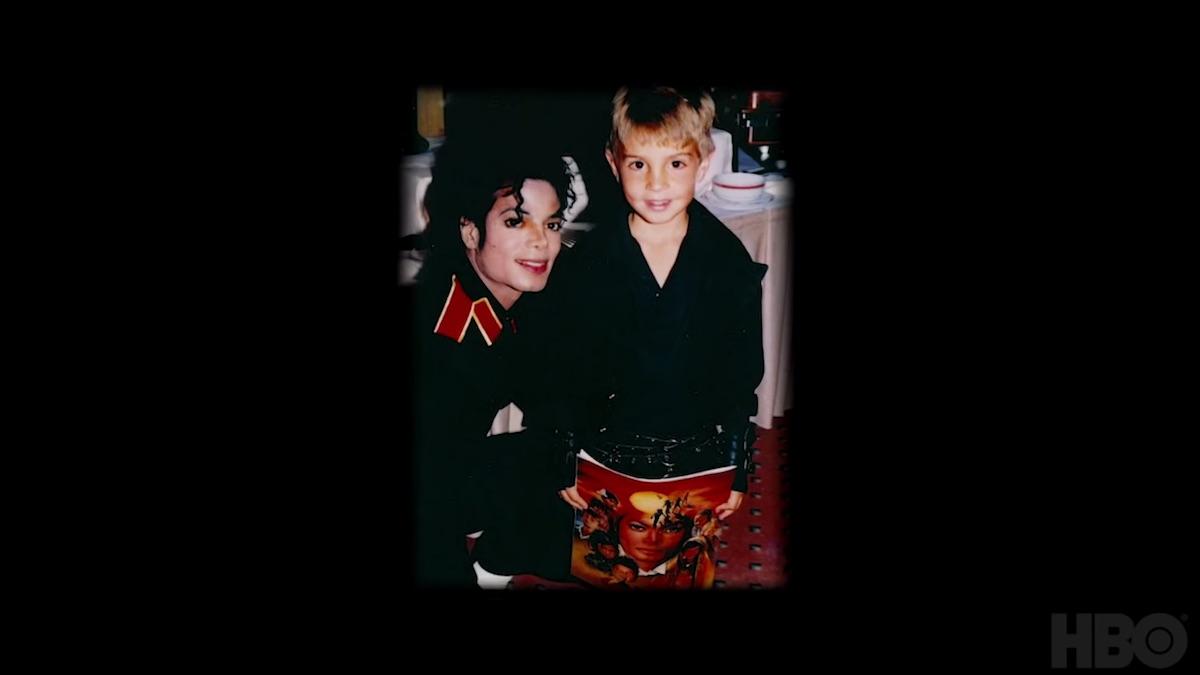 Similarly, Wade, now 36, took the stand during Jackson's 2005 trial, denying he was a victim and claiming Jackson was innocent of the charges. In Leaving Neverland, Wade admits he lied, but only because Jackson had been preparing him for that moment since the age of 7, and told him they would "both go to jail" if he told the truth.
James did not testify for Jackson again in 2005, even though he claimed Jackson threatened to get him "for perjury" for lying under oath previously.
Article continues below advertisement
Now, nearly two decades later, Wade and James are finally telling their story, but can they go to jail?
It's not likely, seeing as the statute of limitations for perjury in the state of California is three to four years. However, according to Findlaw, some defenses for perjury in the state include, "genuine impairment of memory" — Wade, however, has denied having repressed memories — or the "belief that the sworn statement was true." Perjury is only a capital offense when "doing so causes an innocent person to be convicted and executed."
Article continues below advertisement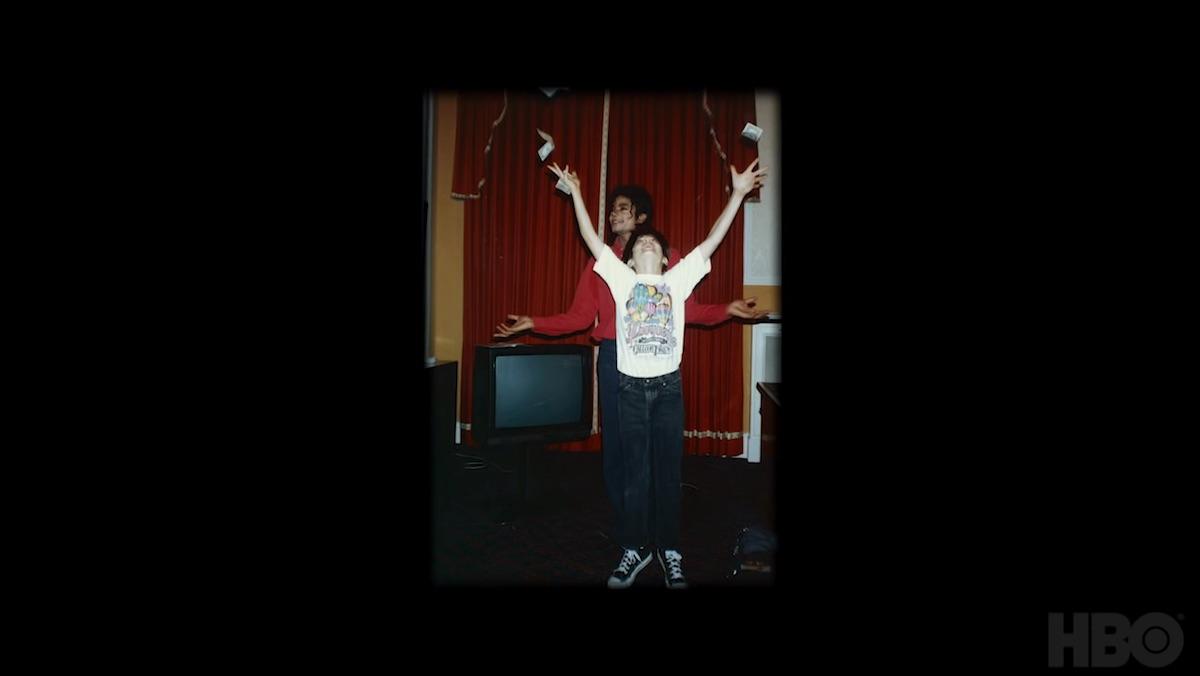 However, the Jackson estate does not feel the same way. "This is yet another lurid production in an outrageous and pathetic attempt to exploit and cash in on Michael Jackson," the statement from the estate read. "Wade Robson and James Safechuck have both testified under oath that Michael never did anything inappropriate toward them. Safechuck and Robson, the latter a self-proclaimed 'master of deception,' filed lawsuits against Michael's Estate, asking for millions of dollars. Both lawsuits were dismissed."
Article continues below advertisement
As expected, there are a few skeptics who believe Wade and James should be arrested. 
"Should Wade Robson and James Safechuck not have been arrested by now for lying under oath, which they have now admitted themselves to have done," one viewer asked on Twitter. Another added, "Michael had accusers being caught on camera admitting to their lies, recorded phone calls planning extortion, people forging his signature, falsified evidence in the court case, people paying others to lie and say he touched their kids. Wade and James should be arrested."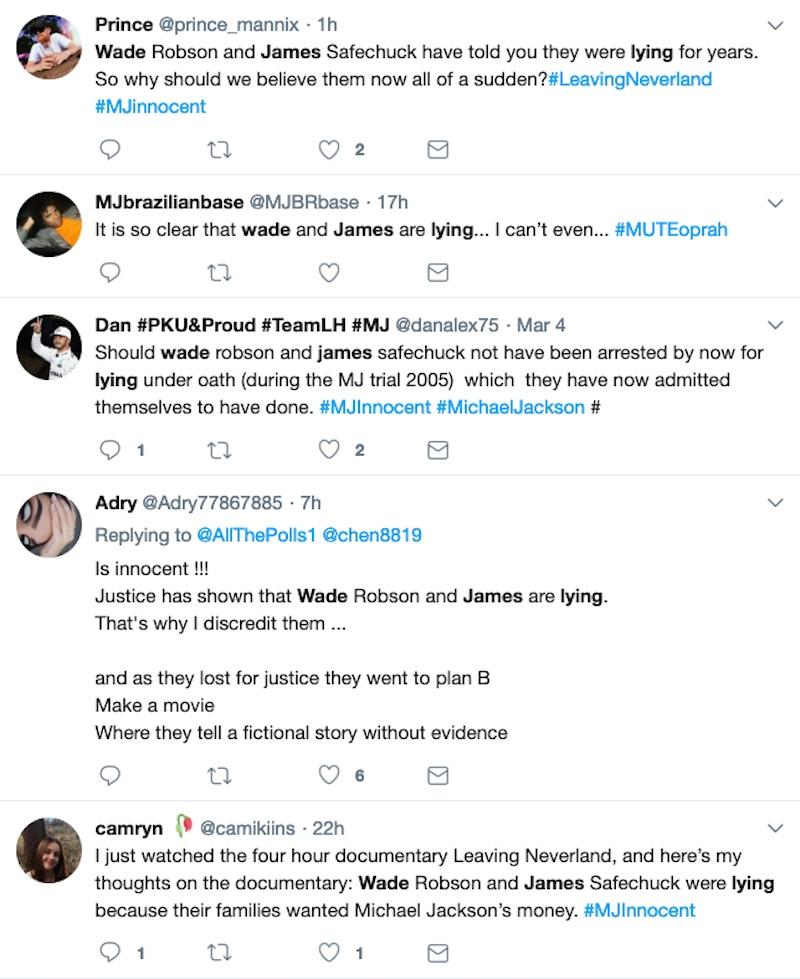 A third chimed in, comparing the situation to Empire star Jussie Smollet's recent arrest. "Don't you think it's interesting though that Smollet is immediately arrested and charged with false abuse claims (black person)," the skeptic wrote, "but Wade and James are being applauded and offered a film by HBO for their false abuse claims without checking if any of it is true (white men)?"
If you need support, the National Sexual Assault Hotline is available 24/7 at 1-800-656-4673. You will be connected with a trained staff member in your area. Or visit RAINN.org to chat online one-on-one with a support specialist at any time.
You can stream Leaving Neverland on HBO Now and decide for yourself.