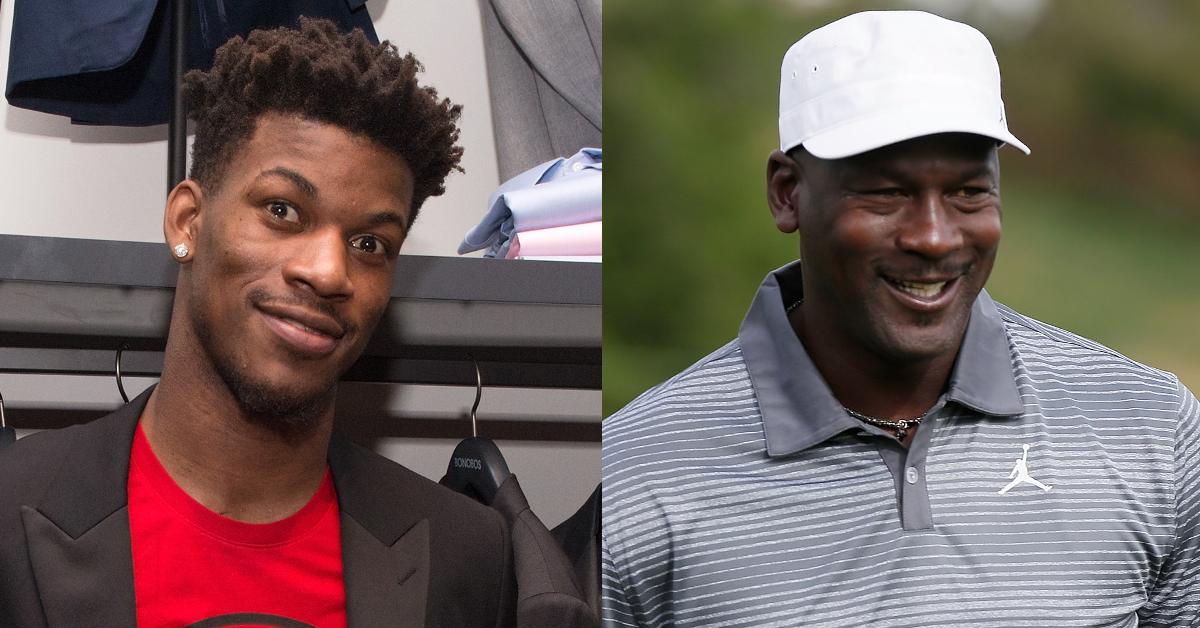 A Viral Conspiracy Theory Claims Michael Jordan Is Jimmy Butler's Father
What makes some conspiracy theories so compelling is that there are just enough facts to string together that the otherwise ridiculous claims actually seem somewhat plausible. And perhaps because humanity is drawn to drama and entertainment, we sit there, wide-eyed, our hands on our chins nodding our heads as if this is true reality.
The newest conspiracy theory out there is that all-time NBA great Michael Jordan is current Miami Heat player Jimmy Butler's father.
Article continues below advertisement
Is there any possibility Michael Jordan is Jimmy Butler's father?
The year was 1988. Michael Jordan was a bonafide NBA superstar. While the Chicago Bulls still wouldn't win a championship for another three years, it was clear that MJ was the new face of basketball. The athlete was attributed with starting sneaker culture and with putting Nike on the map with his Air Jordan kicks.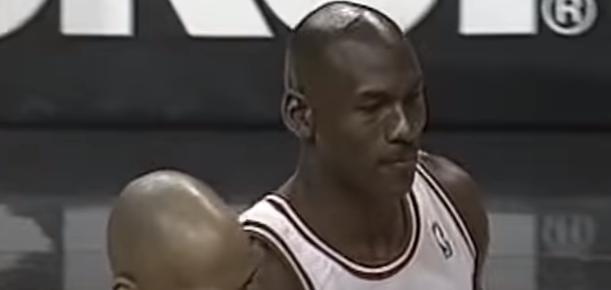 Article continues below advertisement
Everybody and their grandma wanted a piece of Michael Jordan in some capacity; the man was a rock star. This was the same year he was engaged to Juanita. It was also the same year that he reportedly had a child outside of his relationship with a woman in Georgia.
The story goes that Jordan walked out on the child, paying his mother to keep things quiet, as he didn't want to ruin his marriage. The six-time NBA champion purportedly stopped making payments once his son reached 13 years of age. Now here's where the tin foil hats come in.
Article continues below advertisement
Miami Heat standout and NBA finals contender Jimmy Butler, who also played for the Chicago Bulls at one point in his career, was abandoned by his father shortly after he was born.
When Butler turned 13 years old, his mother kicked him out of her house because she reportedly disapproved of his behavior. Reportedly, the last thing she said to Jimmy Butler before making him leave was, "I don't like the look of you. You gotta go."
Article continues below advertisement
Butler stayed at friends' houses, either for a period of a few days or a few weeks. Eventually, Butler found a permanent home with the family of a high school pal, Jordan Leslie. While living with them, Butler attended school and persistently worked on his basketball game.
He wasn't a courted athlete while balling in high school, so went on to play at the college level after enrolling at Tyler Junior College. He transferred to Marquette and then got drafted into the NBA as a 30th overall pick by the Chicago Bulls.
It was on the team Jordan made legendary that Butler played his first six years of basketball.
Article continues below advertisement
He'd then go over to the Minnesota Timberwolves, then the Philadelphia 76ers before landing on the Miami Heat where he led the team to the NBA Finals, before ultimately losing to the Los Angeles Lakers.
Butler once volunteered at Michael Jordan's basketball camp, and there are throngs of people on social media who say that the two men bear a resemblance to one another.
Article continues below advertisement
Is Jimmy Butler Michael Jordan's son, though?
While a lot of people want to believe that the basketball lineage of Michael Jordan lives on in the NBA through Butler, who has demonstrated tremendous durability on the court with smart play-making, quick reflexes, and an ability to adapt in pressurized situations, much like His Airness himself, there are a lot of holes in this theory.
Article continues below advertisement
The most glaring one is that Jordan's illegitimate child was reportedly born in 1988, not 1989, which is the year of Butler's birth. Then there's the fact that Jordan's mistress is said to have lived in Georgia, not Houston, Texas, where Butler was born and raised.
There are multiple people who have claimed Jordan had "illegitimate" children. In 2013, the New York Post reported on Grant "Jordan" Reynolds, an aspiring rapper who was born in 1995 who claims MJ was his dad.
What do you think? Is there any truth to the theory that MJ is Jimmy Butler's dad?