People Are Actually Debating Whether or Not Michael Kors Is for "Poor Folks"
There's a debate on Twitter as to whether or not Michael Kors is actually a "premium" brand or not and tempers are flariing.
One of the things that used to upset me the most about my 5th and 6th grade elementary school was that the "flexing" culture was huge. Lodi, NJ isn't the most affluent town in Bergen County, which might be why the kids I went to school with were so concerned with the material possessions everyone else had.
Article continues below advertisement
Name labels and brands ruled the roost and everyone was so quick to point to their latest outfits as a means of distinguishing themselves. It always bothered me, not just because my family went through some rough financial times, but because it didn't seem like something anyone should be proud of to begin with. Call me corny, but shouldn't you value intelligence, good-heartedness, enthusiasm, work ethic, and a self-cultivation of talent over what your parents are able to afford? Just thinking about it makes me mad.
There's a group of bourgeois folks on Twitter who are outing Michael Kors as not being "premium enough" and are roasting anyone who likes the MK label.
Spending hundreds or thousands of dollars on a handbag seems like a moronic purchase to me regardless of the label on it, unless it possesses some crazy technology inside. But apparently some pieces of sewn-together and dried dead-cow skin are superior to others.
It all started with this tweet from @kyslime.
Article continues below advertisement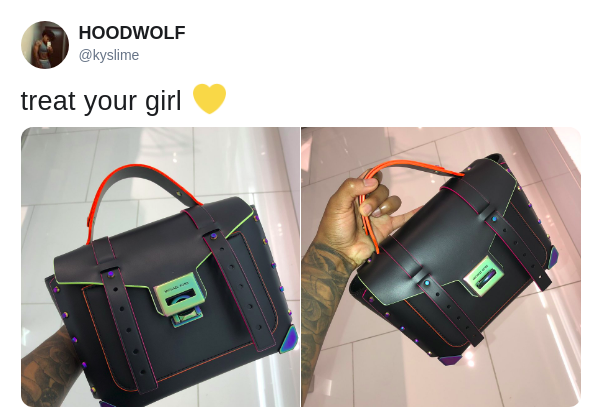 He snapped a photo of a funky looking MK bag and urged folks on Twitter to "treat" their girls. But there was a sizable demographic that didn't think that bag constituted as a "treat" at all. There were some pretty harsh words for Michael Kors as a brand and those who like rocking their gear.
Article continues below advertisement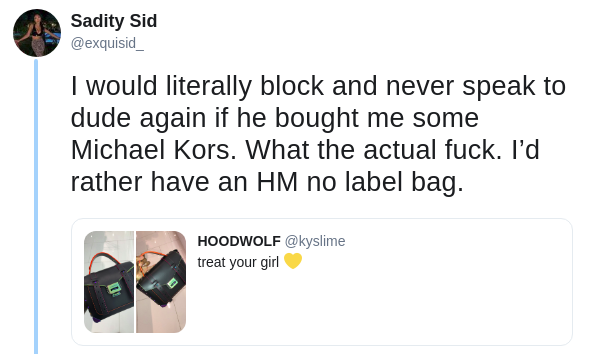 Article continues below advertisement
It seems as though MK isn't really viewed as being "high end" by folks due to their over-saturation in the market. One Twitter user explained that because the company bifurcated its product line and started offering up "cheaper" alternatives that their designs aren't associated with other "premium" label offerings.
Article continues below advertisement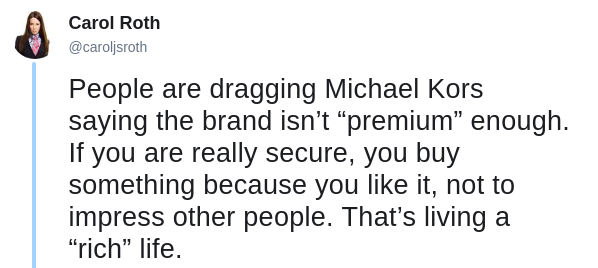 There were some who rejected this line of thinking by pointing out simply that it's pretty darn silly to roast someone for liking a product, even if it isn't considered a "rich" brand. Personally, I can't think of a more miserable existence than judging everything you're going to wear and buy based on whether or not others will think of you as "rich" or not. Hard pass.
Article continues below advertisement
Article continues below advertisement
Others said that MK detractors are just a bunch of folks pretending to be big ballers while they're really just a bunch of nerds trying to flex for strangers.
Some even went so far as to offer to take any Michael Kors bags people don't want off of their hands since they think they're so "low class."
Article continues below advertisement
Folks who blasted MK has being a "poor brand" also didn't really have anything to say about the company's designs or why they didn't like the designer, other than the fact that it has "poor" connotations.
Article continues below advertisement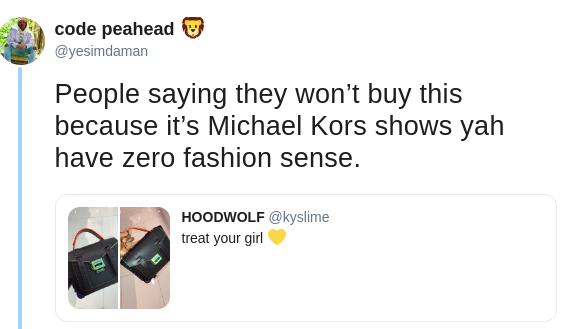 Article continues below advertisement
And if you still think that Michael Kors is a "poor" company, then there were plenty of folks on Twitter ready to point out that MK generated enough revenue to buy one of the "richest" brands on the market, Versace.

Article continues below advertisement
So if you've got a problem with MK, then you technically have got a problem with Versace and it's pretty hard to argue that Versace is for "poor people." Are the designs gaudy? Yes. But if you're the kind of person who goes gaga over designer labels, then you're probably a big-time Versace lover.