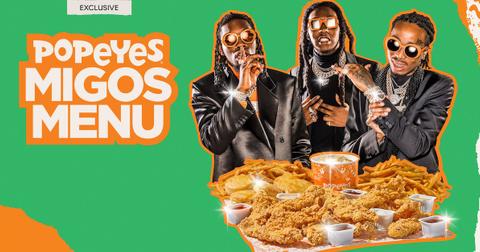 Popeyes Launches a New "Migos Menu" Inspired by Offset, Quavo, and Takeoff's Favorites
By Anna Quintana

Updated
There is no denying that Migos and Popeyes are a match made in fast-food heaven. Not only do Offset, Quavo, and Takeoff include Popeyes in their tour rider — the trio has teamed up with the fried chicken chain to create personal menus of their favorite items. 
Available nationwide and throughout Canada from December 6 through January 2, the Migos Menu has four options: one for each Migos member as well as their Tour Rider offer. 
So, how do you order from the new Popeyes Migos Menu?
You will be able to order your Migos-inspired Popeyes combos exclusively through UberEats throughout the month of December. And there is definitely something for everyone. Here is a breakdown of the menu: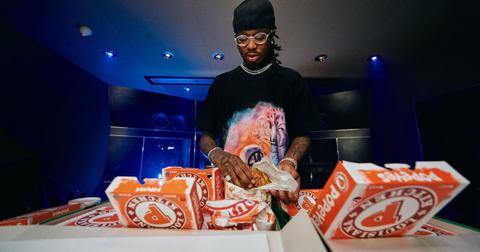 The Offset ($21.99): 8 pieces BIC chicken meal, 1 large fries, 1 large mashed potatoes with gravy, 4 biscuits
The Quavo (starting at $17.99): 2 chicken sandwiches, 2 regular fries, 1 regular mashed potatoes with gravy, 2 apple pies, and 2 small drinks
Since the Popeyes chicken sandwich — which Quavo tried selling for $1,000 at its viral peak — is not available in Canada, the Canada option is 10 tenders, 3 sauces, 1 large red beans and rice, and 3 biscuits. 
The Takeoff ($9.99): 5 tenders, 2 sauces, 1 regular mashed potatoes, 2 biscuits, 1 apple pie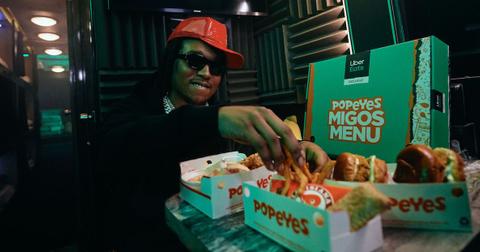 And if you are having a party, we suggest The Tour Rider (starting at $46.99), which includes 20 tenders, 7 sauces, 1 large mashed potatoes with gravy, 2 large fries, 5 biscuits, and a 1-gallon lemonade. 
Migos' real-life tour rider includes Popeyes, along with a few other items. 
In 2017, the hip-hop stars' tour rider (or list of performance demands) was published by Bossip, and Popeyes was a must-have meal for Migos before taking the stage. 
Specifically, they requested Two 30 piece Popeye's Bonafide chicken wings (one spicy, one mild), 20 Popeye's biscuits, six orders of mashed potatoes with gravy, and six orders of large Cajun rice with gravy. 
And that's not all. The list also included two large bottles of mango and apple Ciroc, one box of Rice Krispies Treats, and three boxes of Fruit By The Foot. 
Fans are already loving the Popeyes x Migos menu. 
"Popeyes got Migos meals I'm done," one fan tweeted before another added, "Congrats to Migos & Popeyes in their cross-promotion partnership." 
A third chimed in, "You looked so happy this morning I thought it was me. Now I know the real reason!" 
In the meantime, we will be listening to "Stir Fry" on repeat.