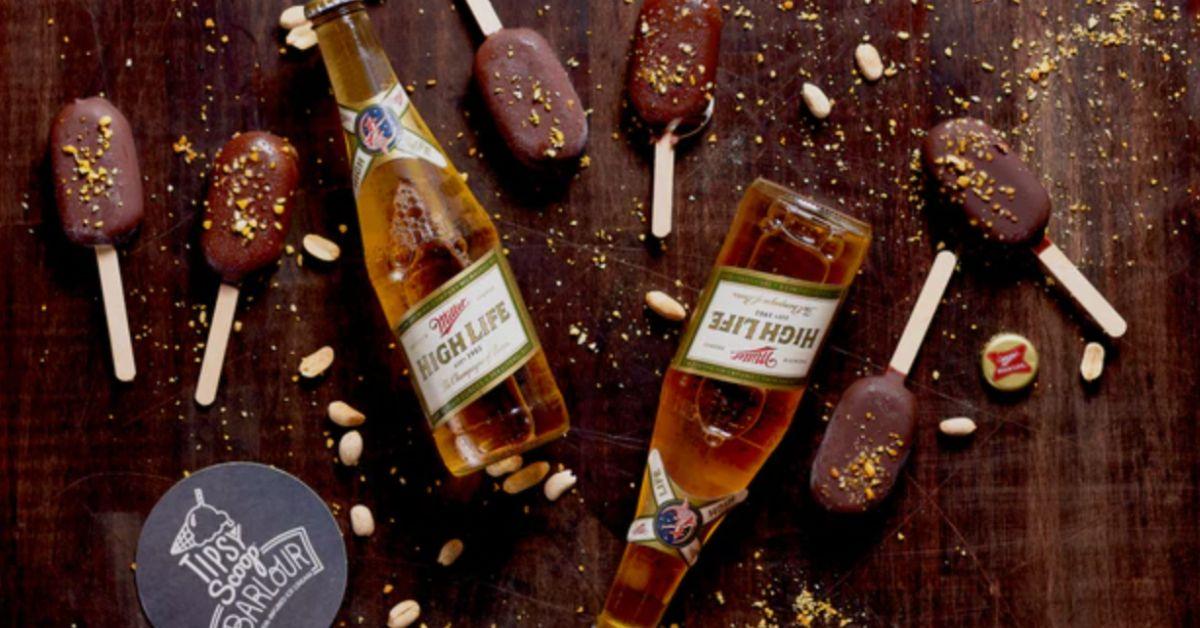 Beer-Infused Ice Cream Bars Are Here! Miller High Life and Tipsy Scoop Whip Up a Tasty Treat
What are two things that go great with summer? That's a no-brainer. Ice cream and an ice-cold beverage, of course! And for fans of Miller High Life beer with a sweet tooth, you're in for a treat. The lager maker just teamed up with the foodie masterminds at Tipsy Scoop to release a delectable frozen goody.
Keep scrolling to learn everything we know about Miller High Life Ice Cream Dive Bar Collection.
Article continues below advertisement
Miller High Life teams up with Tipsy Scoop.
Longtime beer giant Miller High Life, whose tagline is "the champagne of beers," can often be found on tap at your local watering hole. It's a popular brew in the dive bar scene. And to help you re-create that atmosphere at home, Miller High Life has teamed up with the NYC-based liquor-infused ice cream curator Tipsy Scoop to release ice cream bars.
Aptly named Miller High Life Dive Bars, these yummy treats are sold individually or packaged in boxes of six.
Article continues below advertisement
As the beer maker wrote on Instagram, each ice cream bar is "a perfect blend of smoky vanilla, gooey caramel, and the beer you love brought to you by Miller High Life X Tipsy Scoop."
Furthermore, the product description informs that each bar has 5 percent ABV. And in addition to the vanilla and caramel flavors, there are also notes of salty peanuts to evoke memories of the classic bar snack. Plus, each bar is dipped in a decadent layer of dark chocolate to remind you of the dark wooden fixtures and dim lighting of the dive bar scene.
Article continues below advertisement
Where can you buy Miller High Life's Ice Cream Dive Bars?
So, how do you get your hands on these bad boys? You have a couple of options.
All U.S. residents can head to Tipsy Scoop's website and order the bar(s) for shipping as it is available for delivery nationwide.
However, for folks who live near the NYC metro area or another big city, the ice cream bars may in stock at a supermarket near you. Through the website, you can either order for pickup or through an online food delivery website like DoorDash.