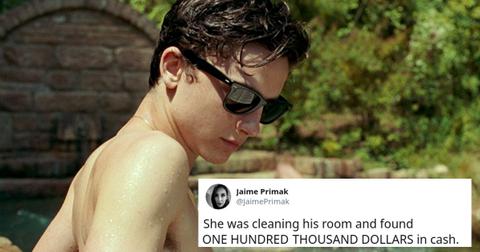 Mom Finds $100,000 Cash in 20-Year-Old Son's Bedroom and He Wasn't Selling Drugs
By Mustafa Gatollari

Updated
If years from now I ended up finding $100,000 in cash in one of my kids' bedrooms, the first question I'd have is what kind of drugs they're selling. The second would be how I could get in on that action and help them grow their business without alerting the presence of the authorities.
Kidding.
I can only imagine what was going through this Hamptons' mom's head when she found large sums of money in her own son's room.
Jaime Primak tweeted the unbelievable story of a mother who, while cleaning her 20-year-old son's bedroom found that exact lump sum of money, in cash, just sitting in his bedroom. He's a junior in college who plans on going back to school and has been living with his folks during the COVID-19 pandemic.
It's a situation a lot of us have been in, with many folks returning home to save some money during the pandemic and spend quality time with family.
The coronavirus has had some sizable impacts on the country's economy, with many businesses either facing harsh times or closing outright due to the nature of lockdowns and social distancing measures. Other businesses that thrive on remote experiences or delivery services, like conference call mammoth Zoom and Amazon reaping the benefits from stay-at-home orders.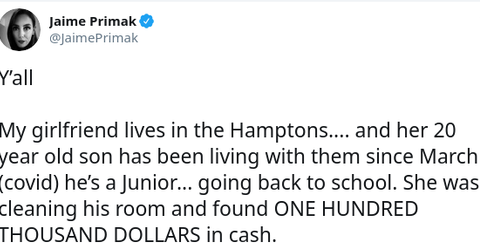 Then there are some other not-so-conventional vocations that have also experienced major booms. Not to bring up drug dealers again, but when the lockdown orders were first implemented, there were plenty of "independent contractors" making money hand over fist pushing product from folks stocking up on their orders to get them through quarantine. As the measures were extended far beyond what they initially were supposed to be, dealers came up with solutions to still secure wares to sell.
This young man, however, wasn't dealing drugs, that's not how he made $100k in just a few months. He managed to leverage his unique living situation in the Hamptons to earn such a sizable amount of dough in a relatively short amount of time. Although he was initially reluctant to reveal the source of his income to his parents, he finally caved after his father threatened to report the earnings to the police.
He was working at a local sandwich shop, shooting the breeze with a rich older woman about how he had tested negative for COVID-19. He noticed that the woman had paid for her large order in all hundred dollar bills and she said that her and her gal pals were looking for a young man to "help out" as long as they had tested negative for COVID-19.
It turns out the "help" was basically the full male escort experience. Here's the thing though: this young man was charging $5,000 every time he provided these wealthy older women with his services, meaning her partook in no fewer than 20 sessions (it could be a lot more if he was spending the money).
His mom swore she would return every dollar to these older women and she's not letting the 20-year-old keep the money. She asked Jaime not to tweet about the story but...she just had to.
There were plenty of people who believe that this is probably a bad idea on her part. Some argued that it would "destroy" her reputation in the Hamptons.
Me personally? Look, if I was the kid, I'd just secure one client, use that cash to move out and rent a place of my own and continue business as usual. Do you think what he did was wrong? Illegal, obviously, but should he give the money back?
There were a lot of people who were conflicted on the issue. Some even said that this was an open and shut case of abuse that highlighted gender discrimination when it came to the exploitation of young men.
It seemed like a lot of people just couldn't see the virtues of giving the money back, with many arguing that if people were willing to pay $5,000 a pop, that they probably had a lot of wealth any way and it would only further shame them. Others suggested that if the mom really didn't feel like keeping the money then she could just donate it to a worthy cause.
Then there were others who were extremely adamant that the man earned the money and he was a consensual adult.