Talk About Petty Revenge — This Mom Hired Two Kids to Beat up Her Daughter's Childhood Bully
In a viral post, a woman revealed that when she was younger, her mom hired two kids to beat up her bully — and he never bothered her again.
We love a good petty revenge story, especially if it involves someone who got bullied getting the last laugh. Now, we don't condone violence, but when it comes to this woman in the "Petty Revenge" subreddit, she seemingly loves it.
Article continues below advertisement
The original poster, who goes by the handle u/Such_Caterpillar_396, said her mom hired two kids to beat up her (the OP) childhood bully — and he never bothered (or looked at) her again. OK, talk about chaotic!
Read on for more details. Plus, stick around to hear what the internet has to say.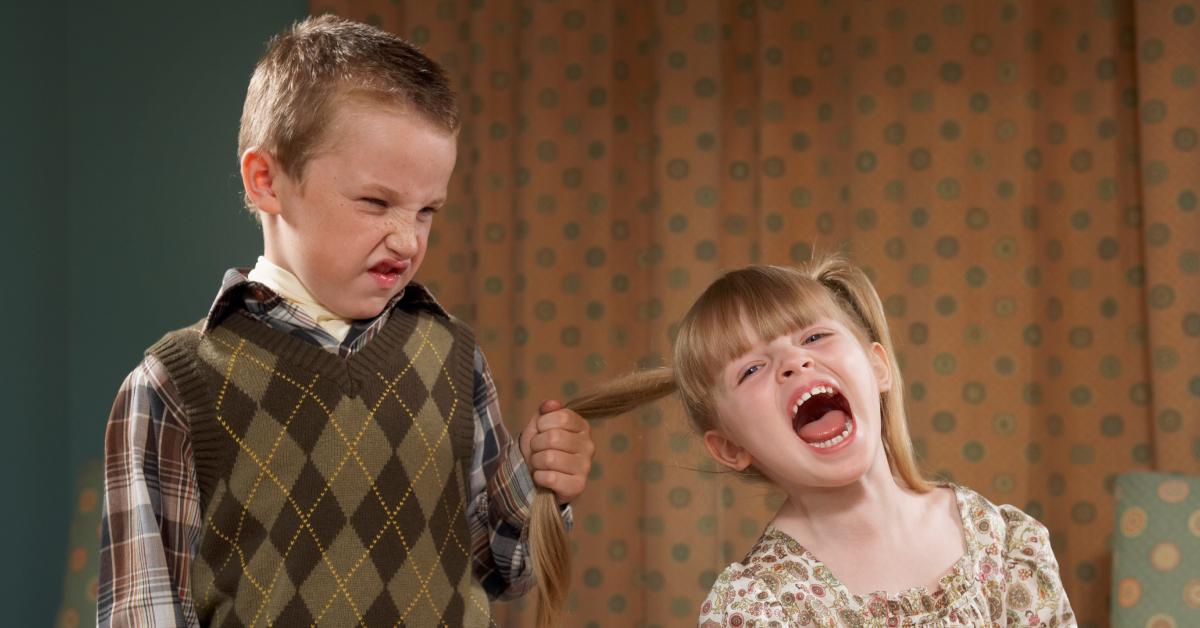 Article continues below advertisement
This mom got petty revenge on her daughter's childhood bully by hiring two kids to beat him up.
The OP explained that when she was in third grade, her childhood bully was in the same class as her and lived in the same neighborhood. Not many tenants had air conditioning in these townhouse condos in the '80s, so most people left their doors open. As a result, everyone knew everyone else's business.
One day, when the OP was walking to her friend's condo, she heard some loud commotion. She looked over and saw her bully's little sister "fly across the room." The OP went home and told her mom, who called CPS. The five kids were taken away, but back then, it was common for the parents to get them back by promising to never do it again.
Article continues below advertisement

So, they all went back home — and things didn't turn out too well for the OP. Her bully got word that her mom called CPS, so at the bus stop one morning, he "sucker punched" the OP. Several people saw it happen, but the OP didn't say anything to anyone. However, someone else told their mom, who eventually told the OP's mom.
Article continues below advertisement
After learning about the OP's chaotic morning, her mom went to the "worst area" of Detroit and hired two kids for $20 each to beat up the bully. Once all was said and done, the OP's mom dropped them back off where she found them.
"That's how Italians deal with things," the OP wrote.
Many fellow Redditors shared similar experiences.
Despite some Redditors believing the story is fake, many took to the comment section to share similar experiences.
"At around the same age, I had a similar experience. There were three kids a grade older than me, my brother, and my friend, that walked the same route home as us," one person said. "In third grade, they decided it was their mission to torment us. But I was not one to be messed with. What we lacked in size, we more than made up with our taste for violence and a total lack of supervision."
Article continues below advertisement
They continued, "We rode our bikes that day to get home early. We stacked gallon bags of loose dirt on both sides of the sidewalk, including in a tree and on the roof. ... We pelted them with these 3-4 lbs bags that caused a lovely dusty explosion on impact, maybe a dozen hits. And then chased them down the street with eggs."
Article continues below advertisement
A second Reddit user commented, "My sister (in kindergarten at the time) and I (in 2nd grade) regularly got bullied by kids while walking to school (this is Chicago in the very early 1960s). A short conversation later between my parents and the [bully], and we were never bothered again."
Article continues below advertisement
"I was infamously bullied and humiliated by an older kid who scared the c--- out of me," another Redditor wrote. "The next day, my older brother, his friends, and even his girlfriend went after the dude. Next time I saw him, he walked up and apologized to me. It's old school, but sometimes a guy just needs a good a-- kicking."
Someone else claimed that their mother "almost beat up my childhood bully herself. She had him pinned by the neck against a fence, saying, 'Don't you ever come near my boys again!' Needless to say, he did not come near us again."