Mom "Switches Baby" to See If Dad Would Notice, His Reaction Is Hilarious
A mom switches her baby on TikTok to see if her husband notices. The dad's reaction is seriously heartwarming. See the video here.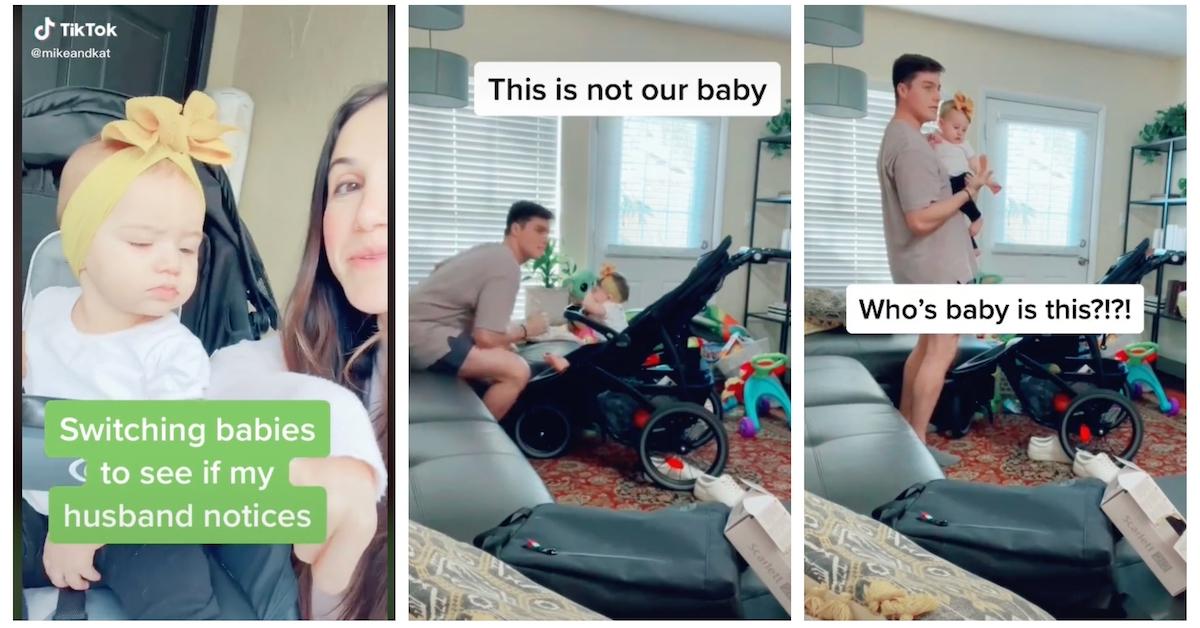 When it comes to TikTok, there's no shortage of entertaining bite-sized videos that will keep you scrolling for hours. Mixed in with the dance trends, challenges, fun filters, and adorable cat shenanigans are tried and true prank videos. And some of the best clips in the latter category are those that don't turn out exactly as you might think.
In May 2021, a prank video of a mom switching her baby started making its rounds again on the social media platform. And the dad's reaction is everything.
Article continues below advertisement
A mom switched her baby on TikTok to see if her husband would notice.
The video, which was posted on the @mikeandkat TikTok account, initially went viral in December 2020. It features mom Kat Stickler (@katstickler) swapping their daughter, MK, with Kat's friend Sharon's baby to see if Mike noticed or not.
Spoiler alert: He definitely noticed.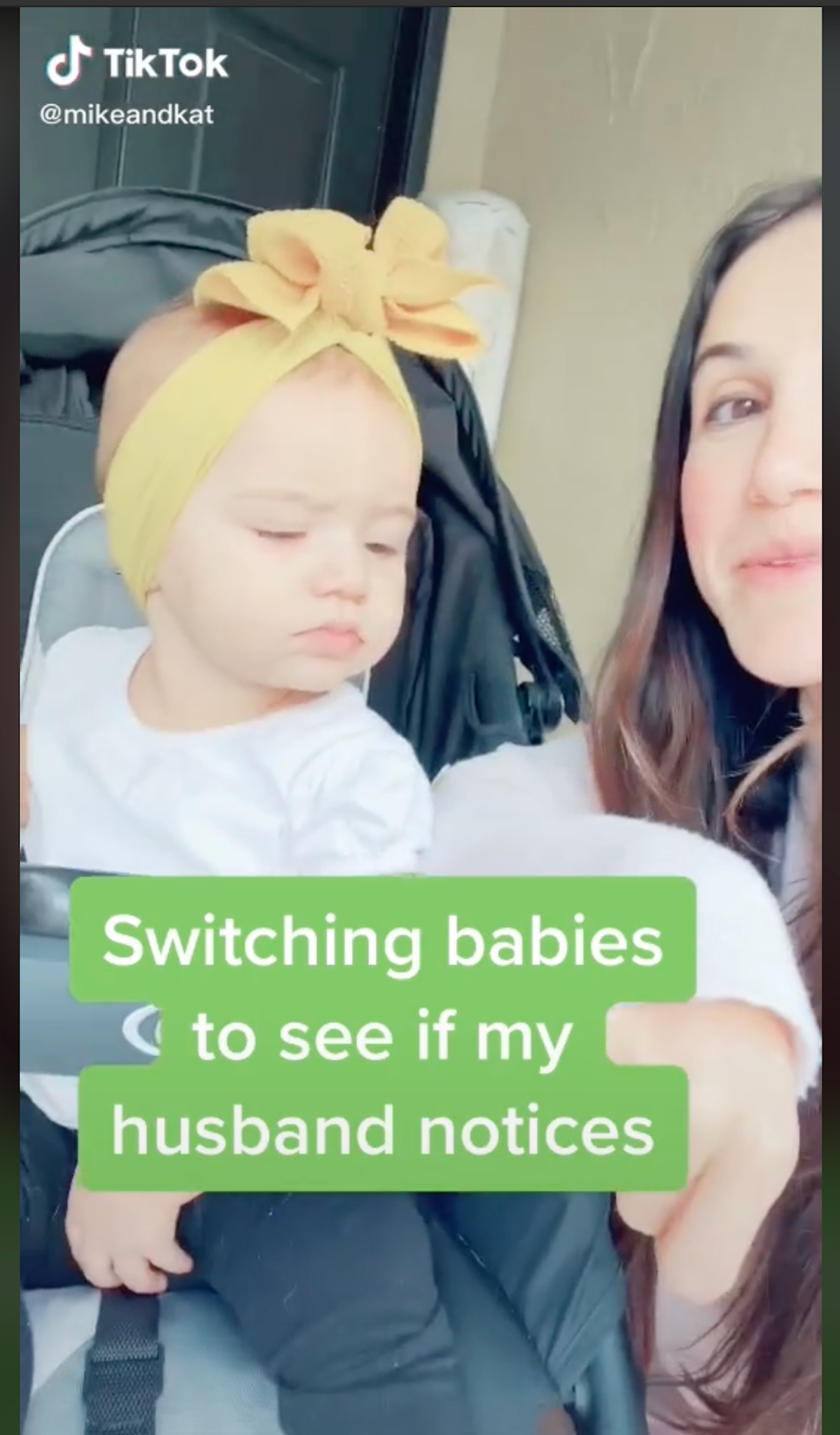 Article continues below advertisement
Kat began the TikTok video by introducing viewers to the two babies: her and Mike's baby, MK, and the "other" baby, who was wearing MK's bow. Next, she pushed a stroller into their living room and asked Mike to please get MK out.
Unbeknownst to Mike, however, Kat had her iPhone recording him as he did a double-take when he went to get "MK" out of the stroller.
"This is not our baby," he pointed out, the alarm clearly evident in his voice. "What are you ... This is not our baby."
"What do you mean?" Kat asked innocently.
Article continues below advertisement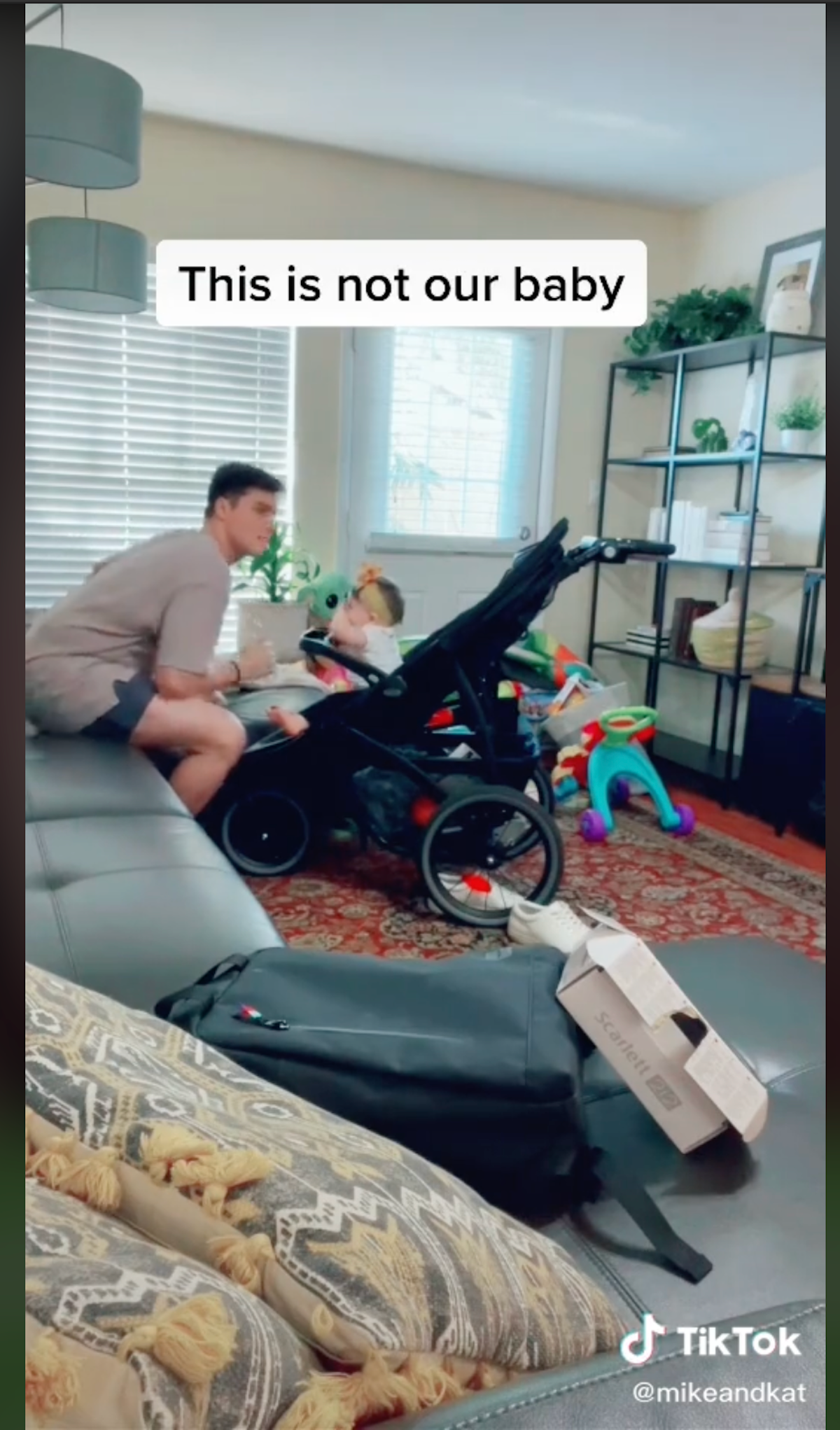 Mike proceeded to pick up the other baby and gently cradle them in his arms — but he was still confused AF and panicking about MK being MIA.
"Katherine, what are you ... Is this a prank?" he said. "You're pranking me right now. Tell me, where's MK?"
"This is not our baby," he maintained. "You went to the park, right? Katherine, this is not our baby. This isn't funny."
Article continues below advertisement
As Mike's panic grew even more, Kat rushed in to finally let him know that MK was perfectly fine.
"I'm pranking you, I'm sorry!" she told him.
"That's not funny! Oh my god, that's not funny. Who's baby is this?" a relieved but still shaken-up Mike said. "My heart is beating so fast, I thought you literally lost our child. I live in a prank!"
"Why did I think he wouldn't notice," Kat aptly captioned the TikTok video, which has since attracted 1.9 million likes.
Article continues below advertisement
Kat and Mike Stickler announced their separation in March 2021.
"Hey guys, we just wanted to come on here and address some of the rumors about Michael and I being separated," Kat said in a TikTok video alongside Mike. "Unfortunately, they are true. We are separating. We just wanted to be transparent with you guys, because you guys have been with us from the beginning of this whole journey."
Article continues below advertisement
She continued: "We go forward with love and respect for each other, 100 percent. We are also totally committed to co-parenting MK to the best of our abilities. We just ask that you respect our privacy, and her privacy."
Article continues below advertisement
At the time, some speculated that Kat and Mike were parting ways because of the nature of their whirlwind relationship — which saw them start dating, get married, and then get pregnant within three months. Mike, however, hinted that he was to blame.
"I agree with Kat, you know, we're just trying to do everything we can for MK, and co-parenting her, and moving forward in love," Mike explained. "So, Kat is not at fault at all for any of this, just so you know. There's a lot of things that I need to work on in my own life and get in order. Again, if you could, please respect our privacy, respect us as individuals as we attempt to navigate this process."
Article continues below advertisement
Kat is still making hilarious prank videos, for the record, if you want to check them out. (Like the earwax one above.) We wish the best for Kat and Mike as they continue to navigate co-parenting little MK, even though their relationship didn't work out in the long run.