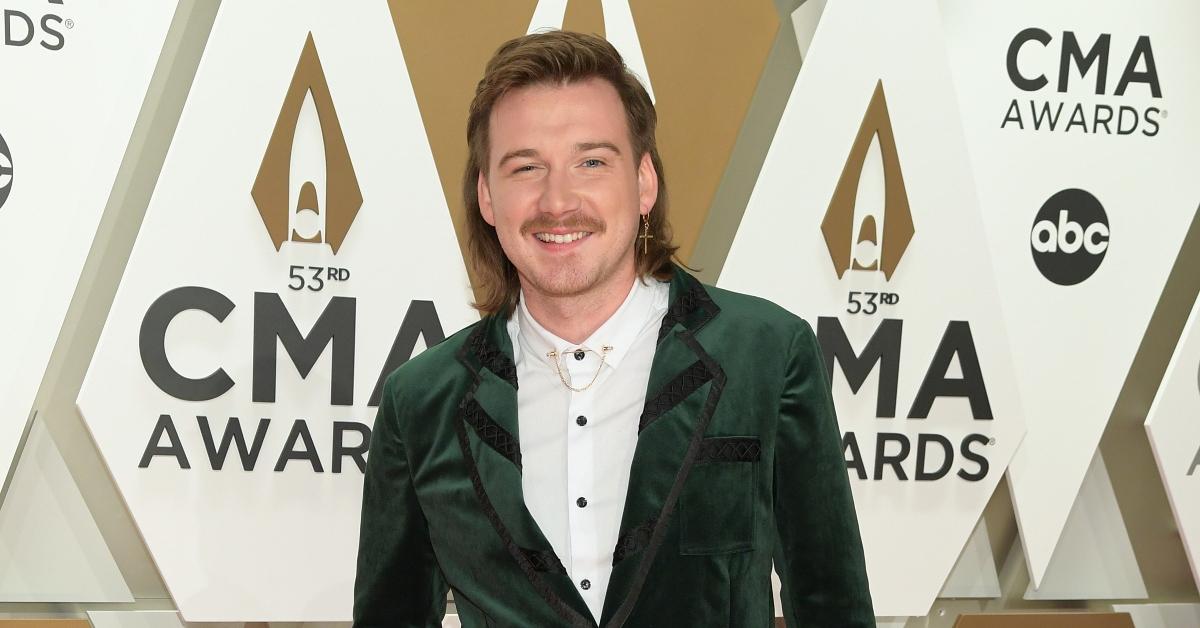 Morgan Wallen's $500,000 Pledge to Black-Led Groups Never Showed Up
Country singer Morgan Wallen endured some messy PR at the beginning of 2021, and after yet another public blunder, issued an apology — his second in less than six months.
This time, Morgan was called out for his use of the n-word, caught on camera by a neighbor's Ring security camera.
Article continues below advertisement
Morgan Wallen issued an apology for saying the n-word.
On Feb. 2, 2021, TMZ published a video they'd obtained which reportedly shows the 27-year-old country singer noisily coming home from a night out with his friends. In the video, he shouts the n-word at his friends, saying, "take care of this p---y-a-s n----r."
The video immediately sparked outrage from his fans, who called Morgan out on his racist language.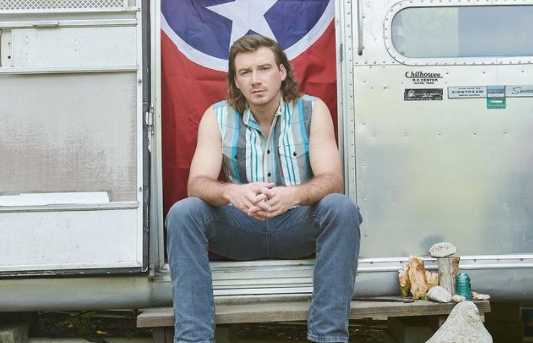 Article continues below advertisement
"I'm embarrassed and sorry," Morgan said in a statement at the time, according to People. "I used an unacceptable and inappropriate racial slur that I wish I could take back. There are no excuses to use this type of language, ever."
He concluded his apology, saying, "I promise to do better."
Morgan pledged $500,000 to Black-led groups, but the promised sum never showed up.
Per Rolling Stone, it appears as though Morgan hasn't made good on his July 2021 promise to donate $500,000 to black-led organizations after catching heat for his racist comment. The publication reached out to numerous organizations, including the Black Music Action Coalition, which Morgan mentioned by name, asking if they had received the funds. They answered that they were given only about $165,000.
Article continues below advertisement
BMAC organizers told the publication that they met with Morgan over the summer to help him understand "how deeply harmful, offensive, and unacceptable his use of the n-word was." However, they were upset that he barely condemned racist behavior as a whole.
Rolling Stone reportedly contacted "56 other state, regional, and national Black-led or Black-founded charities," and none confirmed that the singer had sent them any money either.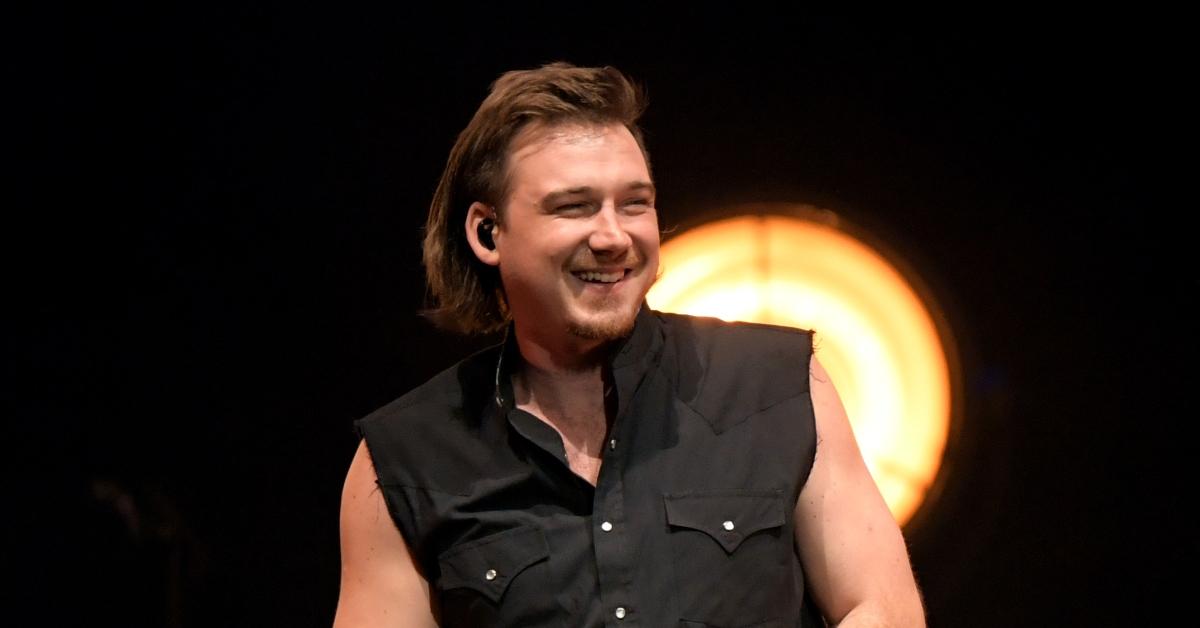 Article continues below advertisement
That wasn't Morgan's first public apology either, his disregard of COVID-19 protocols landed him in hot water too.
Morgan had also issued an apology in October 2020, when videos of him partying without a mask went viral before his SNL appearance.
"It's a tough video for me to make, but a necessary one [...] I'm in New York City, in a hotel room. I was getting ready for SNL this Saturday, and I got a call from the show letting me know that I will no longer be able to play and that that's because of COVID protocols," Morgan began his apology posted on Instagram.
"I'm not positive for COVID, but my actions this past weekend were pretty short-sighted, and they have obviously affected my long-term goals and dreams," Morgan added shortly after.
"I respect the show's decision because I know that I put them in jeopardy, and I take ownership [of] this. I'd like to apologize to SNL, to my fans, to my team [...] I let them down," Morgan said.
Article continues below advertisement
"And, on a more personal note, I have some growing up to do [...] I'm gonna take a step back from the spotlight for a little while," he explained.
Article continues below advertisement
Morgan Wallen was also spotted partying without a mask in Tuscaloosa back in 2020.
On Saturday, Oct. 3, 2020, Morgan shared a photograph taken at a football game at the Bryant-Denny Stadium, Tuscaloosa, Ala.
As several TikTok videos reveal, he likely headed out a few hours afterward, immersing himself in the vibrant nightlife the college city has on offer. According to the video recordings, Morgan paid little attention to the regulations, partying at several locations instead.
Morgan's antics caused a great deal of stir on social media and beyond, with many taking a clear stance against the star for his failure to lead by example and putting himself and others at risk of contracting the coronavirus (COVID-19) instead.
"How do I get off of Morgan Wallen TikTok? Please, I'm begging you. I'm so tired of seeing videos of him kissing random girls and no one wearing masks and them being at bars packed shoulder to shoulder," wrote a person.
Article continues below advertisement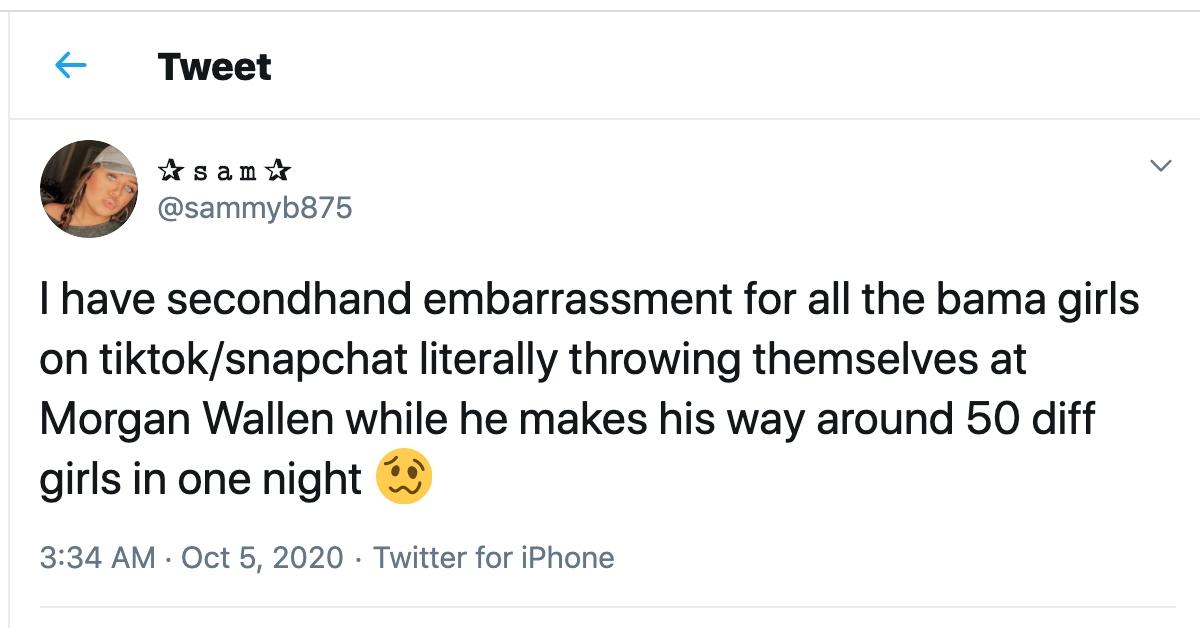 Some were equally angered by seeing the 27-year-old father of one out and about.
"It seems like that Morgan Wallen guy cares more about not being on SNL than being around his baby. Who has a baby and goes and kisses random girls at bars during a pandemic??" one wrote.
"I would like to publicly say I am much more concerned about the celebrities involved in pedophilia than how many girls Morgan Wallen kissed over the weekend. I suggest y'all do the same," argued another.