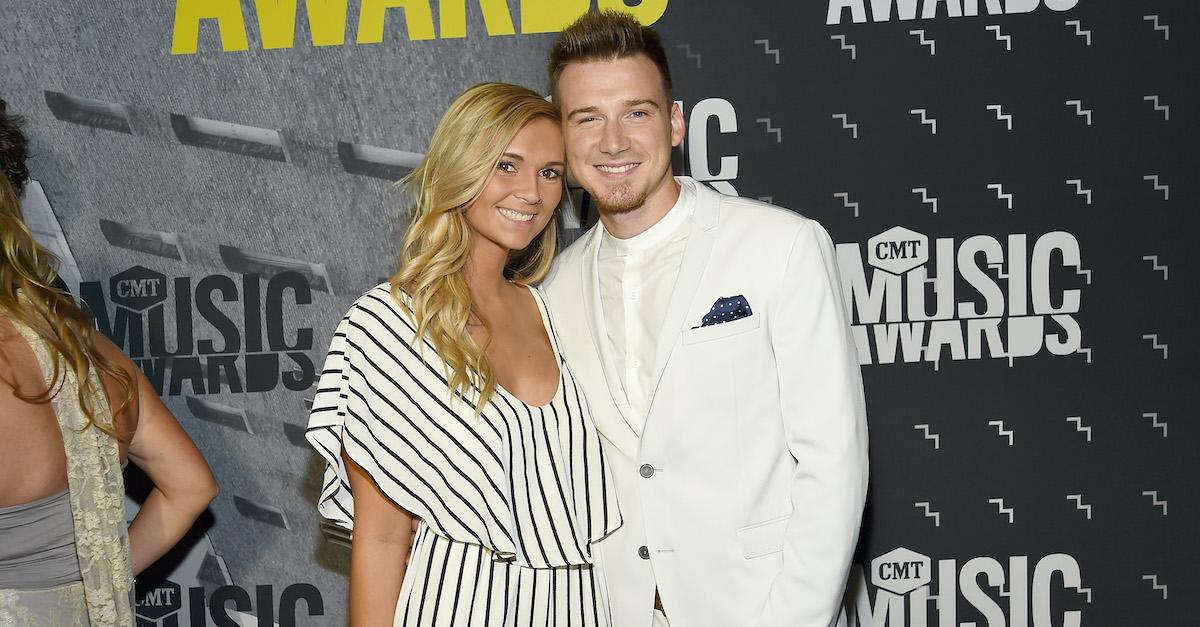 Morgan Wallen's Baby Mama Says He Needs COVID-19 Test Before Seeing Son Again
Country singer Morgan Wallen just posted a photo of himself with a newborn. But who did he have a baby with? His baby mama and more details.
Country singer Morgan Wallen has been making headlines for his partying during the coronavirus pandemic — sans mask. Photos and TikTok videos of Morgan at social gatherings began circulating, and it ultimately cost him his gig on the Oct. 10 episode of Saturday Night Live.
While Morgan admitted that his partying put the cast and crew at SNL at risk for COVID-19, and that he had some "growing up to do," many members of the public were also concerned because the musician is a new dad.
Article continues below advertisement
The singer welcomed his first child in July of 2020. The "Whiskey Glasses" singer shared the news with surprised fans over an Instagram post, which said that he was "a changed man" now that he's the proud dad of son, Indie Wilder.
Given how little Morgan has shared about the fact that he was even expecting a baby and the fact that Morgan isn't married or even publicly dating anyone, fans are curious about Morgan Wallen's baby mama, how she came into the picture, and why the two aren't together.
Article continues below advertisement
It turns out, Morgan's baby mama's name is Katie "KT" Smith, a woman Morgan once dated, was engaged to, and ultimately broke it off with. While Morgan has been super tight-lipped about KT and the baby, she's shared a couple of details via now-deleted Instagram posts and her blog, Thot Thoughts.
Who is Katie Smith?
Katie Smith is Morgan Wallen's baby mama, who gave birth to their son, Indie Wilder Wallen, on July 10, as shared by both of their Instagram accounts. Katie is from Key West, Fla., but now lives in Nashville, where she will now be co-parenting with Morgan. And while Morgan and Katie certainly aren't a couple right now, they do have a relationship past together that dates back to 2017.
Article continues below advertisement
It isn't clear what Katie does for a living but following the announcement of Indie's birth, she's tripled her follower count, so a career in influencing may be in the cards for her. She already has her blog, Thot Thoughts, where she's shared details about her life, faith, pregnancy experience, and favorite beauty products, making the shift into social media right up her alley.
Article continues below advertisement
Katie and Morgan's relationship goes back a couple of years.
It's unclear when Katie and Morgan started dating, but social media posts between the two of them date back to 2017. The two also attended the CMT Awards that same year and were even engaged right as Morgan's career was taking off.
But it seems Morgan's rising career and constant touring was too much for the young couple and they soon called it quits on the relationship.
After they split, fans speculated that Morgan's song, "Chasing You" was about Katie but he denied it, saying that he had written the song in 2015, years before they had even met.
Katie however, was a little less tight-lipped and although she never named Morgan specifically, she shared some musings on her blog, in a post called "Never Have I —" that details a relationship that Katie had with an unnamed singer.
Article continues below advertisement
In the post, Katie clarifies that she's not trying to bad-mouth anyone, but then proceeds to describe what sounds like an unfulfilling, on-again-off-again relationship that she had with a musician. At first she says, they were "head over heels in love — the kind that you see no flaws and you completely forget about thyself and turn yourself into what they want."
Article continues below advertisement
But it seemed that being on the road along with this mystery musician's newfound fame was too much for the couple to handle and they soon went their separate ways. Katie ends the post with some advice for her readers: Find a god-fearing man who "has prayed for someone like you, and that continues to pray for you and you for him throughout your relationship."
To be clear, the post never mentions Morgan by name and could be about somebody else entirely. But the details she shares and the timeline seem to fit when Katie and Morgan would probably have hooked up back in 2017.
Katie hinted at Morgan's COVID-19 partying scandal when she posted a message on her Instagram stories on Oct. 5.
Article continues below advertisement
"All parenting looks different but he is still SO loved," Katie wrote about her son. She also shared that Morgan would have to get tested for COVID-19 before he could see Indie again.
The best way to prevent contracting or spreading the coronavirus is with thorough hand washing and social distancing. If you feel you may be experiencing symptoms of the coronavirus, which include persistent cough (usually dry), fever, shortness of breath, and fatigue, please call your doctor before going to get tested. For comprehensive resources and updates, visit the CDC website. If you are experiencing anxiety about the virus, seek out mental health support from your provider or visit NAMI.org.