Man Creates Totally Accurate Movie Sound Effects Using Everyday Objects
Charlie S. Cooke has gained a huge audience on TikTok for his videos in which he uses everyday objects to recreate some iconic movie sounds.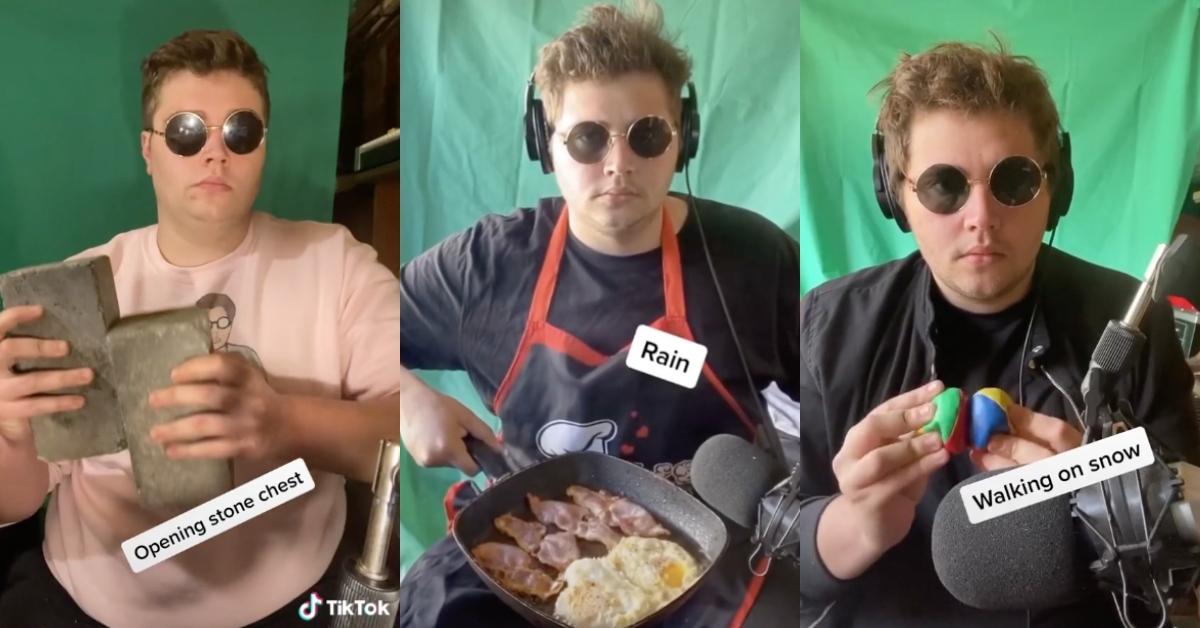 Foley is the art of recreating everyday sounds that get used in movies, TV shows, and other types of media. Most often, foley sound effects use something other than the actual thing meant to be making a sound in order to recreate the effect.
Article continues below advertisement
For example, foley artists might use metal sheets to recreate sounds of thunder booming. It's much easier to capture the sounds of a metal sheet moving precisely than to grab perfect sound from a real thunderstorm. One TikTok user, Charlie S. Cooke, shares tons of videos in which he creates movie sound effects using everyday objects that we all probably have lying around the house. When you really listen to, for example, eggs and bacon frying in a pan, you'll notice just how much it does sound like falling rain.
Article continues below advertisement
Foley artists truly are artists. I can't fathom the imagination it takes to think, "Heartbeats... What sounds like heartbeats? Ah yes, let me take the plastic lid to this bucket and snap it a few times." It's genius!
Article continues below advertisement
Foley was named after Jack Foley, the man responsible for inventing this sound effect technique. Foley sounds often give a film a much more layered, textured feel, a depth of the experience of watching it that simply wouldn't exist without these sounds. Foley also allows filmmakers to highlight certain details of a scene that might otherwise get lost but that are super important for the advancement of the story.
Article continues below advertisement
Article continues below advertisement
Charlie's videos are insanely impressive! In every single one, there's at least one sound effect that completely blows my mind. Who knew that mashing two hacky sacks together would sound exactly like someone walking on snow?! It's absolutely perfect.
And I'm not the only one who's impressed. Charlie's videos have amassed millions of views and likes, and he has nearly 600,000 followers. His creativity is inspiring, and honestly, his sound effects are just really impressive.
Article continues below advertisement
Article continues below advertisement
Article continues below advertisement
Take a look around you. You're surrounded by objects that could be used to recreate everyday sounds, and you probably don't even know it! That's the beauty of foley sound effects.
Article continues below advertisement
If you're interested in learning foley, this is a pretty good guide to get you started. They suggest things like using coconuts to mimic horses running, scrunching up and releasing potato chip bags to mimic the subtle popping of a fire, and smashing a watermelon if you need to mimic the sound of a person's head getting bashed in.
For the rest of us, we have Charlie's videos to watch and be continually impressed by. Make sure to follow him on TikTok to get this latest creative foley sound effects in your feed!