'Naked and Afraid' Fans Applauded Joe for Making It Work With Sam
'Naked and Afraid' contestants Joe and Sam were supposed to spend 21 days in the Montana desert — but things reached boiling point between the two.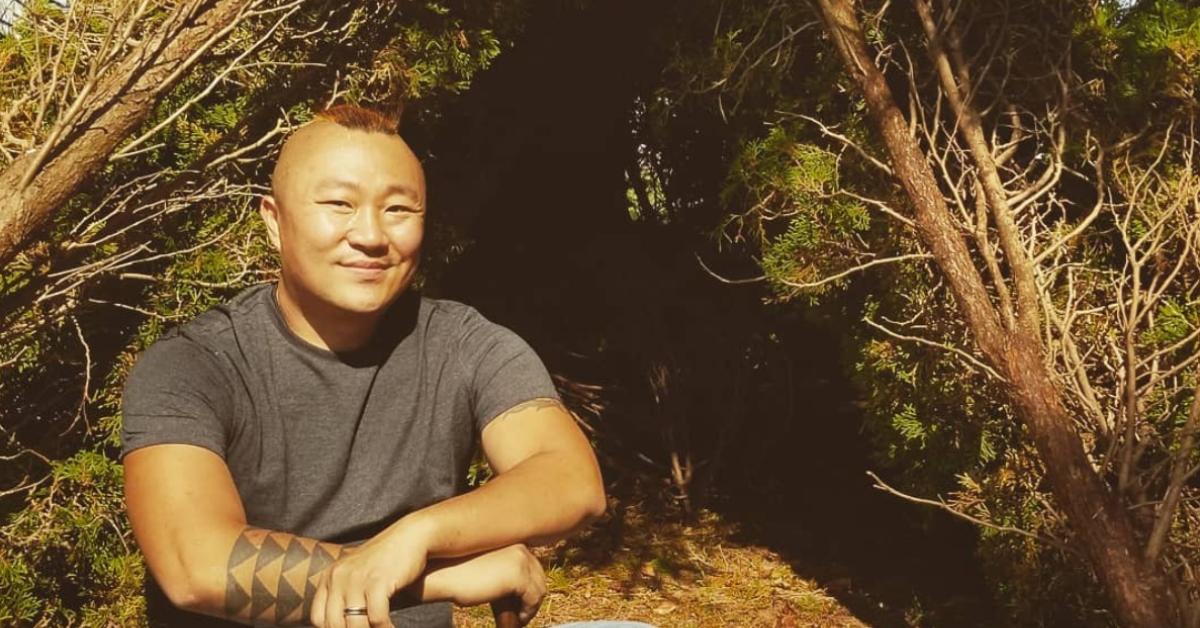 Would you be able to survive out in the wild without clothes, gadgets, or any means of communication?
This is the question the contestants appearing on the hit reality TV show, Naked and Afraid, have to face. With each expertly-edited episode chronicling the struggles of ambitious survivalists, the show sheds light on how much people can become reliant on the inventions of modern technology.
A recent episode charted Sam and Joe's trials and tribulations. So, why didn't they get on?
Article continues below advertisement
What went down between Sam and Joe on 'Naked and Afraid?'
A self-described "Gold Star lesbian," Sam explained that spending a considerable chunk of time with a buck-naked man was one aspect of the program she had reservations about in a trailer for Naked and Afraid.
"I haven't seen a naked dude before like ever in my life. How does that all work? [...] What if I, like, touch it?" Sam said.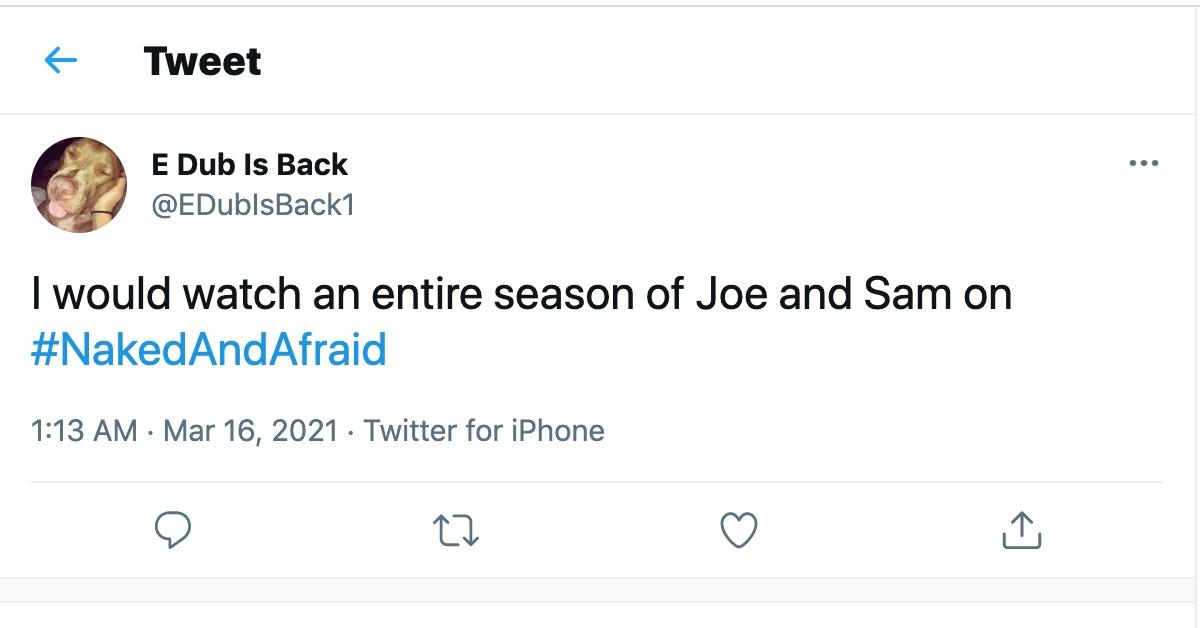 Article continues below advertisement
Albeit less outgoing than Sam, Joe struck a chord with fans thanks to his laid-back personality and calm and collected approach. Joe reportedly joined the cast of Naked and Afraid because he wanted to meet his birth parents.
Things quickly took the wrong turn between Sam and Joe on 'Naked and Afraid.'
As a recent episode of Naked and Afraid revealed, Sam and Joe made for a bad match — which, in part, likely boiled down to Sam's relentless attempts to play mind games with the only person she could rely on in the Montana desert.
Article continues below advertisement
In an explosive trailer, Sam attempted to bully Joe into drinking more water — implying that his failure to do so would serve as proof of his supposedly reckless and self-destructive nature. Joe tried to nip the onsetting argument in the bud, but, ultimately, he failed to do so.
Article continues below advertisement
"Nothing out here takes more priority than water. [...] When you went hiking you were gone all day. What if this would have happened? I wouldn't be able to help you. And then what?" Sam tried to lecture Joe. "You don't know how dehydration works, that's not how it works. Once you hit the point where you're on the ground, you are hours away from things starting to shut down. Like, Joe, you can die."
"Stop being stubborn. You need to drink. If you don't drink, I'm not bringing you water anymore. I'll let you f------ die. I'm over it, Joe," she said.
Joe tried to maneuver his way around the sensitive situation — but Sam turned out to be far more powerful. Although he eventually told her that she was right, Sam found this dissatisfactory.
Article continues below advertisement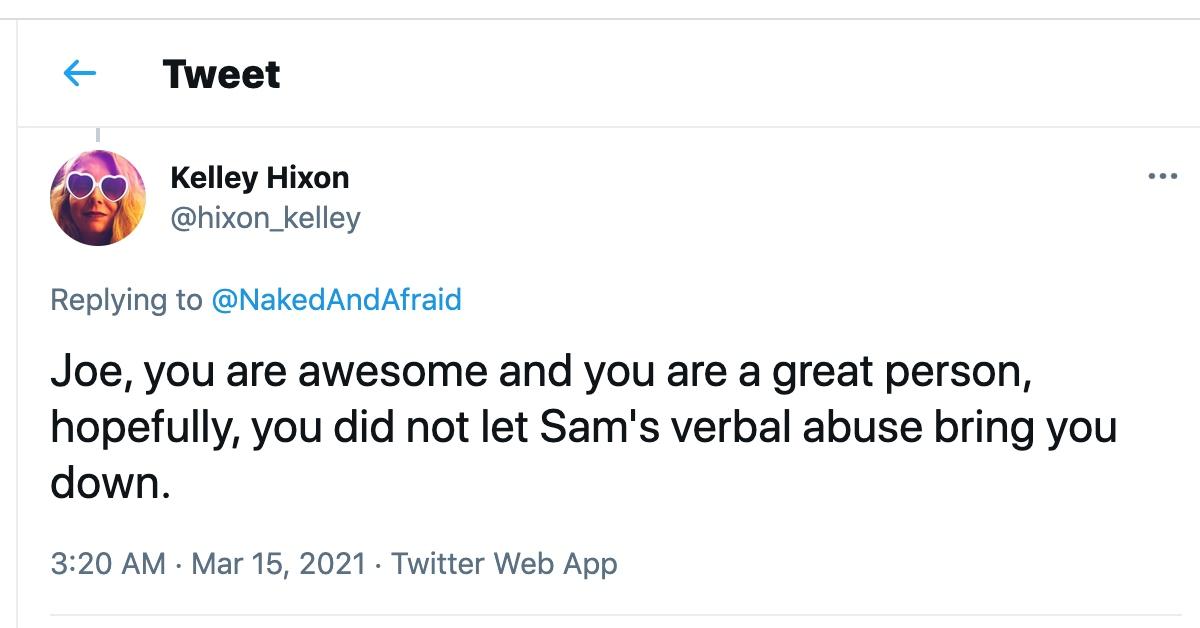 In a confessional, she went on to explain that she is merely trying to look after Joe — which some Naked and Afraid fans would likely describe as a somewhat jaded interpretation of events.
Article continues below advertisement
Many have taken it to Twitter to congratulate Joe for having the inner strength to survive the adverse weather conditions and Sam's frequent outbursts of anger.
"Does anyone else feel bad for Joe in the newest Naked and Afraid?" tweeted @BrooksEamon.
"Poor Joe, he wasn't just #NakedAndAfraid, he was Naked And Afraid And Alone," tweeted @Mike0243.
Catch new episodes of Naked and Afraid every Sunday at 8 p.m. ET on Discovery Channel.