This Ridiculously Specific Nanny Job Is Definitely Worth More Than the Meager Payment Offered
A super specific, super detailed job posting for a nanny has so many requirements that they're never going to find someone who fits all of them...especially not for $13 an hour.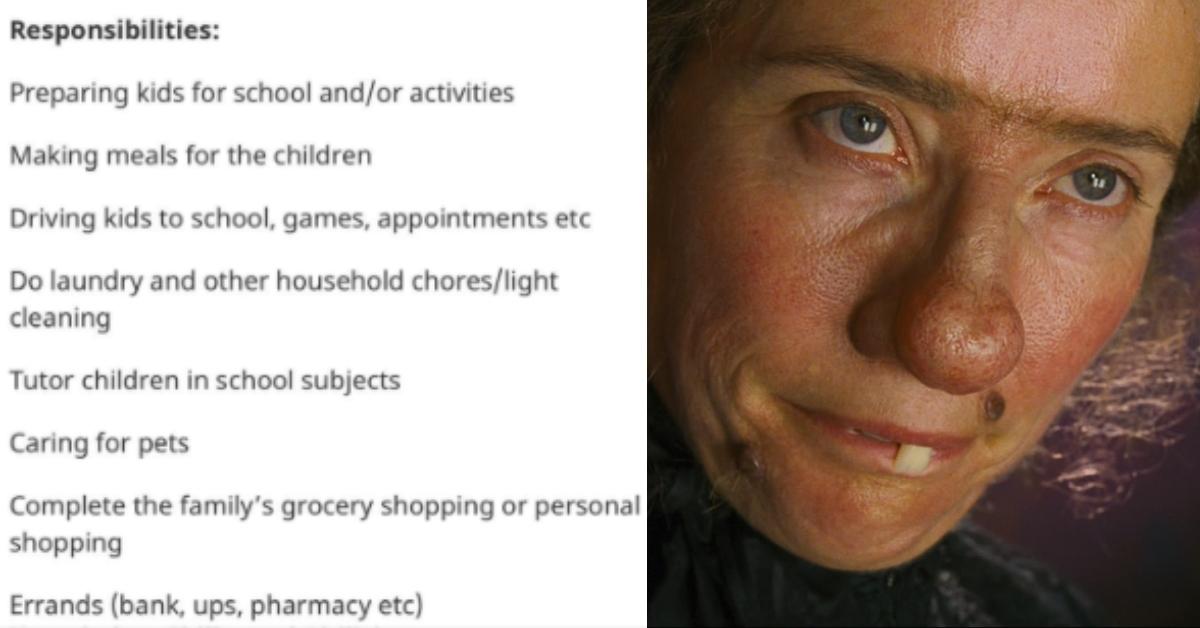 People expect nannies to be literally everything for everybody at all times. Job postings for these positions are often like, "This person must be able to drive a car, have a Ph.D. in mathematics, have a degree in English literature, and be able to ride a bike while making lasagna."
Article continues below advertisement
OK, so maybe they aren't that crazy, but this job post, which was shared in Reddit's Choosing Beggars subreddit, comes pretty close. It's so specific, so detailed, and so not worth the meager wage offered. Let's start at the top, shall we?
OK. This is a full-time job. You have to commit to eight hours a day, five days a week. But then, hold up... It seems like you also have to be on call in case the kids are sick, and you might have to travel too. You have to have your own car, and you also need to be a whiz with the computer. So far, kind of intense, but not terribly unreasonable.
Article continues below advertisement
But now let's take a look at the responsibilities. You have to be a chef too, because you have to make meals for the kids and do all the family's grocery shopping. So you're really more like a nanny / tutor / personal chef / personal assistant / dog walker??? You also have to care for the pets, tutor the kids, and run errands for the family. That's like, five different jobs, y'all.
In addition to the five different jobs you have to perform, you also have to be a mind reader / therapist ("aware of others' reactions, needs, and individual differences") and a healthcare professional who adheres to strict health standards. I'm tired just reading this job post.
Article continues below advertisement
I understand that you want an all-around helper, someone who'd skilled in a lot of different areas. But it takes time to become that wise. Surely they'd be open to an older, more experienced nanny, one who's dealt with demanding families before and thrives in that kind of environment. Right? Right? Wrong.
This is...unrealistic to say the least. First of all, they want someone who's been an au pair or a live-in nanny for at least two years, but they will also only hire someone who's between 25 and 30 years old. The likelihood of finding that person is...not great.
Article continues below advertisement
And in addition to all that other stuff, it would be great if you spoke several languages and liked art and sports. They are describing a person who does not exist. But are you ready for the kicker? I feel like you're not. It's coming anyway...
And there it is. A measly $13 an hour. Are you kidding me?! Notice how they also snuck in weekend availability even though there was no mention of it before. These people are making me so angry. $13! An hour! For someone to be constantly doing five jobs.
Article continues below advertisement
"Basically adopt my kids for $13 an hour," one Reddit commenter wrote. That pretty much sums it up. "And our pets," someone else added. "And be the proxy homeowner," yet another person tacked on.
Nannies or babysitters, especially ones you hope to hire for $13 an hour, need to be given $13 worth of work an hour. Maybe that's hanging out with kids and opening a bag of baby carrots for them after school. Maybe it's making sure they do their homework. Anything beyond that is exploitative.