Here are the Crispiest Onion Ring TikTok Hacks and Recipes in Honor of National Onion Ring Day
In celebration of the godly National Onion Ring Day, we present to you a list of the best and most delicious onion ring hacks and recipes TikTok has to offer.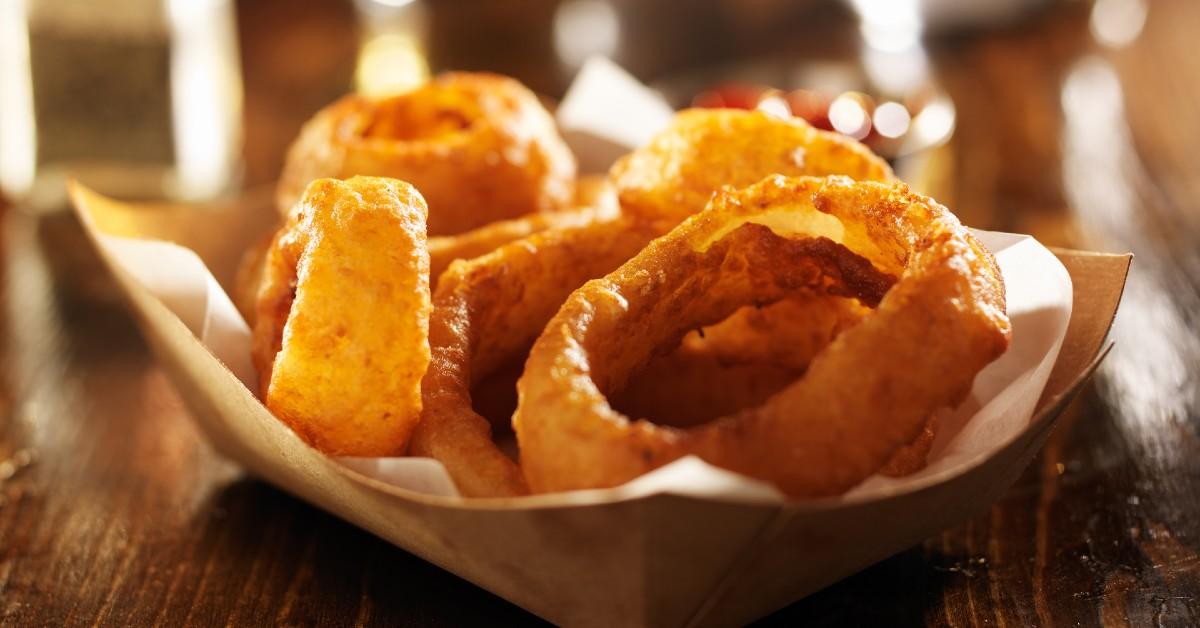 They're golden, they're fried, and you can wear them on your wrists and fingers as an accessory ... sort of. Onion rings are a greasy staple of fast food, and there is just something special about them. In fact, they're so special that Grammy-winning pop artist Lorde even created a once-anonymous onion ring review Instagram account, Onion Rings Worldwide. After much speculation, it was revealed in 2017 that the account is actually run by her.
Article continues below advertisement
While we may not be renowned onion ring critics like the "Supercut" singer, we do have a stellar list of onion ring hacks and recipes for you to devour, thanks to some amazing foodie TikTok creators. In celebration of National Onion Ring Day, forget about calories and make (or buy) some crispy, crunchy circles.
This knowledgeable hack will prevent the onion from separating from the breading.
TikTok user and chef @chefway has a perfect hack that'll stop the widely dreaded and relatable onion ring dilemma. After defrosting white onion rings under warm running water, Way removes the "inner membrane" of the rings. Wait, what? Nature is beautiful.
Article continues below advertisement
"It's important to note that by freezing and defrosting your onion, you're going to lose some of the characteristic pungency of the onion. So, if you're a big fan of that, you may not like this hack. But if you're really technical and you want to enjoy your onion ring in bites, this is a fun thing to do."
Article continues below advertisement
These beer-battered onion rings are the stuff of our wildest fantasies.
After separating the rings from a white onion, TikTok user and "professional food eater" @bigeats.world throws them in an ice water bath. While they chill, he mixes flour, pepper, paprika, seasoning salt, garlic powder, and one beer together in a bowl. After tossing the rings in plain flour, he coats them with his homemade beer batter prior to frying them at 350 degrees until golden brown.
"To take them to the next level, sprinkle some parmesan cheese on them," he says. One word: YUM.
Article continues below advertisement
These healthier onion rings offer an equally satisfying crunch.
These oven-baked onion rings come from @delishuk, and we're obsessed. So, you're going to want to start with a bag of Walkers' Frazzles. For those not in the U.K., you can get the bacon-flavored chips on Amazon.
After grinding the chips up in a food processor, they toss their rings in flour, then in an egg wash, then in the Frazzles "breadcrumbs." Bake 'em in the oven until they're golden brown, and voila!
Article continues below advertisement
This hack is for the multipurpose outdoorsman (or outdoorswoman).
TikTok user and "gold prospecting nomad" @justgowild is truly living his best van life off the grid. "Ever camping and crave onion rings like they have at the fair?" he asks. Well, this is where a simple pancake/waffle mix comes in. He uses Tree Hive's pancake and waffle mix.
"Make the batter just like the instructions say for waffles," he says before coating them in the batter and frying them in a pan on the stove.
Article continues below advertisement
"The key to good onion rings is to dry the rings prior to [dunking in the] batter."
He's truly inspiring us to pack up a bindle (or a more progressive version of one, anyway) and embark on a new life in the woods — with waffle-battered onion rings, of course.
Article continues below advertisement
The hackiest hack of them all involves a regular ol' waffle maker.
These keto-friendly low carb onion "chaffles" are so incredibly simple and they have us frothing at the mouth. TikTok user and "proud mom" @ketoneswithkiki got this "recipe" (we're using the term loosely, folks) from her keto diet Facebook group.
Article continues below advertisement
"Grab some shredded mozzarella, cover the bottom half of you waffle iron, then add your thinly sliced onions," Kiki instructs. "Then you're going to add a little salt and garlic powder. Top with more mozzarella, close up your waffle iron, and let it cook for four to five minutes. You judge how crispy you want it."
In the end, you're not exactly left with onion rings (don't throw tomatoes at us! we swear they're delicious!), but rather a cheesy, oniony waffle sent from heaven.