Negan and Alpha's Hookup on 'The Walking Dead' Has the Internet Cringing
Two of the most evil villains on 'The Walking Dead,' Negan and Alpha, hooked up and the internet raged about how disgusting it was.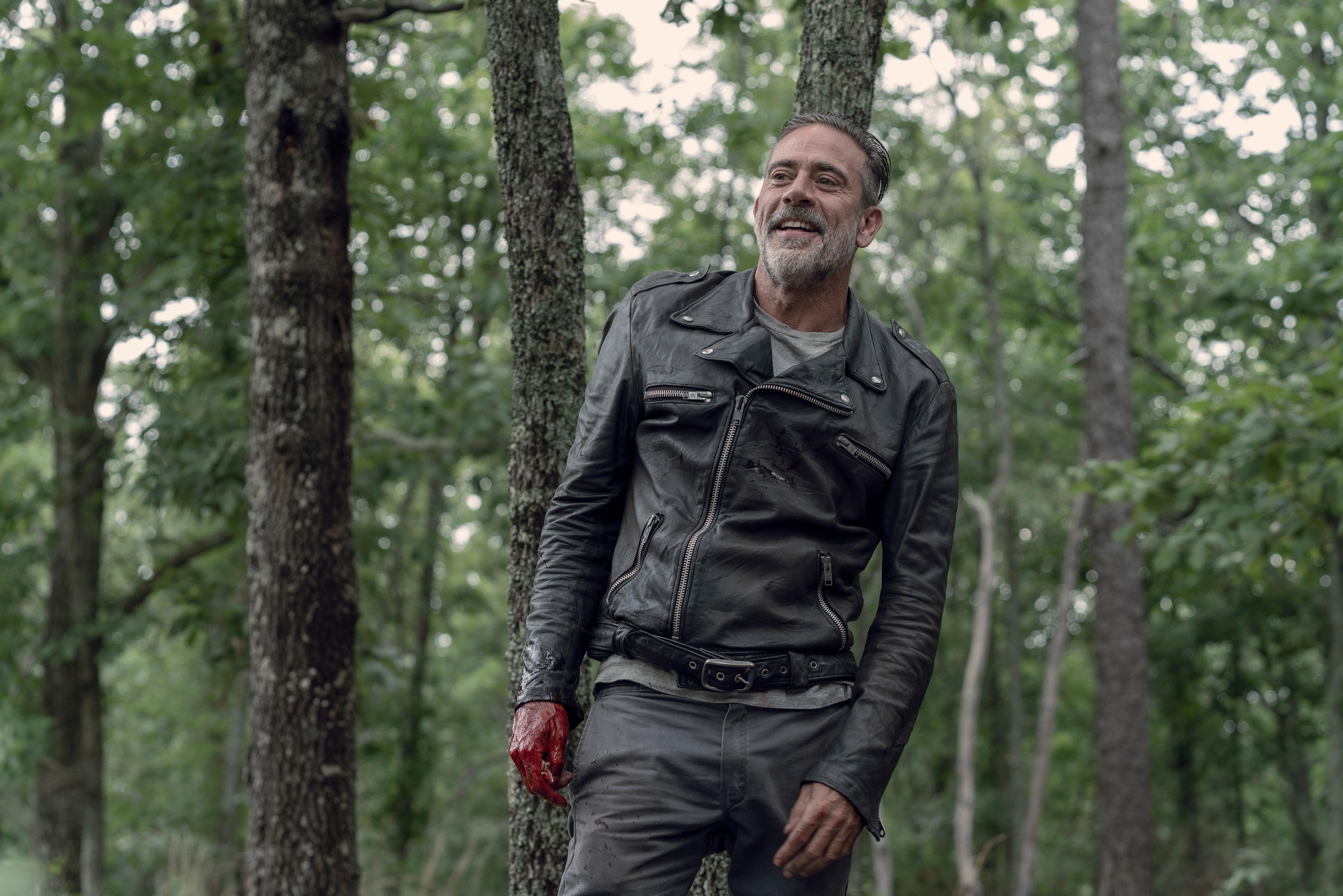 AMC's The Walking Dead returned after a midseason break and wow, they didn't disappoint when it comes to the Gross Factor. Nope, we're not talking about zombie guts or decapitated heads on sticks. We're talking about two of the evilest villains in The Walking Dead history, Negan and Alpha, deciding it would be a great idea to do the nasty in the middle of a forest.
Article continues below advertisement
Negan, played by Jeffrey Dean Morgan, linked up with the Whisperer Queen, Alpha, played by two-time Academy Award nominee Samantha Morton, before the midseason break, creating one of the dangerous and murderous pairs since Bonnie and Clyde. While many fans wondered how these two would work together, not many expected them to get physical.
While on a walk in the forest, Alpha orders Negan to take off all his clothes, which he does. Alpha then does the same and the two share a kiss. Oh, and Alpha wore a zombie skin mask on her face the whole time. The whole scene was disturbing and the internet wasn't quiet about it.
Just throw the whole TV away.
It seemed like viewers' first reaction was to just take their TVs and computers and chuck them out the window or destroy them completely.
Article continues below advertisement
Maybe there was something even more disgusting about that scene.
It does seem sociopathic to keep your socks on while doing the deed and Twitter definitely picked up on that. It's not the characters themselves that is disgusting in this case — it's the socks!
Article continues below advertisement
But AMC wants you to ship them.
There are tons of Negan stans out there despite his awful tendencies, but it's an entirely different ask to ship Negan and Alpha. AMC suggests it in a meme with the Kombucha girl, but Twitter wasn't buying it.
Article continues below advertisement
Some wish they could erase it from their minds forever.
Bleach anyone? Many Twitter fans joked that they wanted to just completely bleach their eyes and minds from the scene due to its disgusting nature. Honestly same.
Article continues below advertisement
Some 'TWD' fans were taking issue with the show's writers.
Angela Kang, one of the head writers for The Walking Dead, is getting a lot of flack for writing this scene into the show. Of all the shows faults and mishaps, fans really seem to be picking a bone with Angela over her decision to write this disgusting sex scene into the show.
Article continues below advertisement
Fans feel robbed that they never got anything juicy from "Richonne."
It's well known in The Walking Dead world that Rick and Michonne were two beloved characters and also a couple that fans could get behind. However, their love scenes were short but sweet. So when fans were given a butt naked Negan and Alpha in broad daylight, they had some thoughts.
Article continues below advertisement
*Spoiler Alert* Some fans are annoyed this scene is out of character for both Negan and Alpha.
If you follow the comics, it's pretty apparent that Negan and Alpha never have sex or even kiss. Negan, in his disgusting and volatile nature, sexually harasses Alpha to which she punches him square in the jaw and that's that. The Walking Dead loyalists are irritated that such a weird and out of place scene was put in the show.