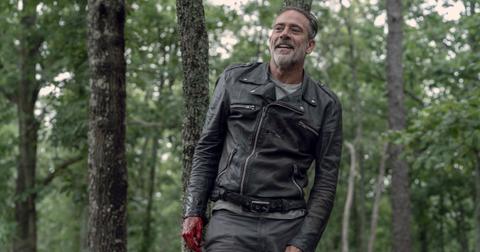 Negan and Alpha's Hookup on 'The Walking Dead' Has the Internet Cringing
By Katie Garrity

Apr. 23 2020, Updated 3:38 p.m. ET
The Walking Dead returned to AMC after a midseason break and wow, they didn't disappoint when it comes to the Gross Factor. Nope, we're not talking about zombie guts or decapitated heads on sticks. We're talking about two of the evilest villains in The Walking Dead history, Negan and Alpha, deciding it would be a great idea to do the nasty in the middle of a forest.
Article continues below advertisement
Negan, played by Jeffrey Dean Morgan, linked up with the Whisperer Queen, Alpha, played by two-time Academy Award nominee Samantha Morton, before the midseason break, creating one of the dangerous and murderous pairs since Bonnie and Clyde. While many fans wondered how these two would work together, not many expected them to get physical.
While on a walk in the forest, Alpha orders Negan to take off all his clothes, which he does. Alpha then does the same and the two share a kiss. Oh, and Alpha wore a zombie skin mask on her face the whole time. The whole scene was disturbing and the internet wasn't quiet about it.