Woman Shares Neighborhood's Street Names: "Whoever Named Our Streets Is Clearly a 'Friends' Fan"
A woman shared a video of the street names in her neighborhood and points out how they are all linked to the show 'Friends' in some way.
If you've ever wondered how developers come up with street names when they build a new subdivision, apparently they sometimes take inspiration from their favorite TV shows. And after a woman on TikTok, i_teach89, shared a video of her neighborhood with street names obviously inspired by Friends, people are itching to move there.
Article continues below advertisement
I mean, if you told me I could live somewhere where my street name would be Targaryen Drive or Jon Snow Court a la Game of Thrones, I would be clamoring to get my mortgage loan application submitted.
In this case, though the street names are all reminiscent of either Friends characters or inside jokes that only fans of the show would recognize. And it's kind of the best idea ever. Especially if you happen to live in the neighborhood and you're also a Friends super fan.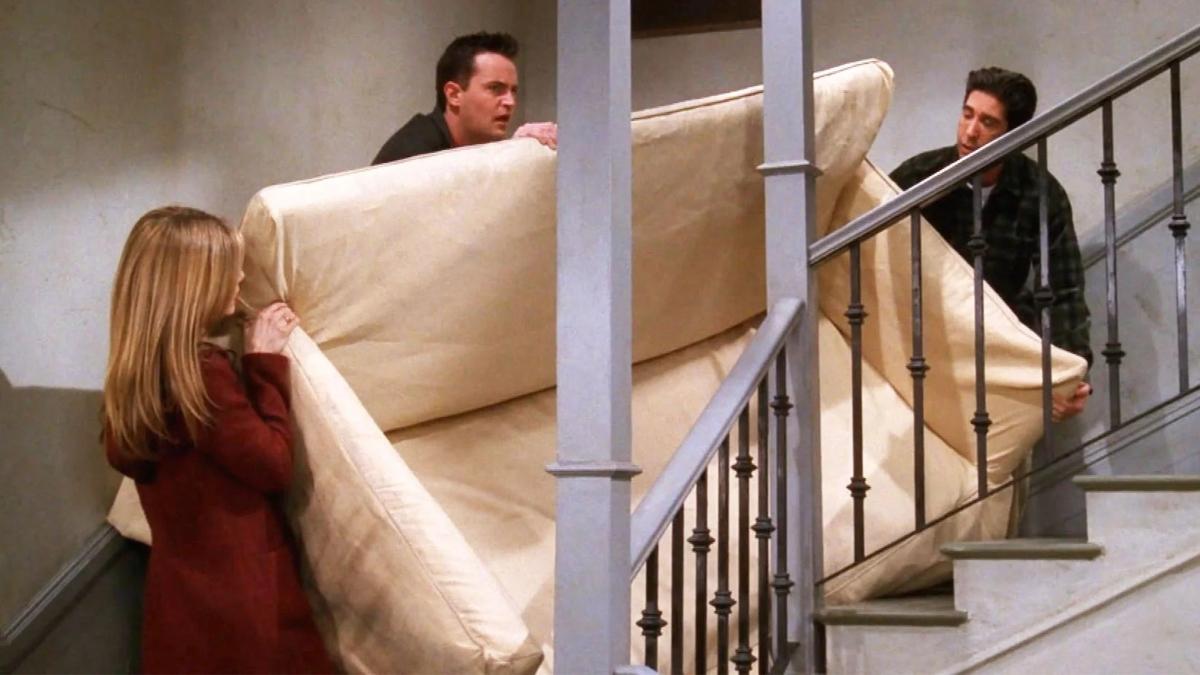 Article continues below advertisement
A neighborhood's street names were clearly inspired by the show 'Friends.'
In the TikTok video, the woman takes you on a tour of sorts through her Texas neighborhood as the Friends theme song plays in the background. She shows street names like Pivot Dr., likely named because of the iconic episode where Ross yells at Rachel and Chandler to "pivot, pivot, pivot!" while moving a couch up a flight of stairs.
Another street name, Yemen Rd., is clearly in reference to the country where Chandler claims he's moving in order to get out of his relationship with Janice. When he dives further into his lie, he gives her a made-up address of 15 Yemen Rd. No word on if that's an actual address in this real-life neighborhood, but something tells me some Friends fan would move there ASAP.
Article continues below advertisement
Other streets, like Gunther Way and Marcel Ct., are named after Friends characters. But the best one by far has to be the intersection of Onna St. and Break Ave. Which, if you know the Ross and Rachel saga, is in direct reference to being "on a break" (or not) when Ross cheated on Rachel early in the series.
Article continues below advertisement
Some 'Friends' fans have other street name ideas to add to the neighborhood.
You can't deny how intentional these Friends street names are. But, because there are so many fans who are living for this neighborhood's choice in street names, many have other ideas about how to expand on it, should the subdivision need more names to add to the docket.
Article continues below advertisement
One Friends fan commented on the TikTok video, "What, no Smelly Cat Street?" One of Phoebe's most iconic moments in Friends is when she comes up with her hit song Smelly Cat. So this is a fair criticism of what's missing from the neighborhood street names.
Another wrote that it needs a Regina St and Philange Xing intersection. Both Regina and Philange are part of Phoebe's fake name she often gave out at different times throughout the series. And a Ross fan commented, "Where's Unagi?" Although it's actually the name for freshwater eel, on Friends, Ross used the term to describe "total awareness" in a ninja-like state of mind for self-defense.
Article continues below advertisement
Even though there are plenty of comments with suggestions about more Friends-themed street names, overall, people just want to move there. The Texas neighborhood is the real deal and it's located in Taylor, Texas.
According to one TikTok user, the neighborhood is still expanding. So go ahead and pack that U-Haul and be ready to "pivot" all of your belongings through the front door of one of the homes. Are you really a Friends superfan if you don't drop everything and move there right now?