Mom Loses It on Daughter for Changing Her Netflix Password
There were over 15 people using the account and someone had upped her plan without telling her. She was quite justified in changing her password, but her mom flipped out on her.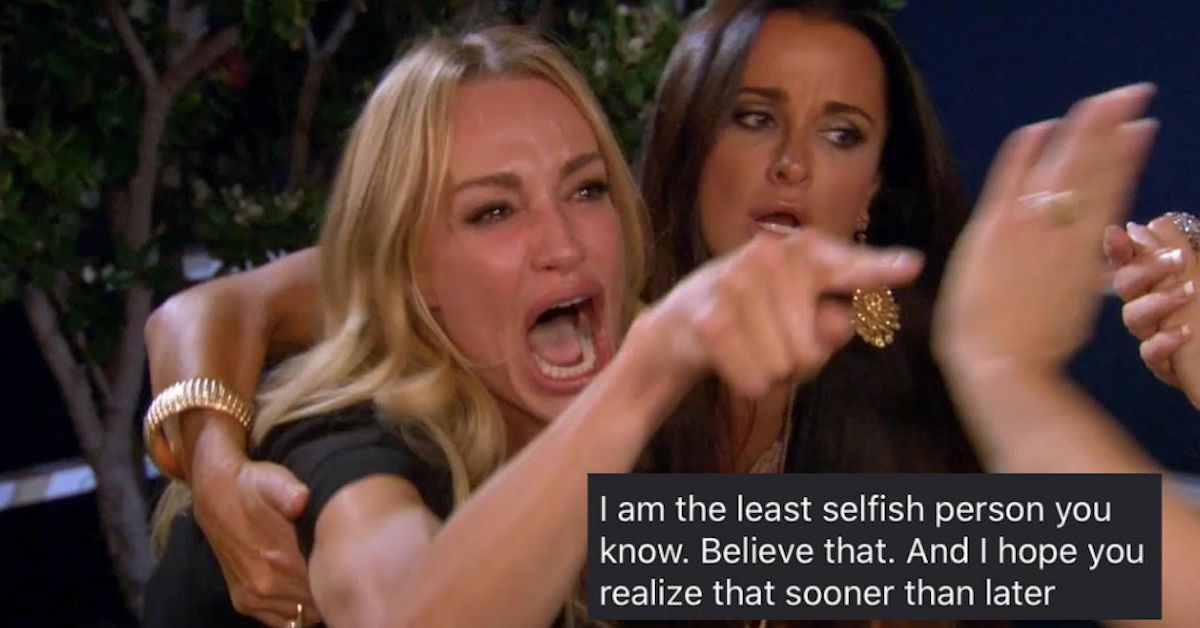 Raise your hand if you share your streaming service passwords with your family. I know I do! I don't even think the Hulu account I use belongs to me, but at this point, I have no idea. And with all the random passwords I've put in, I wouldn't be surprised if, one day, one of them stopped working.
Article continues below advertisement
Huh, that person must have come to their senses and started pruning their list of who's allowed to access their account, I'd think before taking a sip of tea and moving on with my day. But not everyone reacts with such grace. One woman recently shared a text exchange with her mother that occurred after she changed her Netflix password, and it is something to behold.
Article continues below advertisement
OK. So she changed their Netflix password, which it seems both her sister and mom were using. Her mom is clearly distraught because she wants to watch Nailed It! or something and launches into insulting her own daughter even before she's given an explanation. More than a choosy beggar situation, this is a toxic mother-daughter relationship situation.
But her daughter remains calm and explains why she had changed her password. Turns out there were more than a dozen people using the account and someone had upped her plan — which increased her monthly charge — without her knowledge or consent. Seems like a pretty legit reason to change her password and ensure she was the only one who could use it.
Article continues below advertisement
When you share passwords, it's easy to not think about what kind of access you're giving that person, but it's kind of crazy. Anyone with your password can do anything to your account — boost your plan, change the password themselves, cancel it — because they have all the information. Kind of makes you reconsider giving it out to everyone you know, right?
But mom wouldn't see her side of the story in this situation.
Article continues below advertisement
It's absolutely unacceptable for someone to use the password they were given to change someone's plan. And even though her mom wasn't that person and claimed not to share the password with anyone, I understand the impetus to say, "You know what? I'm going to change the password and keep it just for me to ensure this doesn't happen again."
You'd think her own mother would understand that, especially considering how tight money is for her. But she just keeps harping on the same issue and making fun of her for protecting her account.
Article continues below advertisement
At this point, she even offers to split the account with her mom if she pays her $6.50 every month. A small price to pay, and not to mention, fairly generous considering her attitude since the beginning of the conversation and the fact that her daughter was taken advantage of for so long.
But of course, mom doesn't realize that $6.50 for access to a Netflix account is better than $13 for her own Netflix account.
Article continues below advertisement
"I don't even know what to say to you." She's acting like her daughter won the lottery or something and isn't even giving her mother money for meals. It's a Netflix account. Claiming that she's "the least selfish person" her daughter knows is totally laughable. Sounds like her mom really loves to start drama, and I really feel for her!
Article continues below advertisement
It really seems like this poor young woman is not at all surprised by her mother's tone and behavior because she remains very calm and explains the situation one more time. When you explain rationale and reason to someone who doesn't want to hear it, though, it rarely works out.
Article continues below advertisement
Wow. I want to scream, "That's your daughter you're speaking to that way!" but I doubt she would hear me, and not just because I'm at my computer in my own home and I have no idea who she is or where she lives or what she looks like. I for one hope her daughter never shares anything with her ever again!