Woman Books Airbnb Year in Advance, Host Still Nearly Ruins Her Entire Family Vacation
A woman who booked an Airbnb stay for a family trip over a year in advance is told there's a problem with her booking the day her trip started.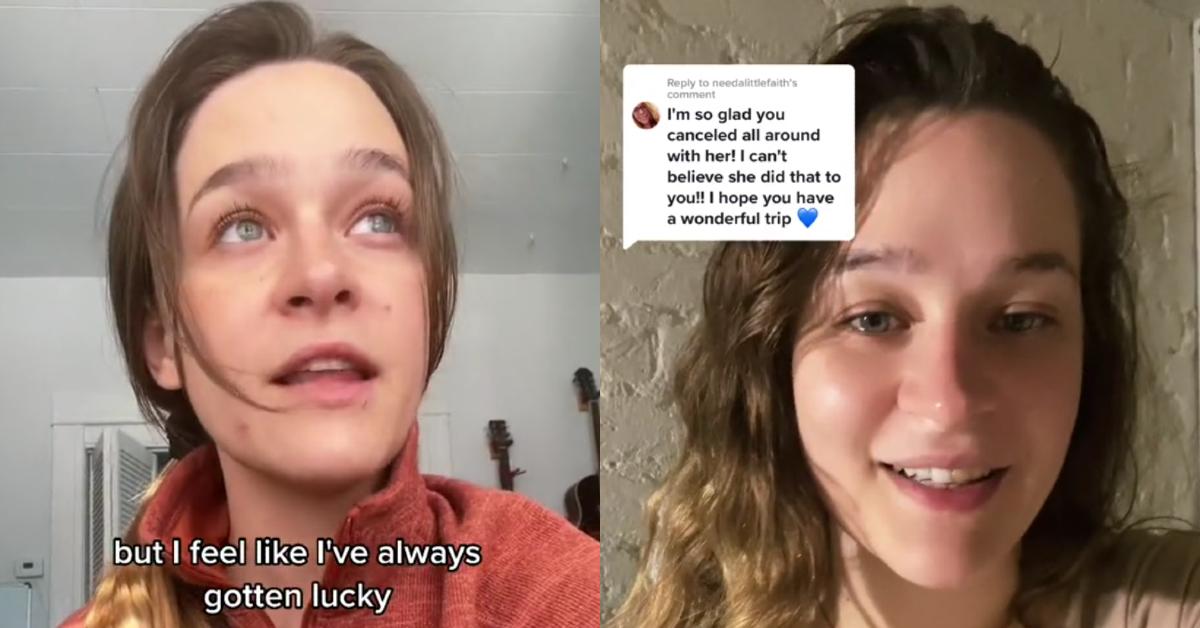 Article continues below advertisement
TikToker Sam Torres (@samsationalspam) used to be the latter customer...until an interaction with an Airbnb host threw a family vacation she had planned for over a year turned into a highly stressful situation.
She says in a viral video speaking about the situation: "I know that we're all boycotting Airbnb because they suck but I feel like I've always gotten lucky and I've never had a problem or an Airbnb horror story but f--- I have one now. I'm flying to New Orleans in three days to stay for an entire week with my parents who are flying from Michigan and my partner."
Article continues below advertisement
Sam adds that she has had this trip to New Orleans "planned for over a year" before adding, "I contacted the Airbnb that we were gonna stay at over a year ago."
Article continues below advertisement
It wasn't just her foresight in pre-planning for this trip that made her so shocked she had a negative experience with the app, but because she's spent time at this Airbnb previously: "I've stayed at this Airbnb before and they offered me 2 free night if I ever came back."
"So I was like great, let's save some money let's take them up on this, and I contacted them and I said hey, like, would you still honor this and they said yes absolutely just send us your dates and once we got dates figured out I said how do you want me to do this is there a coupon code I enter and she said no."
Article continues below advertisement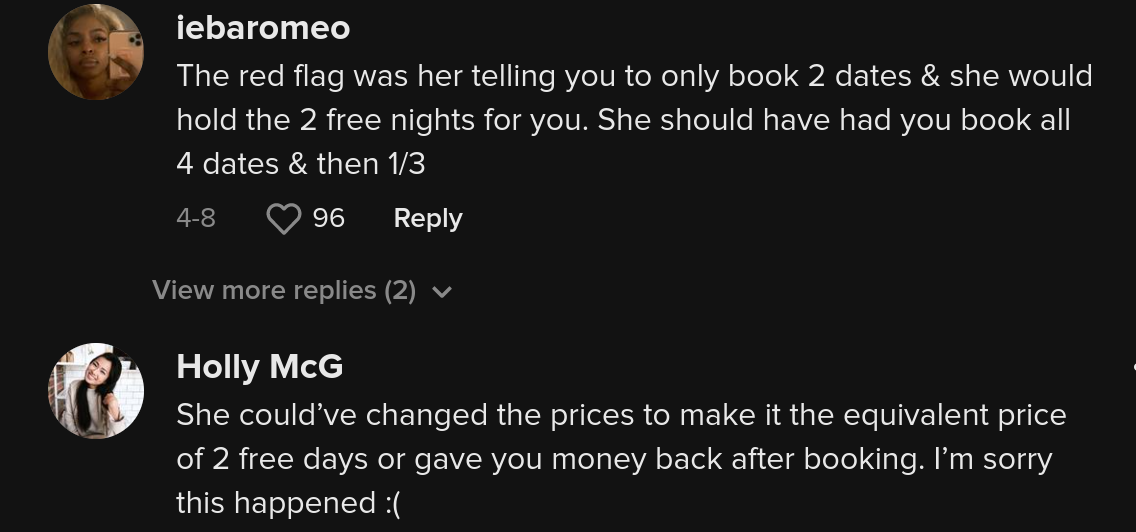 Sam said that the Airbnb host at the place she stayed at previously instructed her on how to pay for and reserve the property for her mass family vacation: "Just reserve your days and I will hold these other 2 days and block them off so no one can book them."
Article continues below advertisement
That seems like a legitimate way to get everything done as she was still booking the place through the Airbnb application so she's offered all of the protections and customer service options that Airbnb provides in the event there's an issue with the booking. It's not like the property owner was asking her to Zelle her some cash or something.
Sam thought this was a great solution and was on board with it, and that she did her due diligence in leading up to the trip. "I confirm multiple more times with her hey these are the dates for coming are these ones blocked off as well? She says yes so I say great."
Article continues below advertisement

As you can probably already predict, however, things were not great: "So now fast forward to today. I contact her this morning I say hey we're so excited uh to be coming in just a couple days can't wait to stay at your place again. And she says, what dates are you coming?"
Article continues below advertisement
That's definitely not the kind of thing you want to hear right as you're about to embark on a huge family trip. "I tell her my dates. And she says something must be wrong because I only have you booked from the 11th to the 14th. Mind you we're staying till the 16th."
Sam says that even with her due diligence, there was still an error with the Airbnb host. "I start to panic. I'm like uh, no, it should be to the 16th here's our text conversation that we have like sending her screenshots of our conversation together and she goes I'm so sorry this is such a mess."
Article continues below advertisement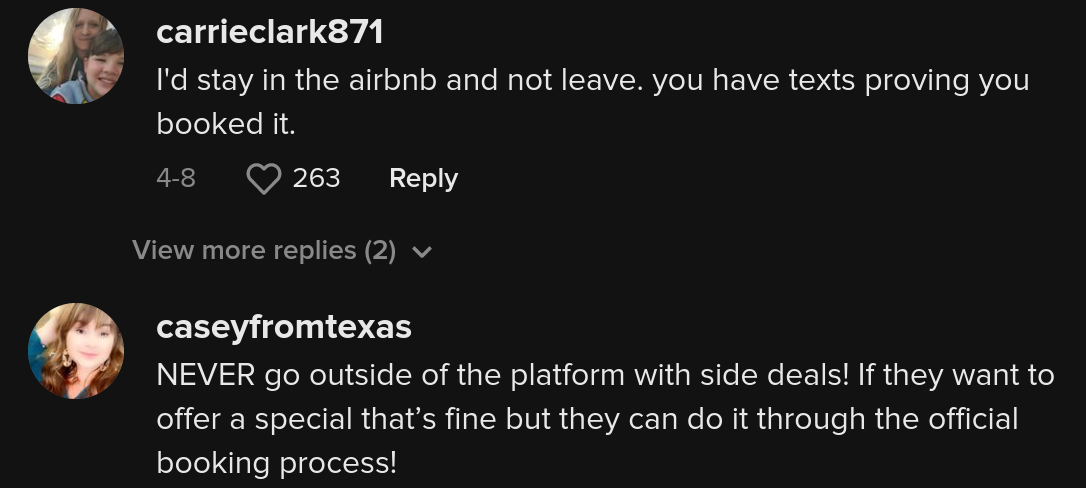 And then Sam heard the last thing she wanted to hear on the call: the host told her that another couple had booked the place during those two days she neglected to block off and that she was going to have to call Airbnb to get it all straightened out: "And she's like I'm so sorry and I'm like what does that mean? Does that mean we can't stay there?"
Article continues below advertisement
Sam held out hope that she and her family could stay there for those two days, "We've had this planned for over a year you told us we could stay there and I'm so f------- stressed out because I can't afford to find another place it's French Quarterfest so there's gonna be thousands of people there."
Sam went on to further explain why she planned the trip so far in advance - French Quarterfest would've made finding accommodations a nightmare: "There's no hotels, there's other Airbnbs that are so f------ expensive it's four people, because my parents are flying from Michigan and we're flying from Utah."
Article continues below advertisement

To make matters worse, she said that Airbnb basically said that there wasn't anything she could do: "I'm stressed. Airbnb just called me and basically, they told me there's nothing that they can do because it was a deal between me and the host and I'm so stressed right now I feel like I'm gonna cry."
Article continues below advertisement
In a follow-up video, Sam said that even though this was a host issue, Airbnb gave her a credit after speaking with the host. Reps for the application said that the host never blocked off the "free" days Sam was supposed to get. The TikToker said that she originally wasn't going to get anything, but because her clip went viral, Airbnb probably didn't want the negative attention and decided to hook her up.
Article continues below advertisement
TikTokers who saw her clip responded that there were several ways the host could've addressed the issue. The first thing they could've done was had Sam book the days through Airbnb so that they were blocked off and then perform a price adjustment for the days.
Sam said she didn't even know this was an option. Another person said that she could've easily canceled the other guests' stay without getting penalized from the app, but they speculated that the host didn't want to give up the cash to do that.
Article continues below advertisement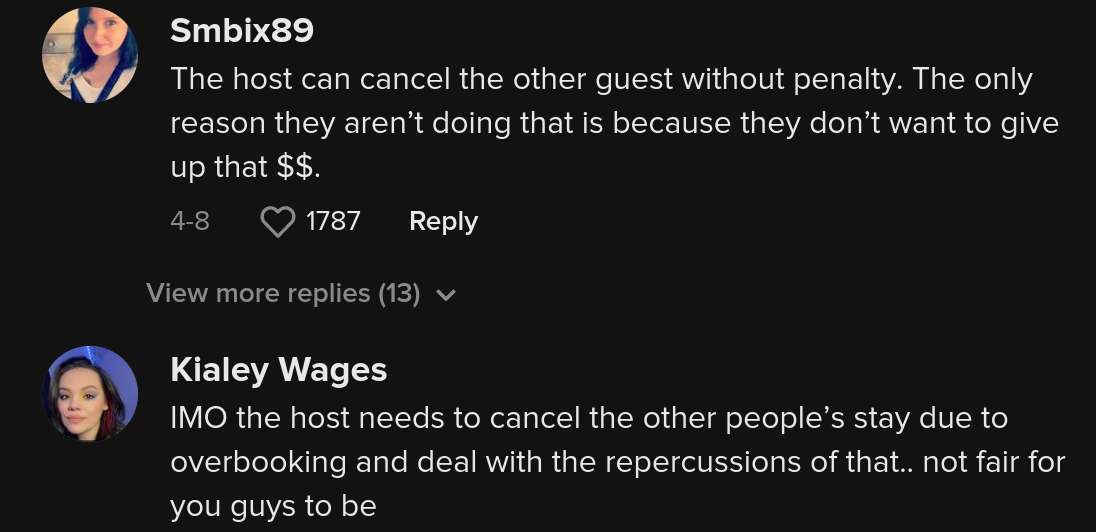 The TikToker and her family still managed to get to NOLA on the family trip and she seemed a lot less stressed out in the second video, which she presumably recorded from New Orleans.