Nick Offerman and Megan Mullally Have Been Together for More Than Two Decades
Actors Nick Offerman and Megan Mullally have been together for more than two decades! Here's a look at their relationship timeline.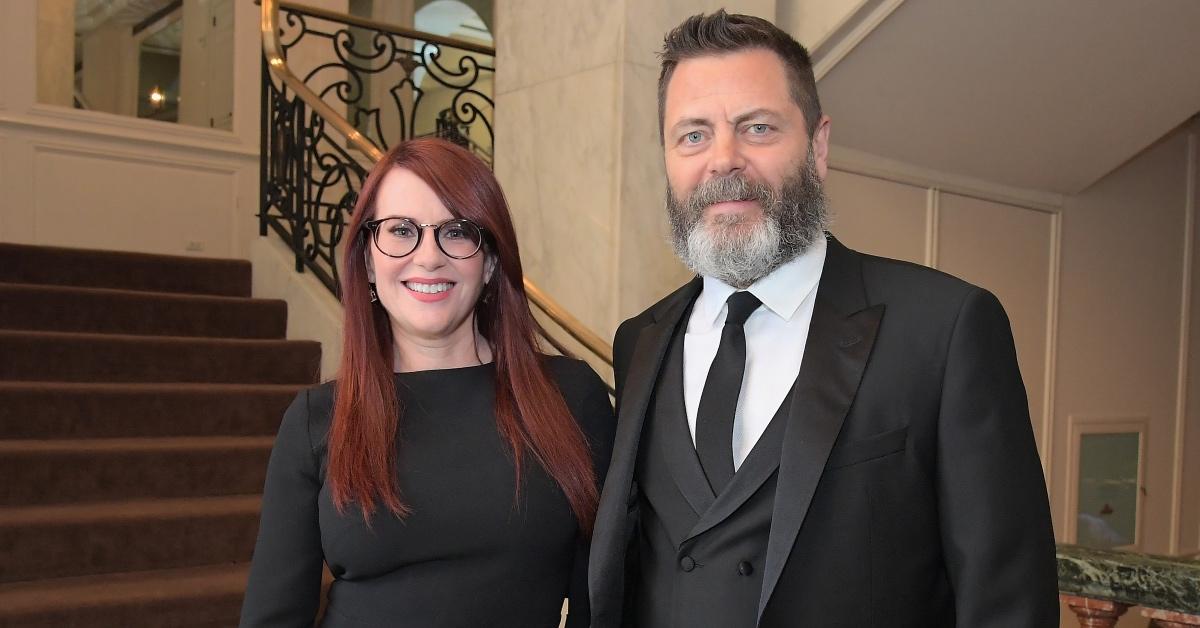 You might recognize iconic married couple Nick Offerman and Megan Mullally from their roles as Ron and Tammy on Parks & Recreation, but what you might not know is that Nick and Megan have been working together on and off for nearly their entire relationship. The duo have always supported each other's acting pursuits and have starred in at least nine projects together.
Article continues below advertisement
To find out how it all started for Nick and Megan, keep reading for their full relationship timeline. You might be surprised at how many times the pair have teamed up for projects.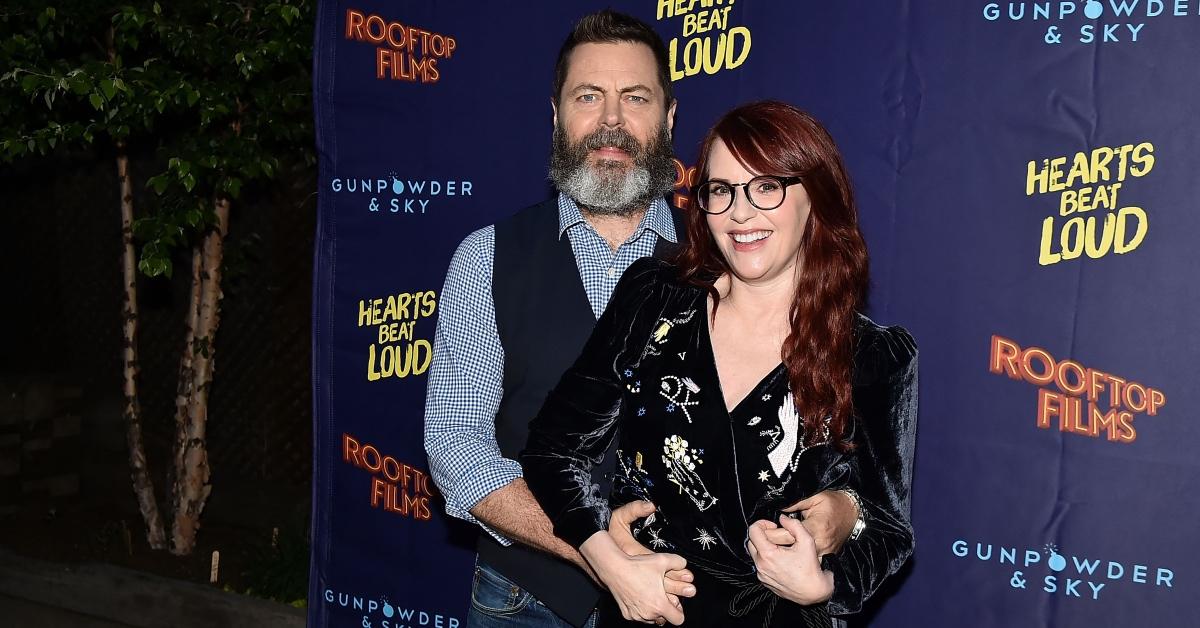 Article continues below advertisement
Nick Offerman and Megan Mullally met while starring in a play together.
Nick Offerman and Megan Mullally first met in 2000 when they co-starred in the Evidence Room Theatre Company's production of The Berlin Circle in Los Angeles. In 2013, Megan reflected on their meeting, telling BuzzFeed, "We had a lot of scenes together, and I started thinking, 'Wait a minute, he's funny.' And then I started thinking, 'Wait a minute, is he cute? What's happening?'"
The pair began dating despite a significant age difference in their relationship; at the time, Megan was 41, and Nick was 29. In 2017, Megan told GQ she thought Nick was in his 30s, saying, "I thought he looked old! And he was mature, so when I found out he was 29, I said these two words: You motherf---er. And I almost ran my car off the road."
Article continues below advertisement
In 2002, Nick and Megan became engaged.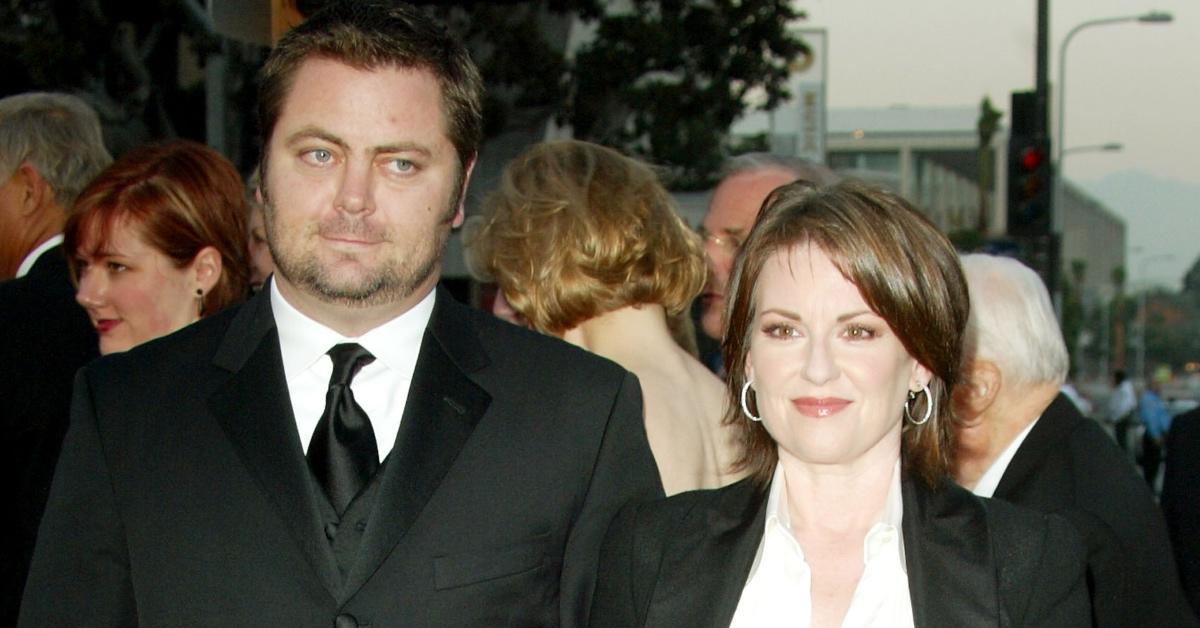 A year after they started dating, Nick appeared on Megan's show Will & Grace, cementing the first of many times when the pair would appear together onscreen. By 2002, Nick had also "fake-proposed" three times in Paris before popping the question for real when they were in London.
Nick told The Guardian about the proposal, saying, "It was in Regent's Park that I bent my knee and presented my hand-carved, walnut, heart-shaped ring box," he said. "Magically, the ducks on the water and birds in the air began to furiously copulate all around us. Something made the moment bigger than the two of us. It was fated by Mother Nature."
Article continues below advertisement
By 2003, Nick and Megan were married.
On Sept. 30, 2003, Nick Offerman and Megan Mullally married in a private ceremony at their home in Hollywood. The wedding was a surprise, and guests in attendance included Megan's Will & Grace co-stars Eric McCormack, Sean Hayes, and Debra Messing.
At the time, Megan revealed to Entertainment Tonight, "We had our family and closest friends fly out, and told people we were having an Emmy party. When they arrived, we said, 'Welcome to our wedding!'"
Nick and Megan took their comedy show on the road in 2015.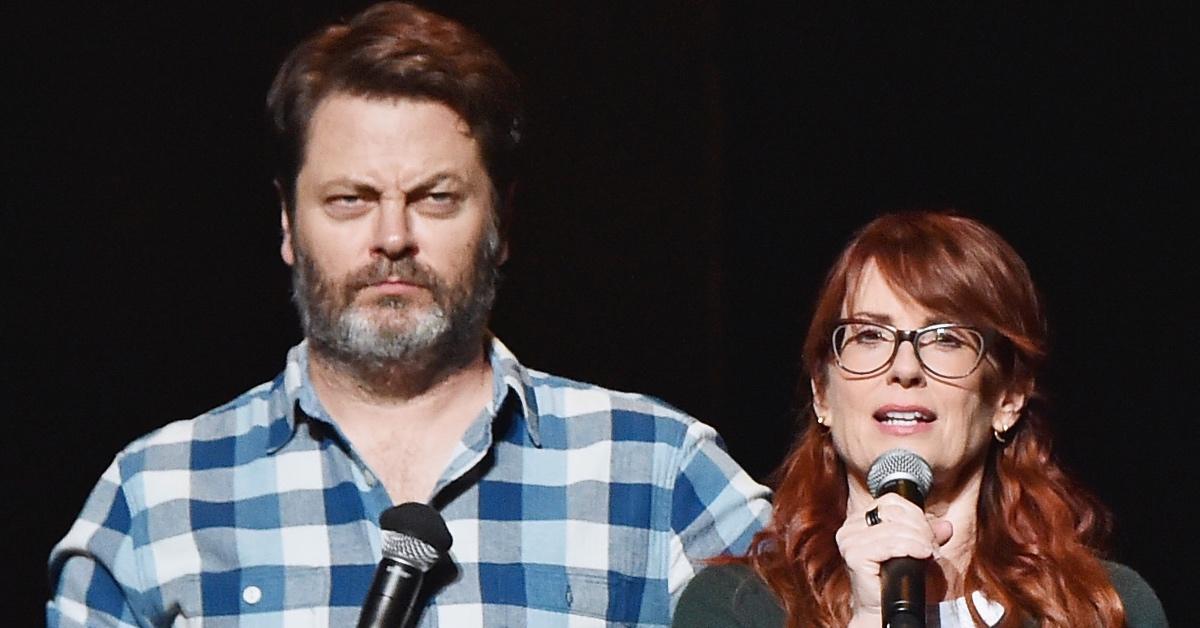 Over the years, Nick and Megan continue to work with one another, including appearances on Parks & Rec, an off-Broadway play called Annapurna, the animated film Hotel Transylvania, and even a nude photoshoot for New York Magazine. The pair then decided to take a joint comedy show called Summer of 69: No Apostrophe on the road from 2015–2016.
Article continues below advertisement
In 2018, Nick and Megan co-wrote a memoir.
Throughout the years, Nick and Megan continued to find new ways to work with each other. In 2018, they published a co-written memoir titled The Greatest Love Story Ever Told. Nick described the memoir to The Guardian as a "sincere memoir of our romance" but also filled with "lots of filthy references to what we do in the bedroom."
Speaking to USA Today about the duo's continued history of working together, Nick explained, "We love working together. If we drive together, if we share a dressing room, we know going into it that we're going to get along. We're very domestically compatible. People often say to us, 'Are you crazy? I can barely stand my spouse at home every day after work, how can you choose to go to work with her?' And we say, 'Well, that sounds really sad for you, because we just like each other.'"
Article continues below advertisement
Nick and Megan created a podcast together in 2019.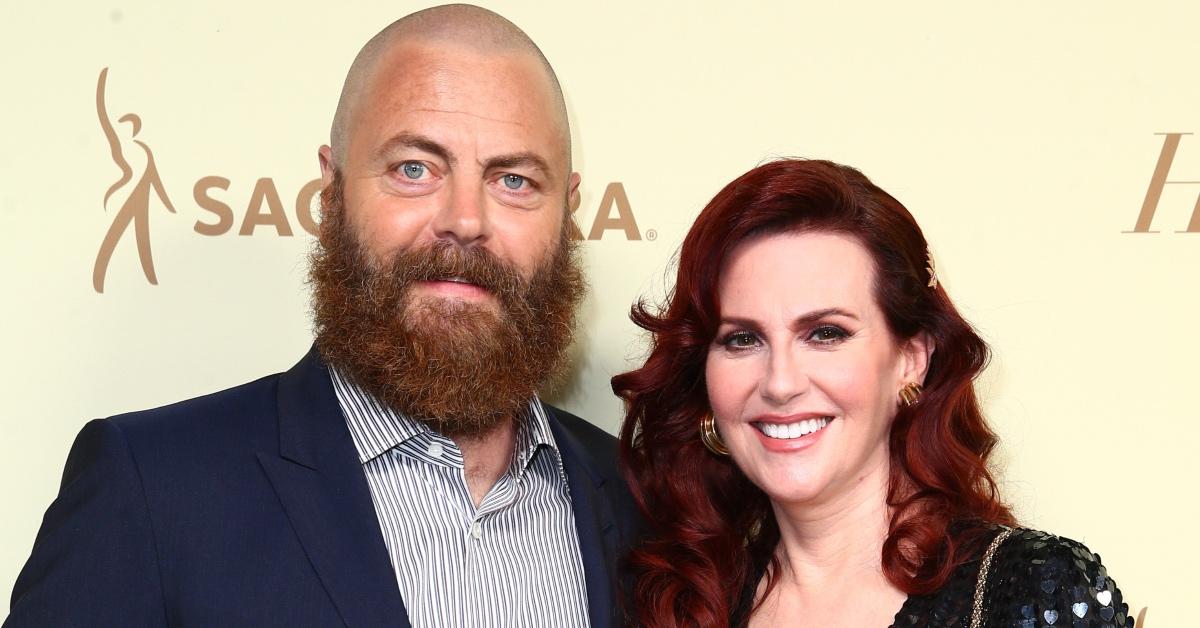 Most recently, Nick and Megan created a podcast together. In Bed with Nick and Megan is described by Apple Podcasts as "Cozying up with their famous friends, your favorite couple provide a funny, revealing, and very candid look into their relationship and life at large. In some episodes, they'll even kick the guest out of bed and get extra personal in what some have called the most searing and rawly sexual conversations ever to burn their way through a voice recorder."
For all of their projects together, it's clear that Nick and Megan are not only crazy about one another, but they encourage each other to take roles out of their respective comfort zones. What's not to love?