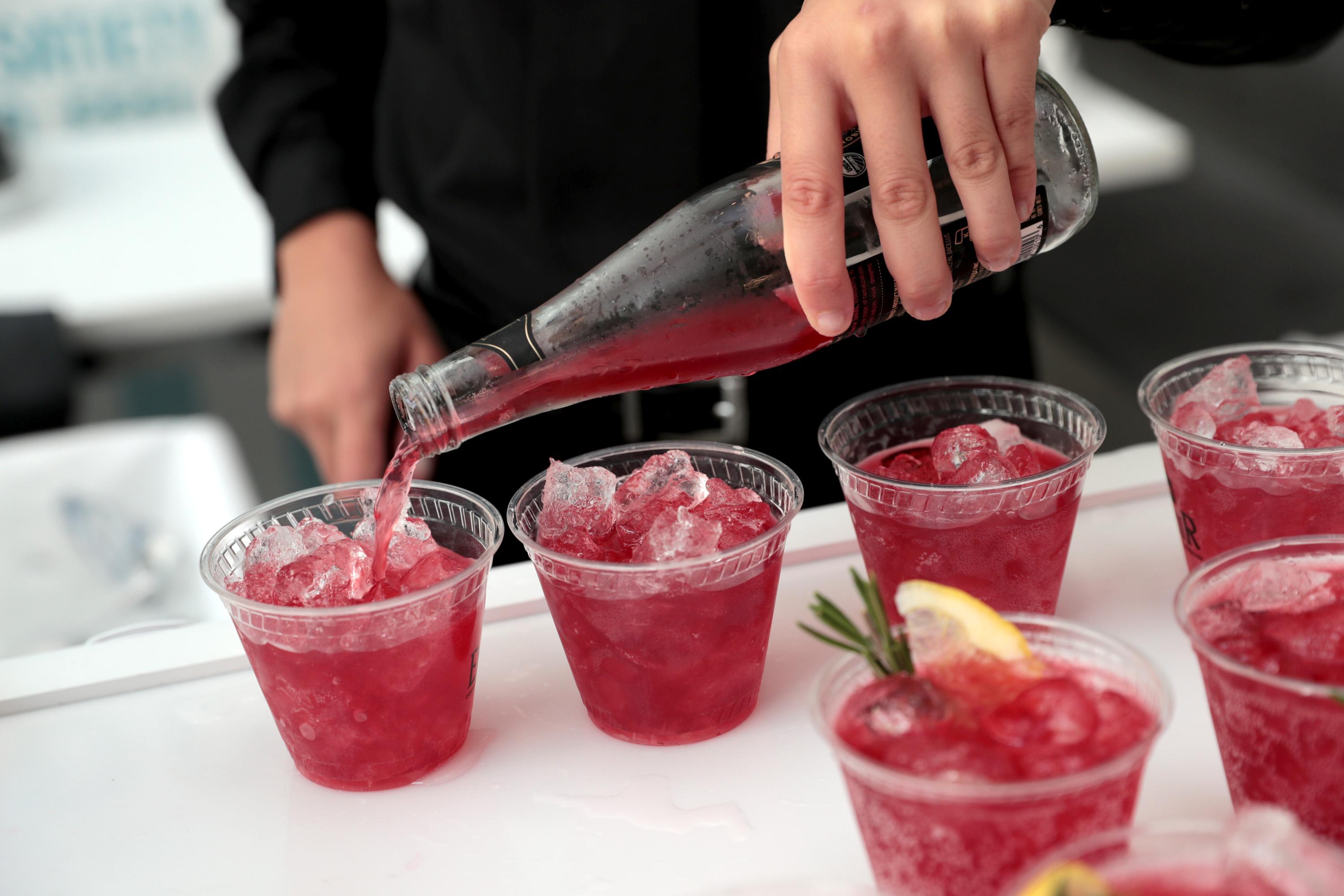 6 Non-Alcoholic Valentine's Day Mocktails to Try
It's almost Valentine's Day, and whether you're spending it alone or with someone else, you deserve to drink (and eat) well. But if you did Dry January, or just choose not to drink, you might be feeling left out with all of these Valentine's Day cocktail recipes floating around.
Most cocktail recipes can easily be turned into mocktails by either omitting the alcohol or switching it with your favorite non-alcoholic substitute (there are a variety of non-alcoholic gins, vodkas, and more).
Article continues below advertisement
But whether you're looking for options with or without these non-alcoholic substitutes, there are a variety of drink recipes dedicated specifically to your non-alcoholic lifestyle.
Here are some unique and creative non-alcoholic Valentine's Day drinks that you can make for yourself or your sweetheart this date night. These mocktail recipes are sure to get you in the spirit.
1. Raspberry mocktail
These berry mocktails are super easy to make and look so refreshing. Start with a raspberry coulis (which is just pureed raspberries), add some lime juice (and some slices to spice it up), drop in iced pomegranate seeds, and top it off with your favorite raspberry seltzer. Not a fan of raspberry? You can easily swap this out with another berry of your choice, though raspberries and strawberries give it that Valentine's Day color.
Article continues below advertisement
2. Cranberry Ginger Mocktail
This cranberry cocktail is a fun combination of flavors and super easy to make. The recipe starts with one part Seedlip Spice 94, a non-alcoholic gin you can find online. If you don't have this, or non-alcoholic gin isn't your thing, feel free to just omit this.
Continue the recipe with two parts ginger ale and two parts cranberry juice. Garnish with more cranberries or strawberries to make it festive!
Article continues below advertisement
3. Cranberry Cooler
This recipe is just one step above your average homemade mocktail. To make this recipe, shake lime juice, honey, mint leaves, and cranberry juice with ice in a shaker and pour into the glass of your choice. You can also use mint syrup if you have it, though you can omit it easily. Garnish this drink however you'd like, though in the video he uses whipped cream to give it something extra.
Article continues below advertisement
4. Raspberry Mojito
This raspberry mojito recipe looks amazing. Start with a raspberry puree and brown sugar before adding ice, lemon, and orange garnishes on top. Top the drink with lemonade and voila!
Article continues below advertisement
5. Grapefruit Rosemary Mocktail
This grapefruit and rosemary mocktail strays away from the typical cranberry and raspberry recipes typically associated with Valentine's Day. Start with two parts grapefruit juice, one part rosemary syrup, and one part lime juice. Add one to two drops of liquid smoke and top it off with your choice of grapefruit soda! You can also add a sprig of rosemary for garnish if you're feeling fancy.
Article continues below advertisement
6. Sparkling Cotton Candy Mocktail
This mocktail is super simple and even kid-friendly! The recipe starts with a little piece of cotton candy, which you then top with your sparkling cider of choice (kids will love to watch it melt). Then, top the glass with more cotton candy, a gummy kiss candy, and a sour patch heart. This recipe is definitely for the person with a sweet tooth in your life.