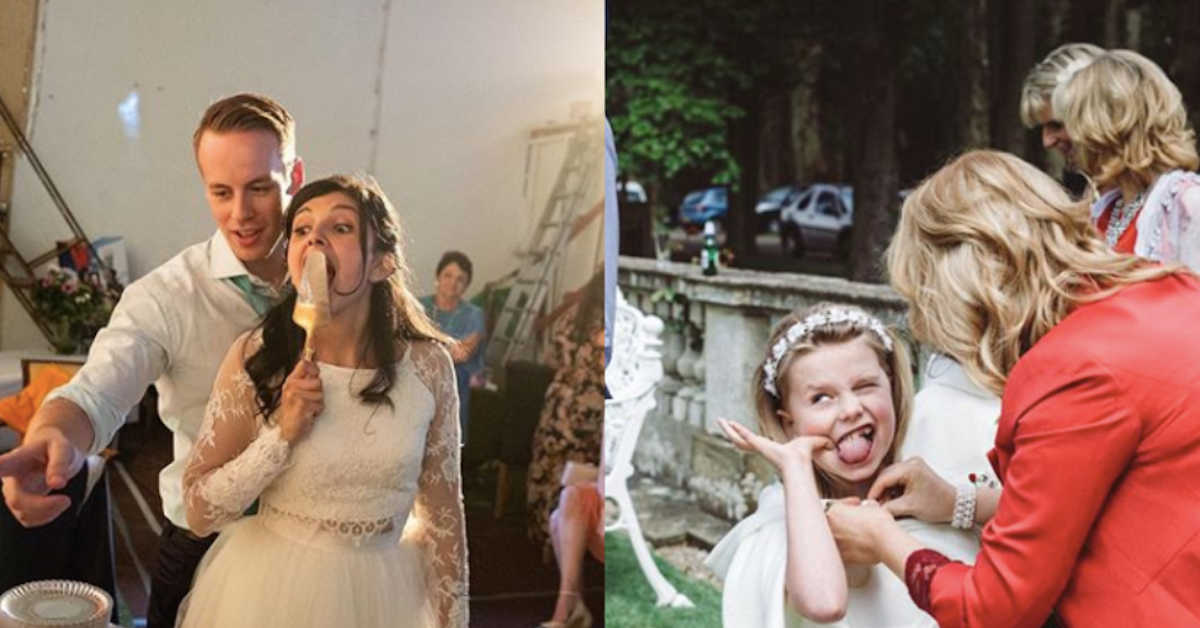 'Not a Wedding Photographer' Captures the Chaos and Mess of Real Weddings
Ian Weldon is not a wedding photographer. So stop calling him that. Wedding photographers usually capture canned moments. Posed and filtered shots with smiling people looking their best. The nicest angles. The wedding dress positioned just right. But that's not Ian Weldon. Ian Weldon is not a wedding photographer, after all. He is a documentary photographer who happens to shoot weddings.
Article continues below advertisement
1.
On every single one of his pages, from his Instagram to his website, Ian makes it clear that he is "not a wedding photographer." "I've tried, I really have," Ian writes on his website, "but there's no easy way to tell you that I'm not a Wedding Photographer. I mean, as much as I'd love to stand around for hours lining people up, ordering them around and taking photographs of every combination of family member and guest, I've more important things to be doing. And quite frankly, so have you."
2.
Yes, Ian photographs weddings. But instead of taking over, lining people up, and telling them to say, "Cheese!" he observes and captures real moments as they're happening. Even at weddings, people are still people. And that means that real, messy moments happen, even when everyone is in gowns and tuxedos. These are the moments that Ian is interested in capturing. These are the photos you will get if you hire him as your wedding photographer.
Article continues below advertisement
3.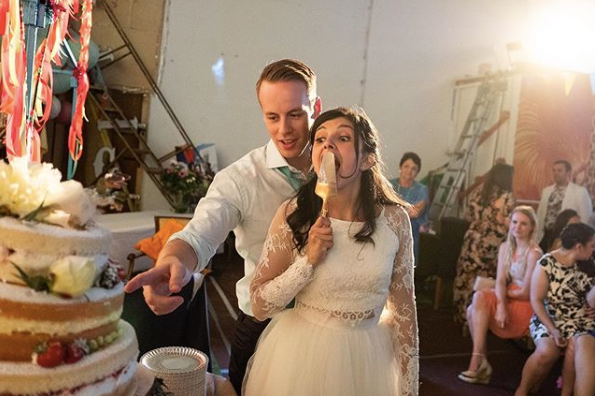 "Things happen at a Wedding, things that make your wedding yours, unique to you," he continues on his website, "and if I'm busy ordering people around I'm going to miss those things. Your feet will be tired from standing and your face will hurt from smiling so much and you'll have missed those things too. It'd be like those things never happened and all you've really got to look back at are groups of people, annoyed people, with forced smiles." No one wants that.
Article continues below advertisement
4.
I love this picture so much. When you hire Ian as your wedding photographer, he doesn't have a vision for what he wants the day to look like. If he did, he explains, "then that's not your wedding." He explains that he's completely unbiased in his photographs. He cultivates a sort of "photographic democracy where one photograph is no more important than any other." This photo of a guest snoozing on the decorative couch is just as important as the photo of the happy couple kissing the moment they're finally married.
Article continues below advertisement
5.
What other wedding photographer is going to capture the last-minute steaming of a bridesmaid's dress while it's already on the bridesmaid? These are the moments of your wedding that you really want to remember, whether you think so in the moment or not. And Ian promises to capture all of them. "Emotion and gesture and dancing and wine and door knobs and fancy lights and funny faces and shoes will all be treated the same," he writes.
Article continues below advertisement
6.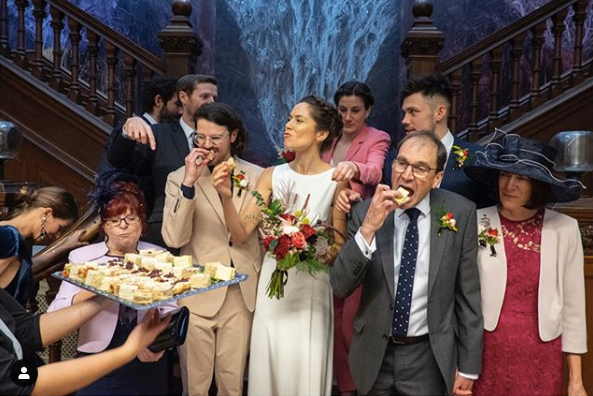 This is what happy, genuine people look like when they're eating! It's joyous and messy and real and I love it. Ian Weldon claims he's not a wedding photographer, but, as fellow photographer Martin Parr says, "Ian plugs this line about NOT being a wedding photographer. I know what he means, but this clever strap line is deceptive as he is the most real wedding photographer I have ever encountered."
Article continues below advertisement
7.
How did a documentary photographer like Ian end up shooting weddings? Well, he started for the reason most people get into the gig: because he needed the money. "I started to photograph weddings to earn money so I could work on other photography projects," he told Bored Panda. "When I found that weddings were fruitful ground for great photographs, and they had not really been approached as a documentary subject they became the project."
Article continues below advertisement
8.
I love that idea. And it's so true. Have you ever been to a wedding before? They fascinate me, and I always have so much fun, whether I know the couple getting married well or not. Because weddings are the perfect place for people-watching. Weddings are gatherings of lots of people, some who've never met before, and families who are now connected for life. Everyone's usually all dressed up, getting super drunk, and dancing all night long. It's a situation ripe for raw human behavior.
Article continues below advertisement
9.
Weddings are always billed as "the best day" of the couple's life. People work so hard to make sure everything goes off without a hitch. But weddings are also giant get-togethers of human beings who all have emotions and feelings and thoughts about being there that day. And all of it, no matter how complicated and messy and hilarious and attractive and ugly, is truly beautiful and worthy of being captured on camera.
Article continues below advertisement
10.
Ian's creative and different wedding photography has become so popular that the Martin Parr Foundation put on an exhibition of his photos, aptly titled "I Am Not A Wedding Photographer." A book of his photos with the same name was published to coincide with the exhibit. More than just wedding photographs, Ian's photos are art. They really capture the humanity present at weddings, which most wedding photography attempts to strip away completely.
Article continues below advertisement
11.
Ian doesn't just photograph weddings; he's photographed things like festivals, other events, and commercial shots for the BBC as well. He's been written about in publications like Vice, The Guardian, and The Observer. He even hosts a podcast called Outerfocus, which explores all aspects of photography and includes conversations with some incredible artists about their work. All that being said, Ian is still available to shoot your wedding... even though he's not a wedding photographer.
Article continues below advertisement
12.
On his website, Ian explains that if you want to book him for your wedding, "I don't have packages and there is no set amount of time that I'll be there. I can't tell you exactly how many photographs you'll get, but I can tell you that you'll get them all. They're yours, I make them for you." Although he's based in Northern England, he travels all over the world. And yes, he shot Steven Yeun's (The Walking Dead) wedding, so that's a pretty great endorsement.