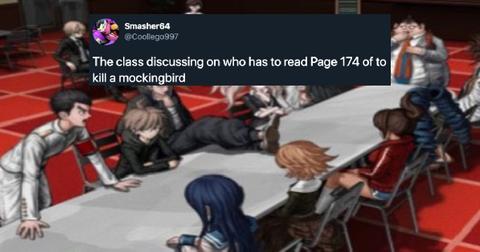 These Memes Capture the Fear of Reading Page 174 of 'To Kill a Mockingbird' Aloud
By Mustafa Gatollari

May. 21 2020, Published 1:52 p.m. ET
Harper Lee's American classic, To Kill a Mockingbird, is hailed as one of America's greatest literary works and manages to blend issues of racism, social, and criminal justice issues as well as the legal system while weaving all of this together from the perspective of an adult woman narrating the events of the story, but as a young girl.
It sounds a bit confusing, but it just works. It's a book the defies genre and is a classic for a reason: it's damn, damn good. And so is Gregory Peck in the movie adaptation of the novel, too.
Article continues below advertisement
So why is Page 174 of 'To Kill a Mockingbird' a meme now?