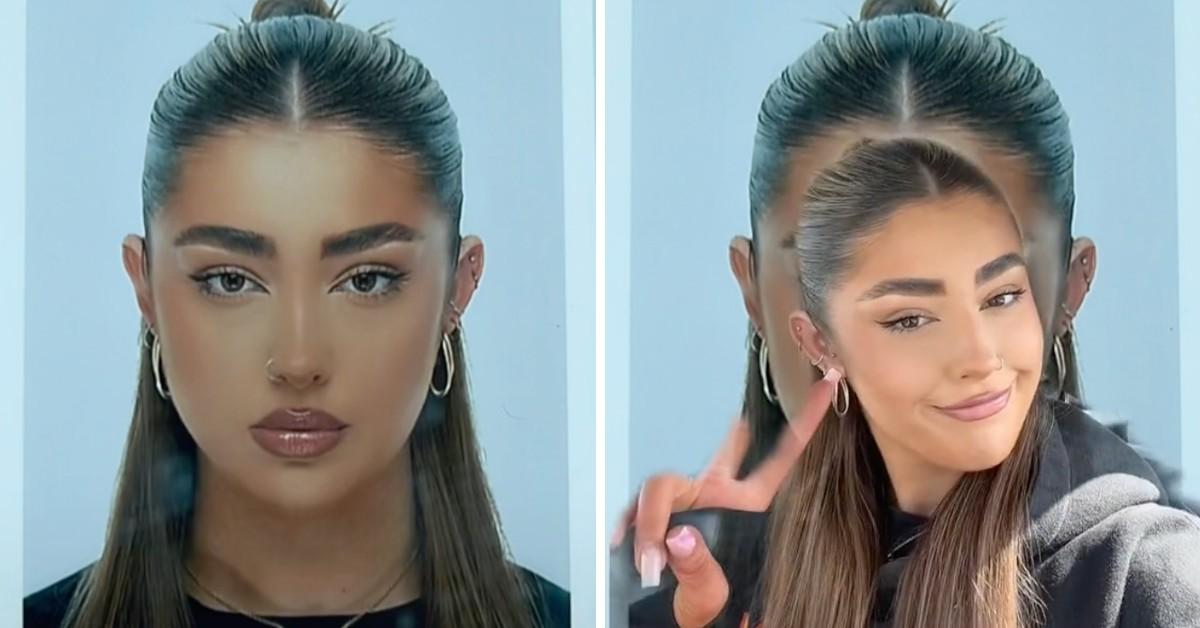 TikTok's Glamorous Passport Makeup Trend Will Transform You Into a Supermodel
A day as mundane as passport photo day has the power to follow us for the rest of our lives. Well, for a decade, anyway.
As the anticipation builds prior to the dreaded photoshoot, we style our hair, put in our contacts, sweep on some blush and a thin coat of mascara, and we're out the door. Before we have time to process the swift click of the camera, we're left with a wonky photo, one that has us uttering the words "Do I really look like that?"
Article continues below advertisement
Only given one chance to smize before the lens, we're often stuck feeling disappointed. Enter TikTok's passport makeup trend. Comparable to mid-2010s Kardashian contouring (and completely ignoring every aspect of dewy clean girl makeup), the makeup style intends to chisel, pinch, and transform the face, turning passport photos into glamorous snapshots worthy of a Vogue cover.
So, whether you're about to get your passport photo, driver's license photo, or mugshot taken (just kidding), these application techniques will help you look your best (and most snatched).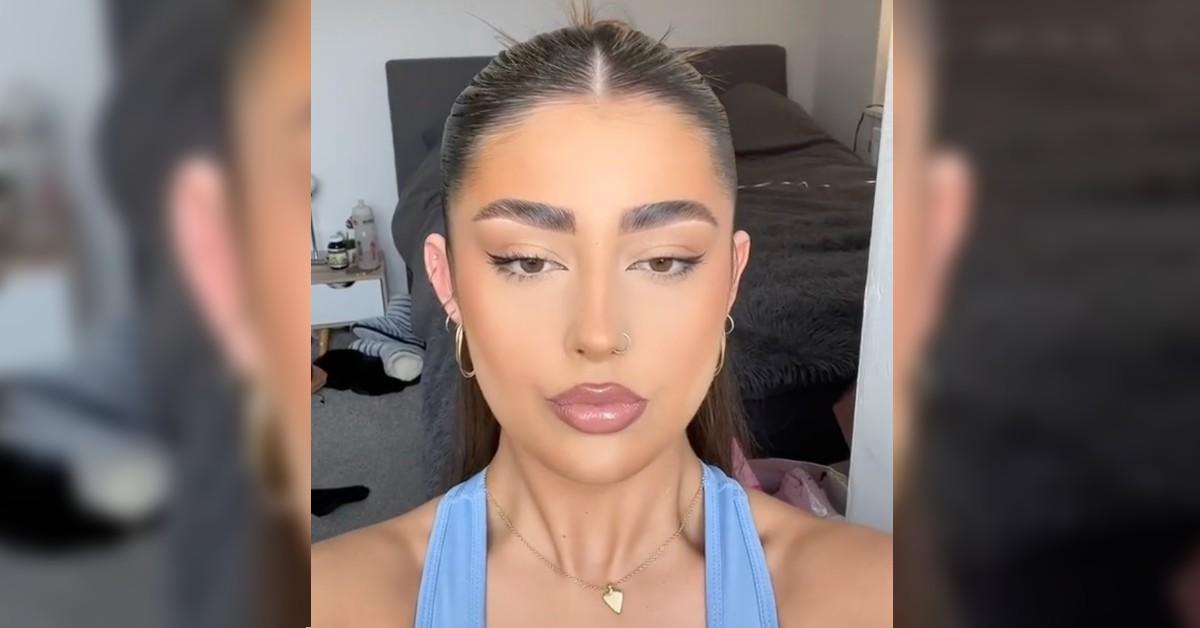 Article continues below advertisement
Here's how to achieve TikTok's passport makeup trend.
As of this writing, the clock app's passport makeup hashtag has over 239.2 million views. The glossy trend was started by TikTok user @georgia.barratt — who boasts over 981,000 followers — in 2022. In her viral video showcasing a drop-dead gorgeous passport photo, Georgia offers a lengthy step-by-step tutorial full of heavy contouring, bronzing, highlighting, baking ("the process of applying concealer and loose powder under your eyes for a crease-free, flawless-looking finish," as put by makeup artist Charlotte Tilbury), and more contouring.
With bold brows, juicy lips, fox eyes, a bright under-eye, and chiseled cheekbones, Georgia's look isn't for the faint of heart (or for broad daylight), as it requires dedication and loads of patience.
She starts by using göt2b Glued Spiking Glue to lift her eyebrows (yes, really), pulling the tails upward. "I want my face as lifted as possible," she says. She then preps the skin with moisturizer and a hydrating primer before applying a healthy amount of the NARS Natural Radiant Longwear Foundation.
Article continues below advertisement
Next, she applies concealer under her eyes, adding a lighter shade of concealer "to carve out the brows." Symmetry is key.
"Literally, this look is all about the contour," she relays, spreading on cream bronzer with a duo fiber brush. During this pivotal step, Georgia targets the temples, under the cheekbones, the sides of the chin, the bottom of the nose, and the outer corners of the eyes, lifting the face in the process.
Article continues below advertisement
Did you think she was done concealing? You thought wrong! From here, the artist uses "a really light concealer" (she uses the cult favorite Maybelline Instant Age Rewind Eraser concealer) to highlight the inner and outer corners of the eyes, the center of the forehead, the tip of the chin, and directly beneath the cheekbone contour "to really snatch the face."
She dots "a tiny bit" of liquid blush on her cheekbones, practically kissing her temples (once again, think about lifting the face).
Following this step, Georgia takes pressed powders (the Maybelline Fit Me Matte + Poreless Pressed Powder and the SHEGLAM Insta-Ready Face & Under Eye Setting Powder), stamping the products into the skin with a beauty sponge. She sets her cream contour with the Benefit Hoola Matte Bronzer, further defining the face.
After dusting on some powder blush, she bakes with the Laura Mercier Translucent Loose Setting Powder, focusing on the sides of the nose (an area that tends to produce oil).
Article continues below advertisement
It's finally time to pamper the eyes. Georgia uses a brown felt-tip eyeliner to draw on "a very small wing," explaining that she "almost wants it to look like another eyelash." Next, she "elongates" the eyes, applying a bit of liner to the innermost corners.
With her chocolate brown wings in place, she curls the lashes and applies mascara, keeping the product "focused on the outer corner."
Article continues below advertisement
After squaring off her brows with a pencil, Georgia "majorly overlines" her lips, plumping up the appearance of her pout. She sweeps on some nude lipgloss, and voila!
Though Georgia's application process isn't revolutionary, as her techniques are reminiscent of those popularized by celebrity makeup artist Scott Barnes, her flawless passport photo has struck a chord with the internet. Earning 1.6 million likes on her tutorial and 3.2 million likes on her passport photo booth video, Georgia's detail-oriented artistry rightfully has TikTok users and TSA agents everywhere floored.