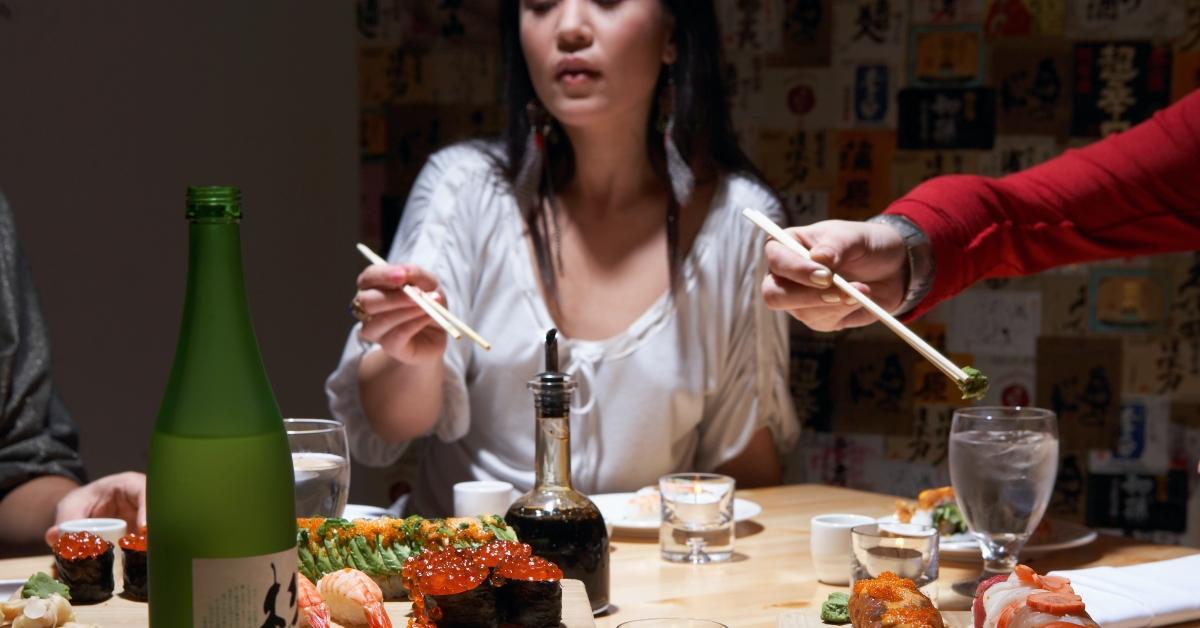 Woman Gets Teased by Cousin Over How to Use Chopsticks, Gets Revenge by Brutally Roasting Her
This person embarrasses their cousin after they tease them for not being able to use chopsticks and all hell breaks loose. Read on for details!
Reality TV has nothing on some of the real-life stories that surface on social media — this is especially true when it comes to this person on Reddit and her cousin, who had the sparring match of the century.
Article continues below advertisement
In a Reddit post published in May 2023, the original poster (OP) explains how she totally embarrasses her cousin Sarah after Sarah teases her for not being able to use chopsticks. The Redditor describes the altercation in detail on the "Am I the A--hole?" subreddit, which allows users to anonymously air out their dirty laundry — and boy did this user hang her cousin out to dry.
Read on to find out what was said in the now-viral AITA thread!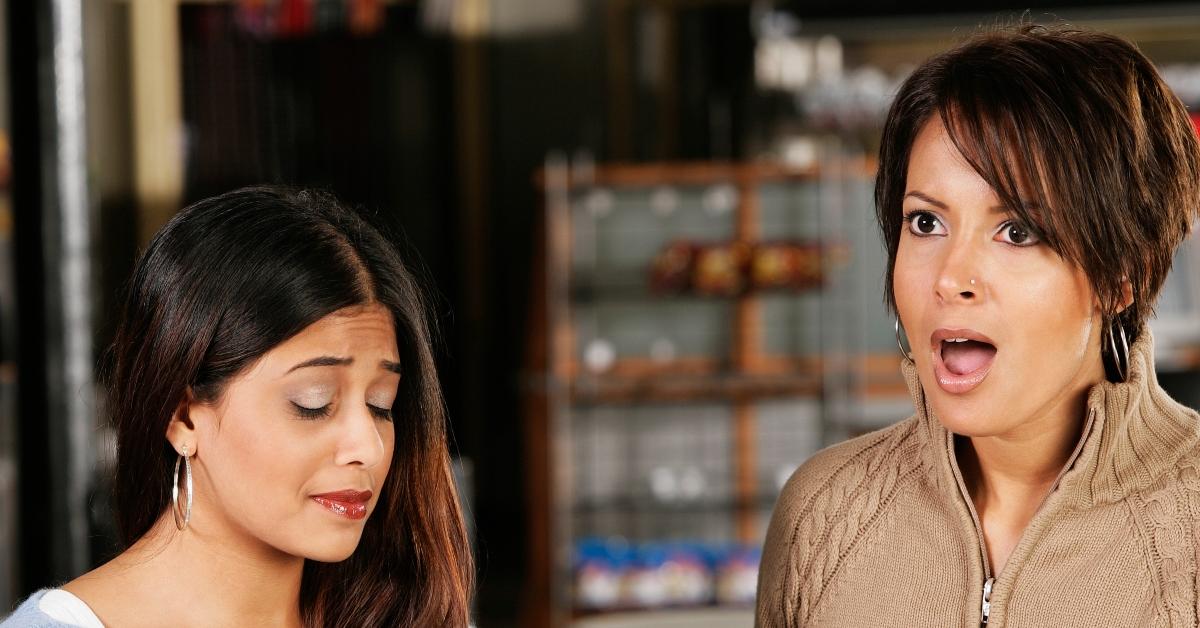 Article continues below advertisement
Did she go too far? A woman on the AITA subreddit says she humiliated her cousin after her cousin teased her for not being able to use chopsticks.
In a lengthy Reddit post that has since gained popularity on social media, the OP explained how what was supposed to be a nice family outing at a sushi bar ended in shambles. It all started when the OP's older cousin Sarah poked fun at OP's chopstick skills.
"After we ordered, I had a hard time using the chopsticks. My cousin started obnoxiously laughing,"she wrote.
After noticing that the OP was having a hard time, a waitress returned to the table with training wheels — a mechanism to help beginners hold chopsticks in place. "My cousin laughed and said, 'Sorry about her, she constantly embarrasses herself and us,'" she added.
When Sarah's boyfriend, MJ, showed up (late the OP may add) her cousin's mocking persisted. Then, all hell broke loose. But we don't have to be Dr. Phil to know that their argument was deeper than utensils.
Article continues below advertisement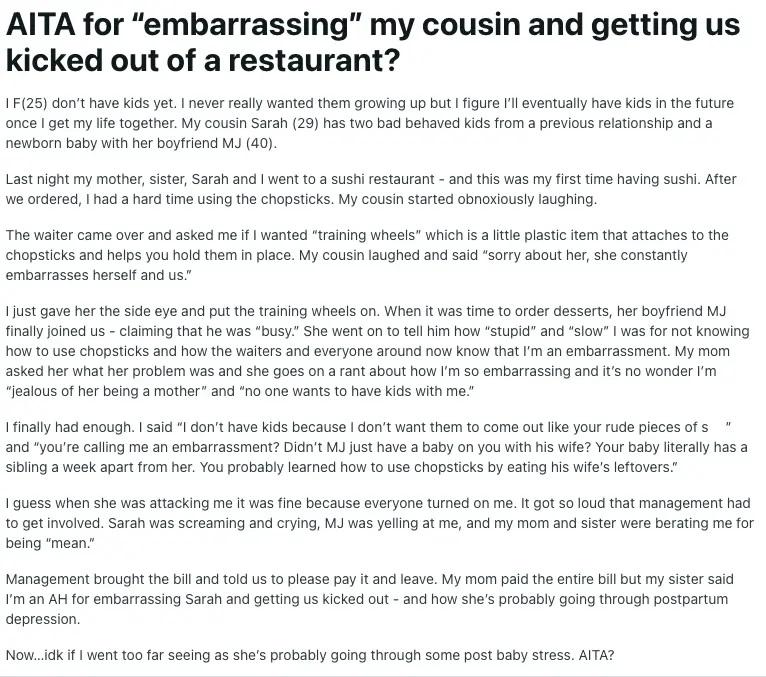 "She went on to tell him how 'stupid' and 'slow' I was for not knowing how to use chopsticks and how the waiters and everyone around now know that I'm an embarrassment," the OP continued, adding:
"My mom asked her what her problem was and she goes on a rant about how I'm so embarrassing and it's no wonder I'm 'jealous of her being a mother' and 'no one wants to have kids with me.'"
Article continues below advertisement
And whoop, there it is. Although Sarah's words cut deep, the OP's response was what really got the people going.
"Finally had enough," the OP wrote. "I said 'I don't have kids because I don't want them to come out like your rude pieces of s--t and you're calling me an embarrassment? Didn't MJ just have a baby on you with his wife? Your baby literally has a sibling a week apart from her. You probably learned how to use chopsticks by eating his wife's leftovers.'"
It's unclear if the OP used her family's real names in the post, but we can't imagine that anyone in the history of everdom has ever used that leftover chopstick clapback in the past.
Surprisingly enough, the tale of two chopsticks didn't end there. Later, the OP returned to the same post to update it with more details on the family feud, which you can check out here. It's unclear if they'll ever make amends, but we're looking forward to an update.