Who Are the 8 Celebrity Teams Competing for Glory on 'Pickled'? Details
8 celebrity teams are competing for glory and a good cause on the upcoming CBS pickleball tournament special, 'Pickled.' Who are the celebrity teams?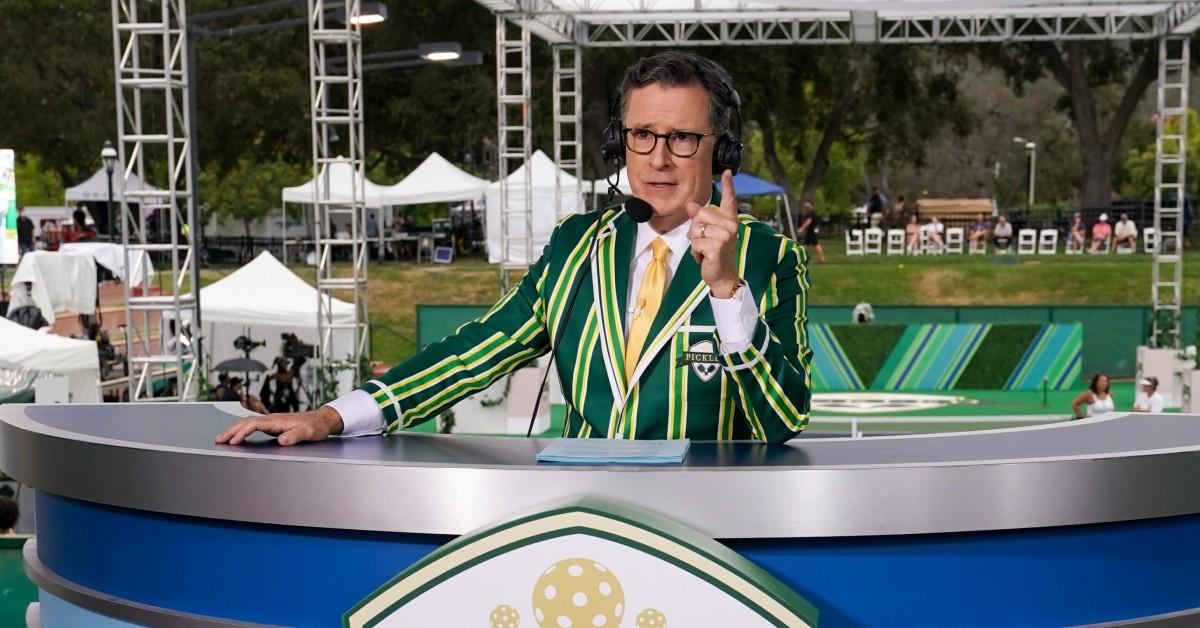 It's the most cutthroat competition of the holiday season. No, it's not who gets the last slice of your grandma's famous pecan pie.
It's Pickled on CBS.
Article continues below advertisement
Hosted by Stephen Colbert, 8 celebrity teams will compete in pickleball matches to raise money for Comic Relief US and to be awarded the first ever Colbert Cup.
So who are the Pickled celebrity TV show teams? Read on to find out!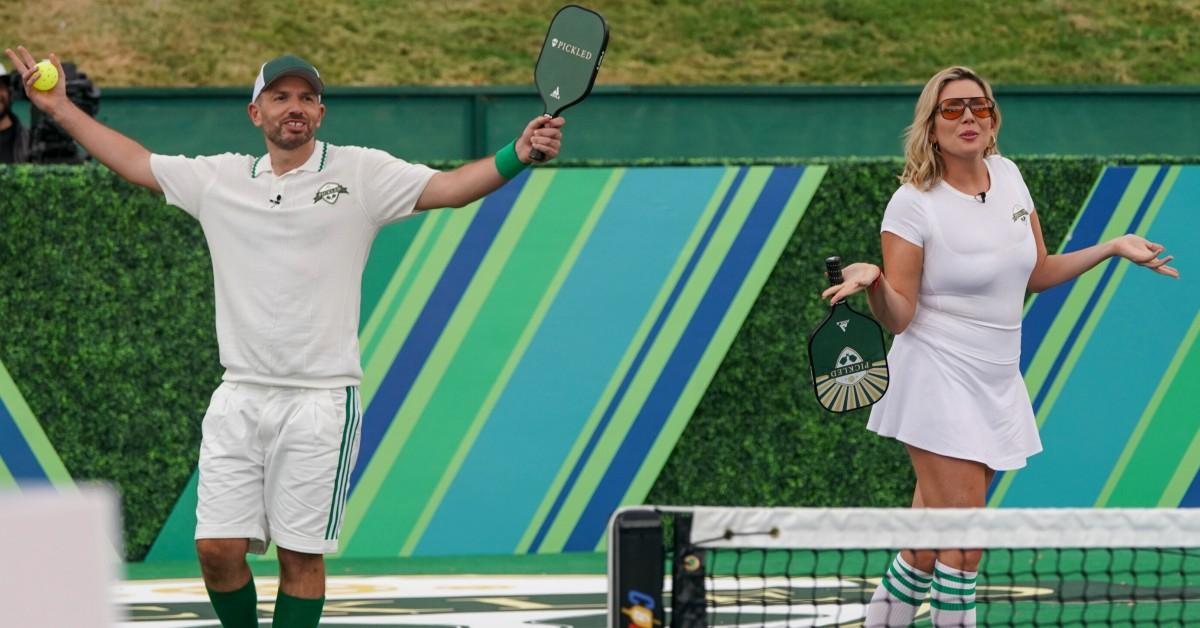 Article continues below advertisement
Who are the 8 'Pickled' celebrity TV show teams? What are the rules for pickleball anyway?
Let's start simple – think of each pickleball match like a tennis doubles match. Each Pickled celebrity team consists of two celebs each. Naturally, each team has come up with a hilarious name.
So without further ado, here are the 8 Pickled celebrity TV teams!
When Harry Net Rally: Dierks Bentley and Phil Keoghan
Daniel Dae Luis: Luis Guzman and Daniel Dae Kim
Dill-I-Am: Jimmie Allen and Max Greenfield
The Volley Ranchers: Sugar Ray Leonard and Emma Watson
Take This Lob and Shove It: Jaime Camil and Aisha Tyler
The Paddle Snakes: June Diane Raphael and Paul Scheer
Party "Til You Cuke: Tig Notaro and a mystery guest
Dink Floyd: Kelly Rowland and Murray Bartlett
Article continues below advertisement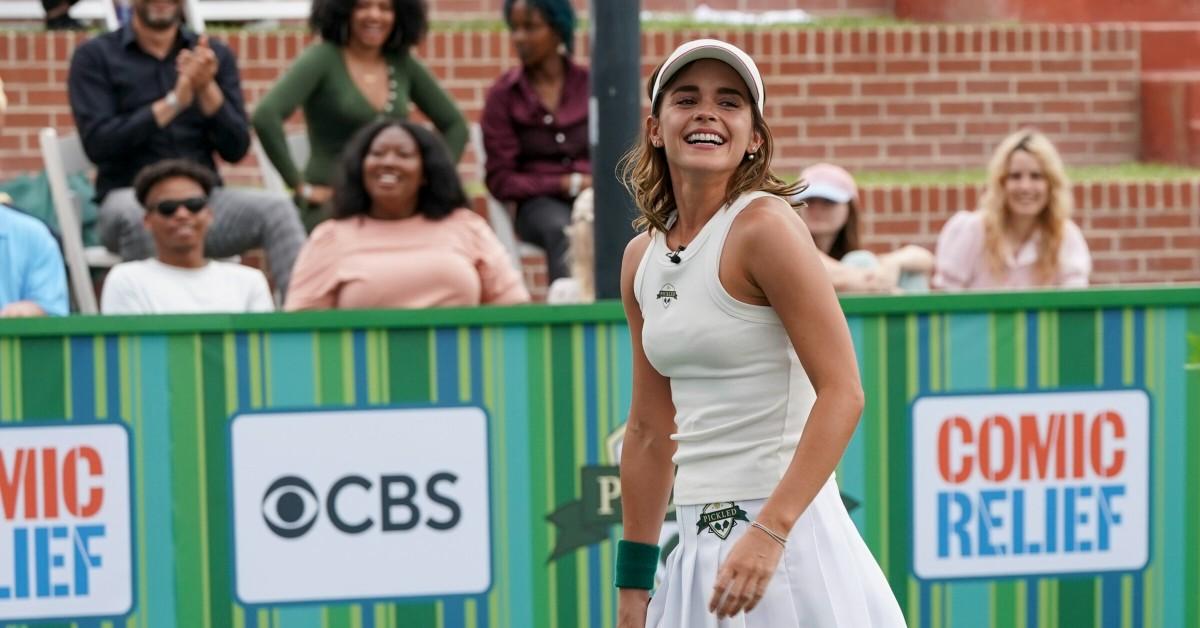 Now that we've got the celebrity teams sorted, how does one actually play pickleball? How does Pickled determine the ultimate pickleball champs?
Like tennis, a round of pickleball can be played as a singles or a doubles match. One player serves the proverbial pickleball to the opposing team, and if the opposing team fails to serve it back, the first team scores a point. Only the serving team is allowed to actually score a point. Rounds are usually played up to whoever scores 11 points first.
Article continues below advertisement
So we know what you're thinking — is pickleball basically tennis, just under a different name? Not exactly. According to a report from Elite Sports, pickleball combines elements of tennis, table tennis and badminton (so think of it like the hybrid car of racquet sports!)
A pickleball court is also smaller than a standard tennis court.
Article continues below advertisement
When does 'Pickled' premiere?
Craving a jar of pickles yet? Us too. So when can you watch celebs face off in Pickled? You can catch the epic one-week-before-Thanksgiving pickleball tournament for the ages tonight on CBS from 9 p.m. to 11 p.m. ET.
If you miss the fun special when it airs live, don't fret! Pickled will also be available to stream after the live airing on Paramount Plus. There will also be some celeb announcers for each match, including Cari Champion, John Michael Higgins and Bill Raftery.
Unfortunately, Pickled is only a two-hour special this time around, so there won't be any further episodes of matches past tonight. However, we wouldn't be surprised if CBS brought Pickled back next year with new celebrities! After all, it's a comedic competition for a good cause.
The CBS sports special Pickled airs tonight, Nov. 17th, 2022 from 9 p.m. to 11 p.m. ET.