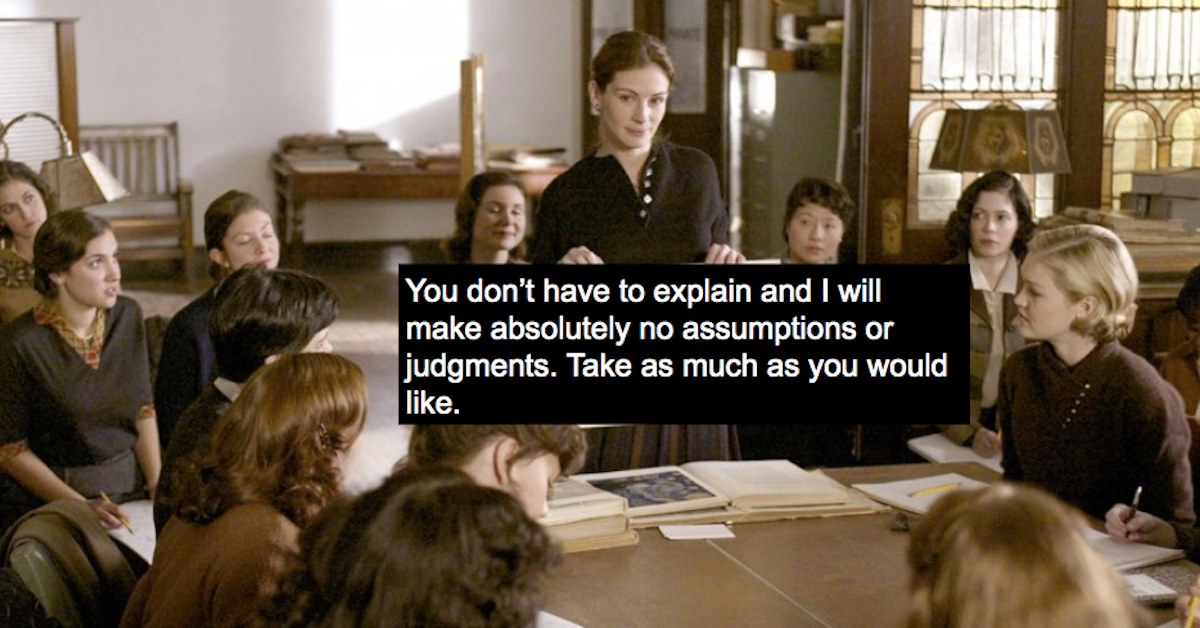 This Professor Provides Shelves of Food for Students in Need
Grace Nguyen, a student at UT Dallas, recently shared an email from her professor, Dr. Gayle Schwark, that will make you believe in the power of good teachers. Gayle emailed all her students to let them know she would have shelves of food available in her office for any student that needs some nourishment — for any reason, at any time, and they don't even have to be her student.
Article continues below advertisement
Teachers and professors don't get enough credit for the impact they have on their students. This small, touching move by one professor has the capacity to change kids' lives! Grace's tweet blew up as it demonstrated how much of a difference this professor' seemingly small gesture could make.
Article continues below advertisement
Dr. Schwark writes that she knows what it's like to struggle financially and face decisions like whether to pay your bills or eat dinner. And she's aware many college students skip meals for one reason or another, whether they can't afford it or their tight schedules don't allow it.
So she's emailing her students to let them that she will have three shelves stocked with food in her office at all times. And they can come by whenever they like to grab whatever they like. "Whether you can't afford to buy food, you forgot your lunch at home, you suddenly have the munchies, or you just want an excuse to stop by and say hello, you don't have to explain and I will make absolutely no assumptions or judgments," she writes.
Article continues below advertisement
I want to take this professor's class! And I've been out of college for almost a decade! She sounds like she understands what it's like to be a college student. And not only is she giving food to kids no questions asked, but she's not limiting how much they can take. At all.
"Take as much as you would like," she writes. "Feel free to take extra so you have some for later, too." She also clarifies that this is not restricted to just her students. Any student who needs a bite to eat can stop by her office, and if she's there, she'll let them in.
Article continues below advertisement
Dr. Gayle Schwark knows how important it is for college students to eat. It's about much more than feeling full; it's about performing their best in class. It's about having energy to get through their days. She knows that there are kids in need and she's approaching this in the best way possible: by not restricting how much food someone can take or asking them to prove that they "need" it.
Article continues below advertisement
Grace's tweet, which includes the email screenshots and captions them with, "Guys, my professor is so kind," has amassed nearly 8,000 retweets and over 48,000 likes. So many people — those who don't know her and some who do — chimed in to share their appreciation for a professor like Dr. Schwark.
Article continues below advertisement
You can totally tell from this email that Dr. Schwark is delightful in person and a nice, understanding professor. It makes all the difference in the world. There's no reason college has to be more stressful and nerve-racking than it already is.
To have a professor who has real empathy for her students and a real idea of what it's like to be them. You can't overvalue that.
Article continues below advertisement
This is a good time to mention that while I don't know Dr. Schwark's situation, many, many college professors are part-time employees who don't get paid nearly enough.
Teachers in general are woefully undervalued, and many are doing things like this, spending their own money to give their students the best chance of success. They deserve so much more than we give them.