The Wife of YouTuber ProJared Accuses Him of Cheating and Sending Nude Photos to Fans
ProJared's wife accuses him of cheating on her with content creator Holly Conrad and soliciting nudes from fans.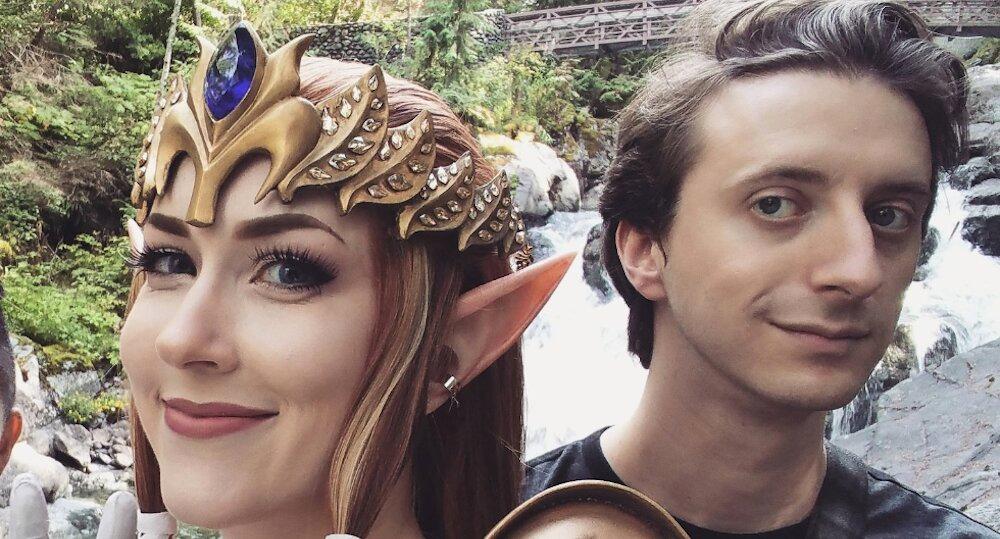 Late on Wednesday, May 8, popular YouTuber ProJared (whose real name is Jared Knabenbauer) shocked fans by announcing his split from wife Heidi O'Ferrall.
"My wife Heidi and I have filed for divorce," the 33-year-old revealed on social media. "I know this may come as surprising and upsetting for many of you, but know that we do this so that we may both seek happiness for ourselves. During this time you may see a lot of rumors, speculation, and gossip going around. I ask that you make your own observations and come to your own conclusions."
Article continues below advertisement
It didn't take long for Heidi to respond to her ex's post, and what she had to say about their separation set off a massive scandal. This story has everything including infidelity, nude photos, and inappropriate interactions with underage fans. Scroll down for the crazy details.
Did ProJared cheat on his wife with Holly Conrad?
Shortly after Jared released a statement about the duo's divorce, Heidi took to Twitter to claim that her husband was having an affair with content creator Holly Conrad, also known as Commander Holly.
Article continues below advertisement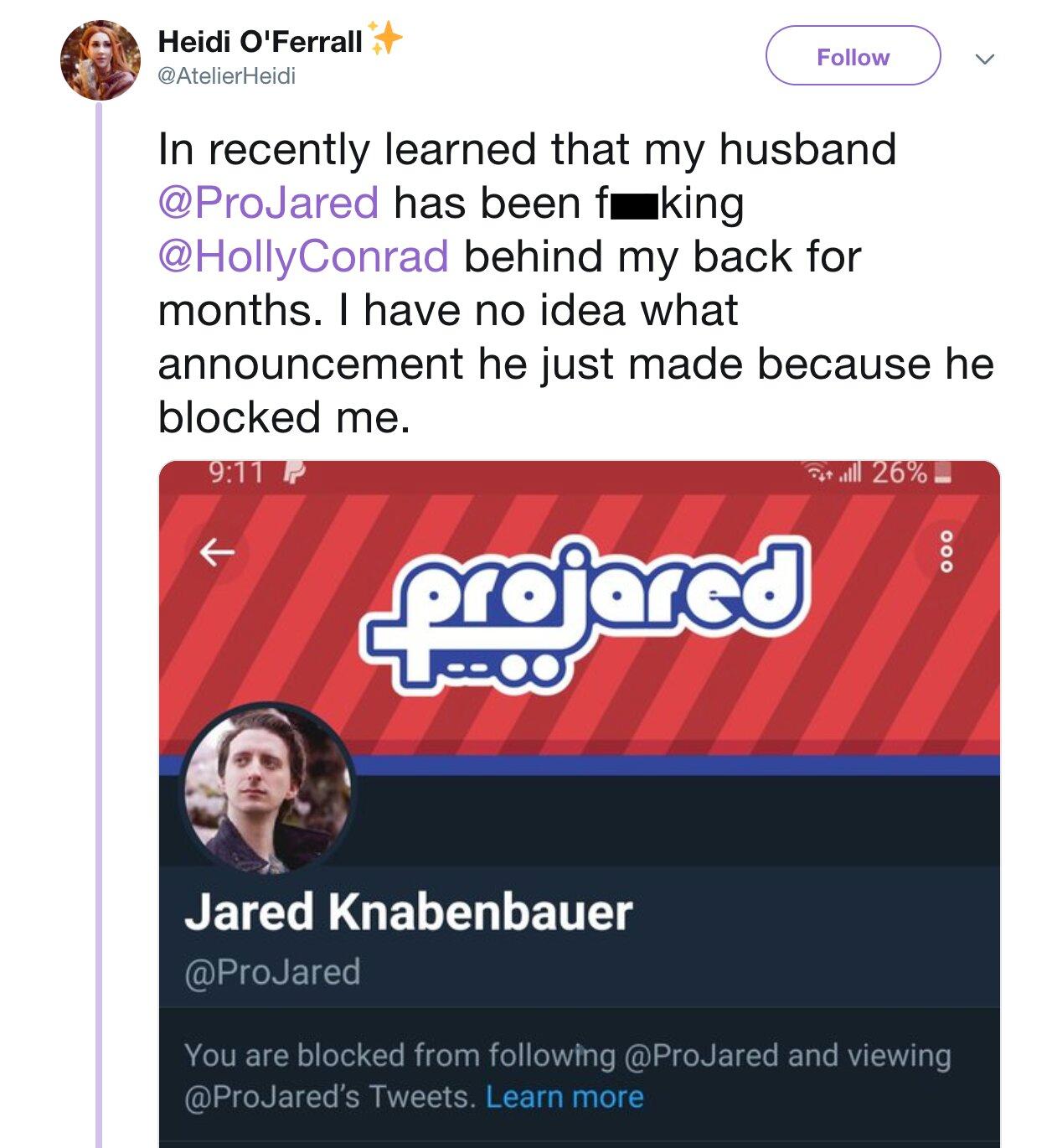 "[I] recently learned that my husband @ProJared has been f--king @HollyConrad behind my back for months," she alleged on the social media platform. "I have no idea what announcement he just made because he blocked me."
The professional artist continued, "I have proof. Explicit conversations and photographs of their relationship, which he extensively lied to me about on many occasions. He was promising me that he was committed to our relationship at the time, and promising her he was breaking up with me."
Article continues below advertisement
Heidi offered up more specifics over the course of 41 tweets, including claims of abuse. "He had absolute financial and social control over me," she wrote. "I have been powerless by comparison. I couldn't even move out without him cosigning my lease. I couldn't even get away when he didn't want me anymore."
Jared has not responded to his wife's many allegations, but Holly did send out two tweets about the situation — though she didn't deny cheating with the gamer. She has since made her account private.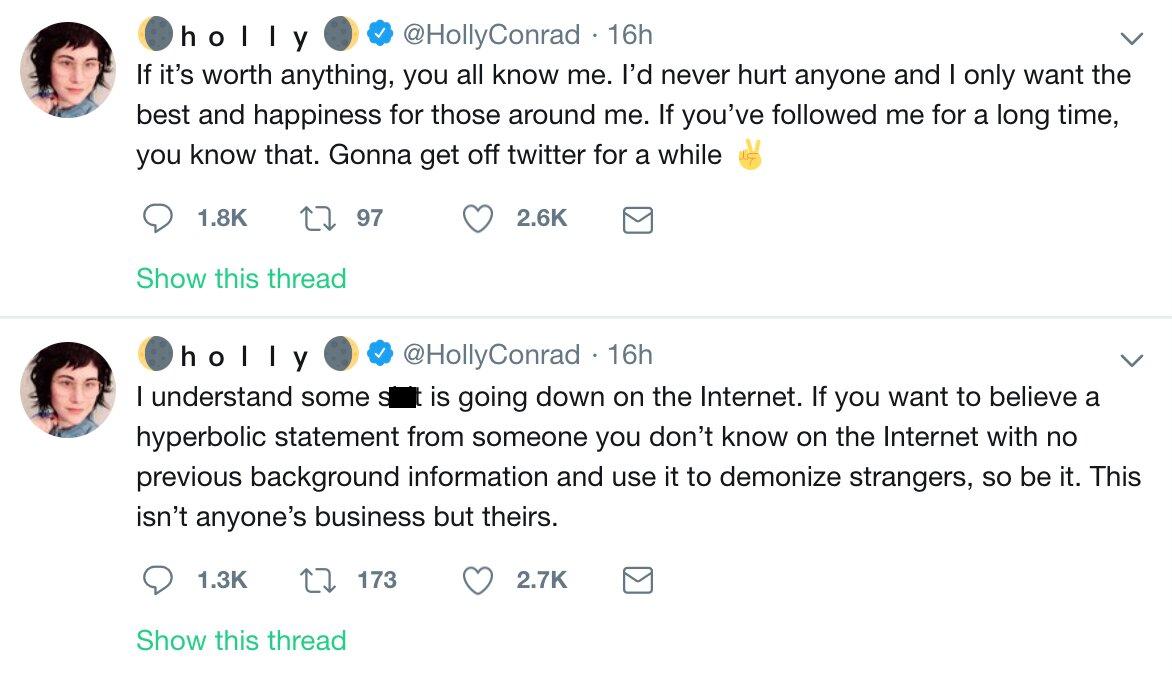 Article continues below advertisement
"I understand some s--t is going down on the Internet. If you want to believe a hyperbolic statement from someone you don't know on the Internet with no previous background information and use it to demonize strangers, so be it. This isn't anyone's business but theirs," she said.
"If it's worth anything, you all know me. I'd never hurt anyone and I only want the best and happiness for those around me," the self-described "pigeon fancier" added. "If you've followed me for a long time, you know that. Gonna get off twitter for a while."
ProJared is also accused of soliciting and sending nude photos to underage fans.
In her rant, Heidi claimed that Jared solicited nudes from his fans for years. "In the beginning, it was a joke on tumblr," she explained. "Then it was its own tumblr account just for nudes. It was ostensibly a body-positive space for consenting adults, and I approved on that basis."
Article continues below advertisement
Heidi stated that the situation secretly escalated. "He started a Snapchat, for getting nudes from fans, without telling me. I found out via a fan comment. I felt pressured to allow it even though I was uncomfortable," she shared.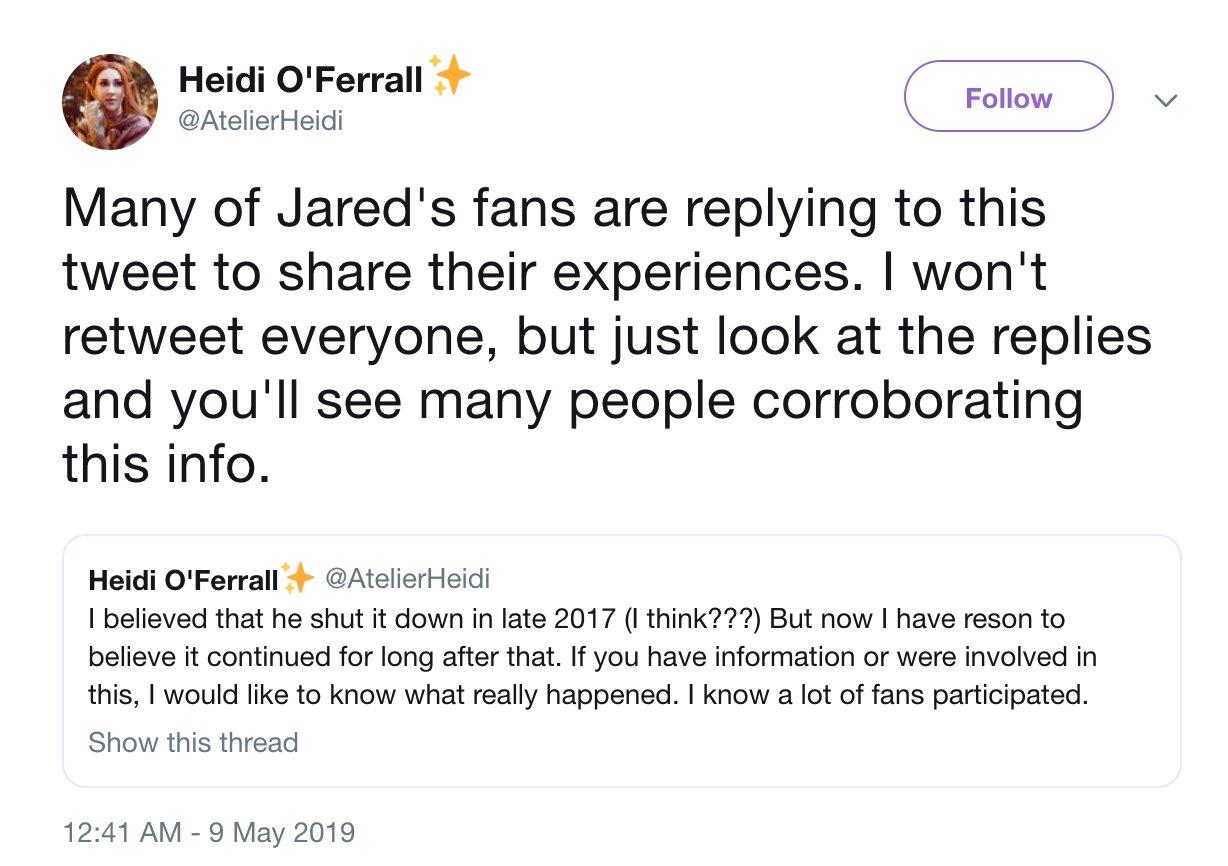 Article continues below advertisement
However, a handful of Jared's followers have since accused the reviewer of sending them NSFW images and asking for photos in return. One Twitter user, who goes by the handle @chaitemporary, claims the Internet celeb sexually manipulated him via Tumblr when he was only 16 years old.
"He sent me pictures of him in cosplay with his d--k very visible," Chai, who is a trans man, alleges. "He told me details about his sexual life and fantasies. Eventually, he sent me a d--k pic. This is maybe March-July 2016 this is all happening. We didn't speak every day, but most. I sent him many actual, real nudes. He knew I was 16."
Jared has not commented on accusations that he exchanged nude photos with underage followers and has not been charged with any crime.
Heidi said she regrets not doing anything about the raunchy Tumblr accounts that her husband reportedly controlled.
"I used to think that among consenting adults, it was fine," she tweeted. "Now I see it as an abuse of power for him to intentionally manipulate anyone to show him their naked body on the basis that he's a popular internet man. I would like to apologize for my role in enabling this."