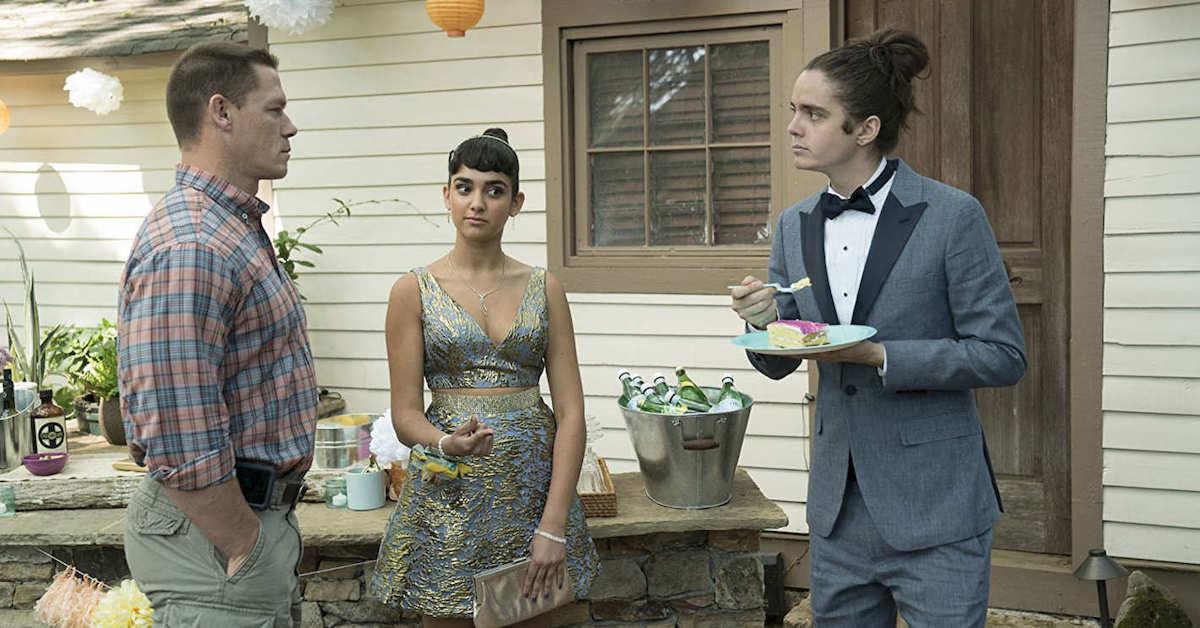 These #PromFail Stories Prove Comedy Equals Tragedy Plus Time
May is a big month for high school students. Final projects and exams loom, acceptance and rejection letters from colleges and universities start rolling in, and then there's the night a hundred songs and movies have built up for you since your first day of freshman year: prom.
It's supposed to be the most magical night of your young life, and for a lucky few it is. But for the less fortunate of us, the night devolves into embarrassment tears, broken relationships, puking, or all of the above. Late night's Jimmy Fallon put out a call on Twitter for people to share their biggest #PromFail stories and, reader, they did not disappoint.
Article continues below advertisement
1.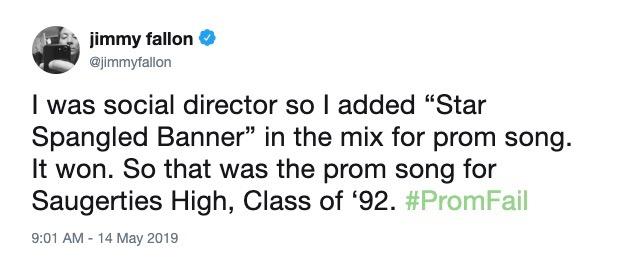 Jimmy got the ball rolling by sharing how he used his sway to get the National Anthem added to the playlist for the evening, so while the prom song for most schools in '92 was "End of the Road" by Boyz II Men, Saugerties High ended up with something a bit more patriotic.
2.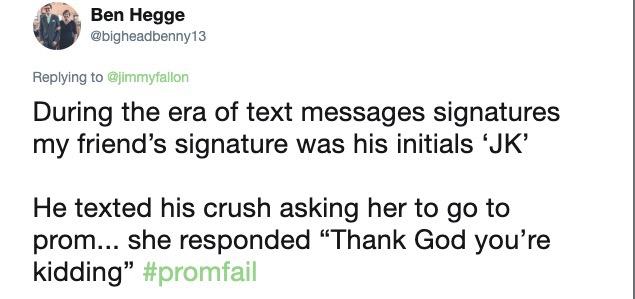 Oof, this one is legit painful. It seems like Ben has a pretty good sense of humor about it now, and I applaud that, because this is the type of cringe-worthy moment from adolescence that replays in your mind on sleepless nights even a couple decades later.
Article continues below advertisement
3.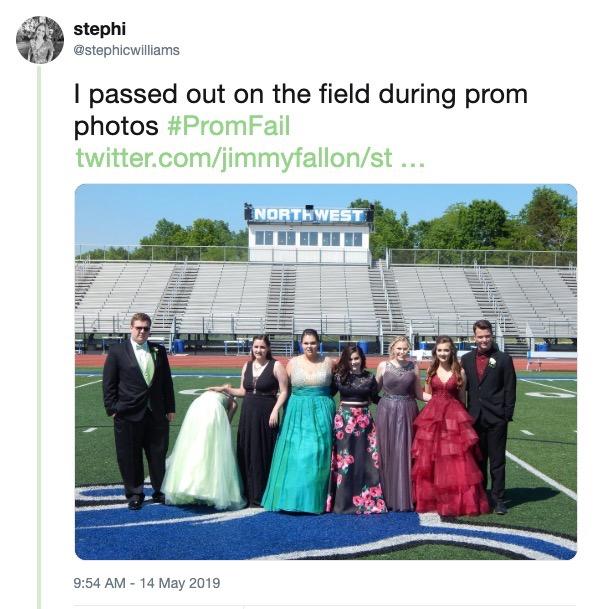 Usually you don't get woozy until after hitting the punch bowl a few times. but that wasn't the situation for Stephi here. "Moral of this tweet is to make sure you eat while you're getting ready!" she wrote in a follow-up tweet. "I hadn't eaten [or] drank anything all day and got on hot turf and it was a bad mix of heat and hunger." Thankfully, it seems she was able to recover and have a blast.
Article continues below advertisement
4.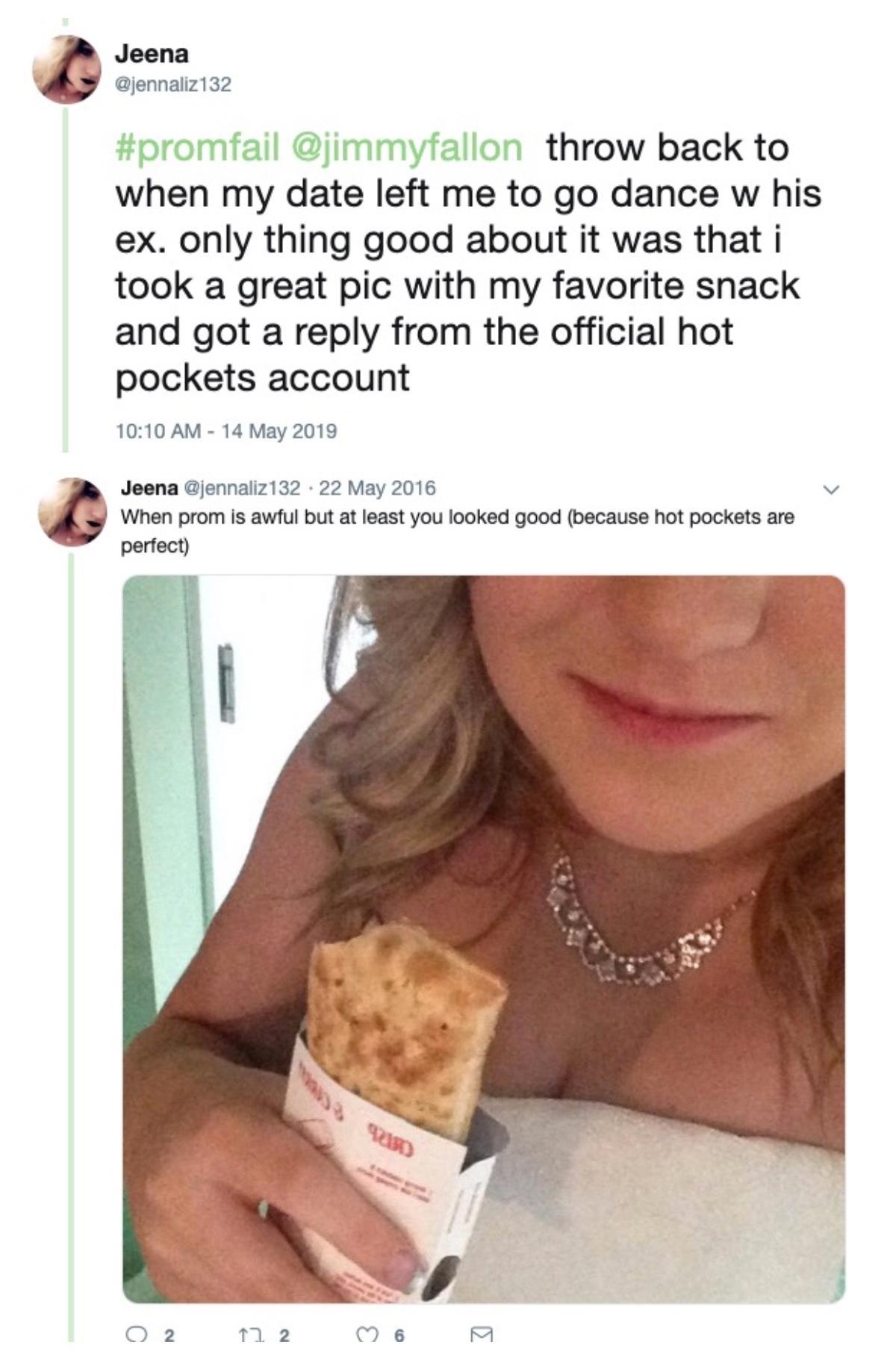 If you can find the bright side to a terrible night, you're pretty much set for life. Jeena may have had an "awful" prom, but she got to end the night with her true love: Hot Pockets. She also gets extra points for knowing she looked amazing even if the rest of the night didn't live up to her outfit.
Article continues below advertisement
5.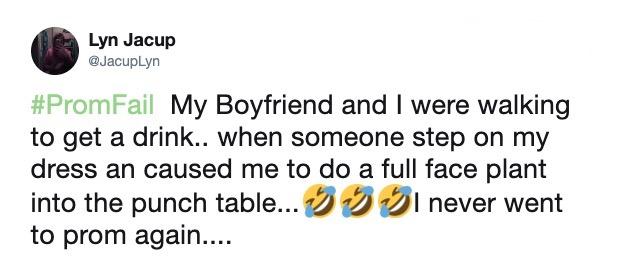 Poor Lyn here demonstrates why cocktail length dresses might be safer on the dance floor. There's less of a chance of the evening ending in an embarrassing pratfall.
Article continues below advertisement
6.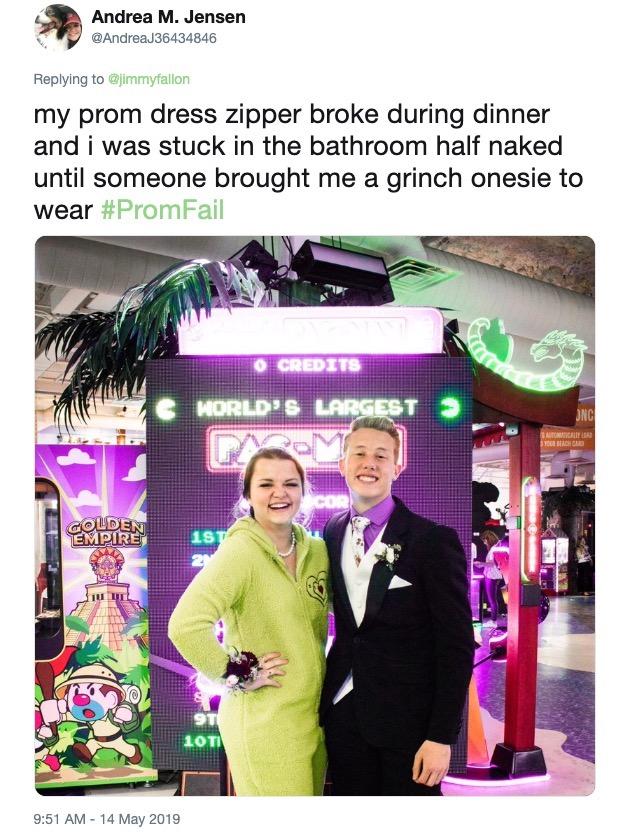 You spend weeks shopping for the perfect dress, only to have a cheaply made zipper ruin your whole prom look. While this lime green Grinch onesie clearly wasn't her first choice, I have to say Andrea's corsage looks great with it and she doesn't clash with her date, so it could've been worse! Plus, that smile tells me she took the setback in stride and had a great night anyway.
Article continues below advertisement
7.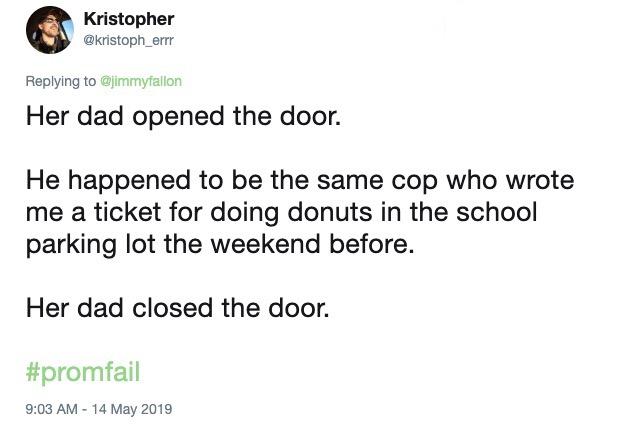 This high school bad boy ended up asking a cop's daughter to the dance. It's a classic teen rom-com trope come to life! Hopefully he and his date were able to meet up at the dance later and continue their Romeo and Juliet romance.
Article continues below advertisement
8.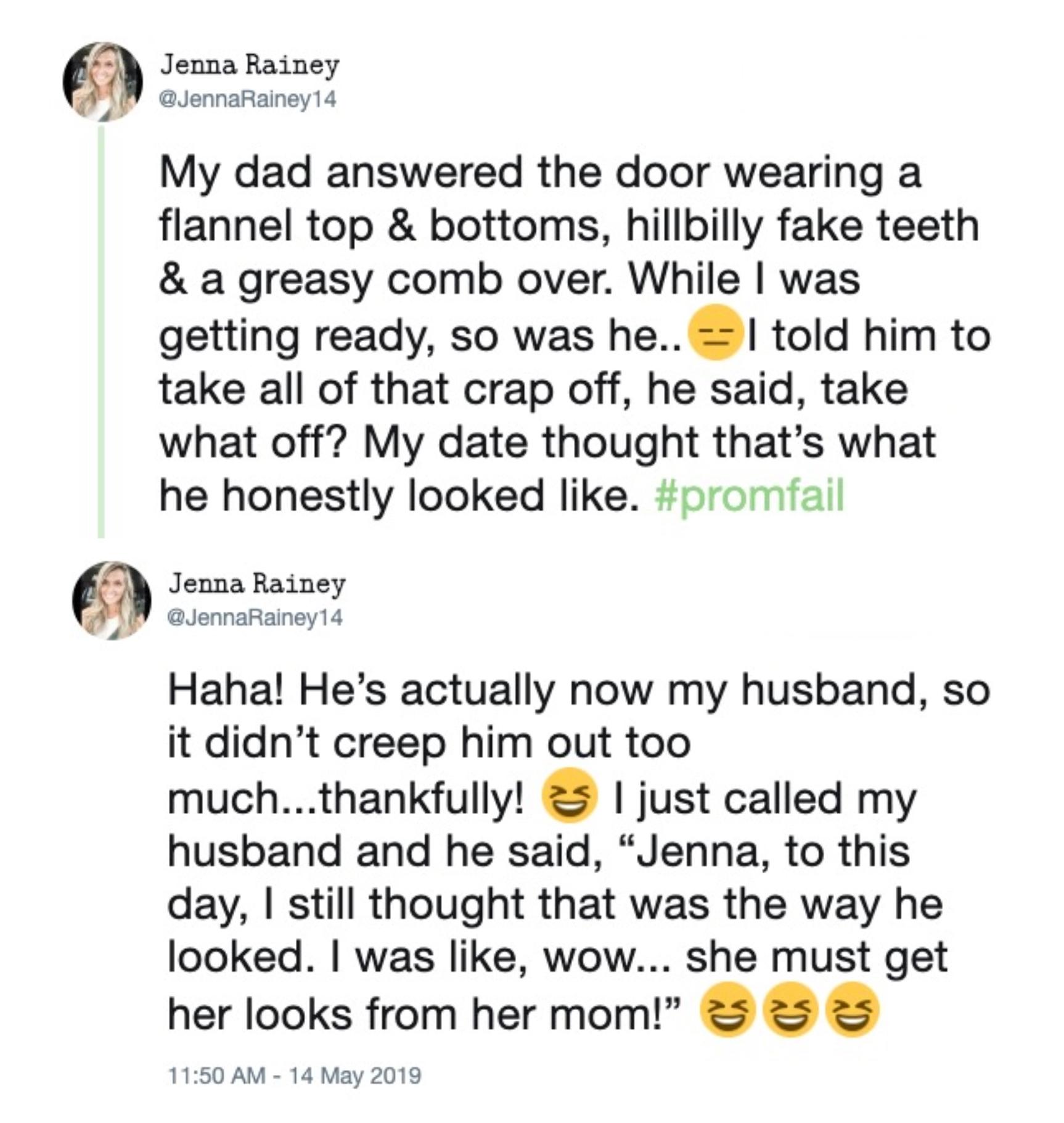 Dads live for the moments they can embarrass their teenage daughters. Jenna's date wasn't too fazed, though, and figured she must favor her mom's side of the family. These high school sweethearts are still together — awww!
Article continues below advertisement
9.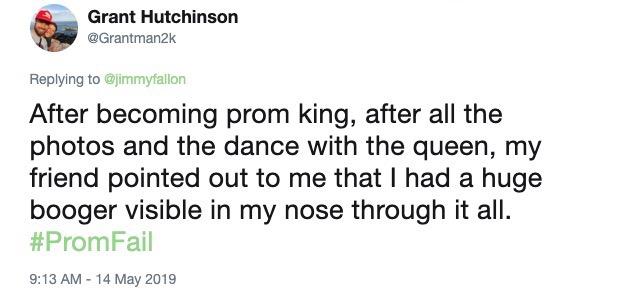 According to the humble brag translator, in plain English this means, "After being elected the coolest, most popular kid in school, everyone was too intimidated by my energy to tell me I had a bat in the cave."
Article continues below advertisement
10.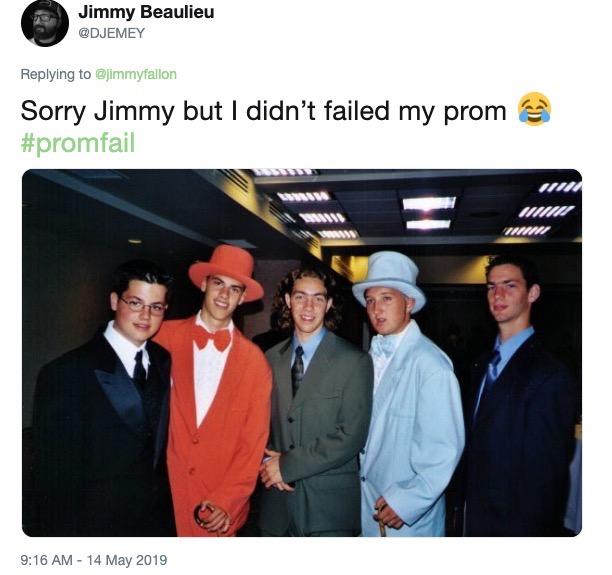 I have to agree with Jimmy Beaulieu here — cosplaying Dumb and Dumber is winning prom. If anything, I bet those three guys who wore drab neutrals are the ones wishing they could go back and do things differently.
Article continues below advertisement
11.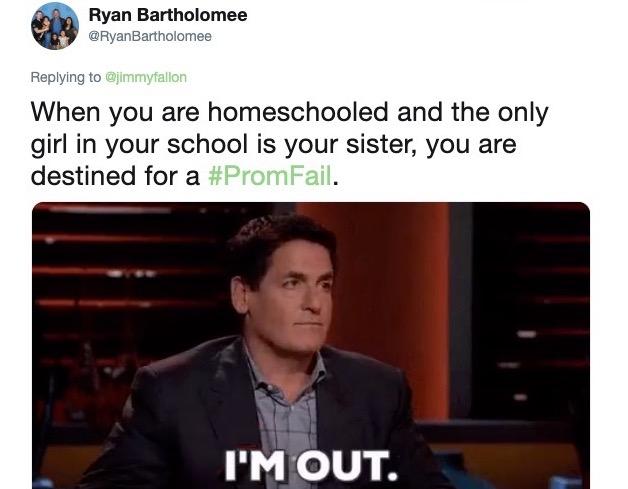 Let's have a moment of silence for the kids who didn't have a prom to go to. While they may have avoided some of the embarrassment these others experienced, they missed out on a rite of passage. At least those of us who didn't attend our school proms (hi hello, that's me) made a conscious choice to opt out!
Article continues below advertisement
12.
The best part about this prom fail is that they got it captured on video. Those of us who had prom before smartphones just have to rely on our memories.
Article continues below advertisement
13.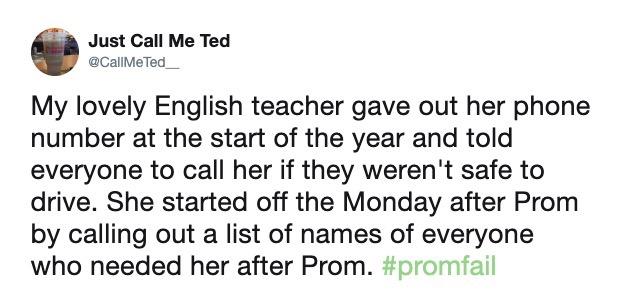 This teacher is a real one. Not only did they make sure kids who parties too hard got home safely, but they threw on a little dollop of shame afterward so they know their actions still have consequences.
Article continues below advertisement
14.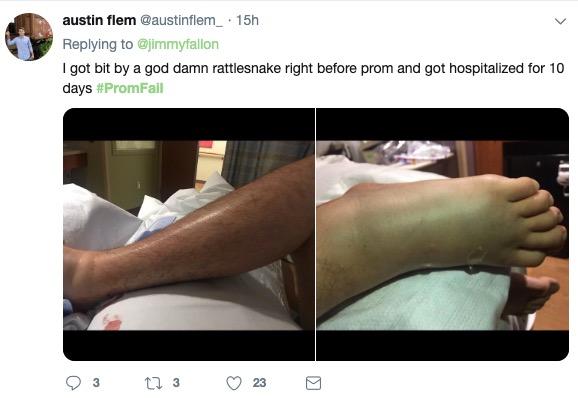 Poor Austin here deserves a do-over. If this were my friend in high school, I'd come to their hospital room, put on a dance playlist and throw a little dance right there in the room with them.
Article continues below advertisement
15.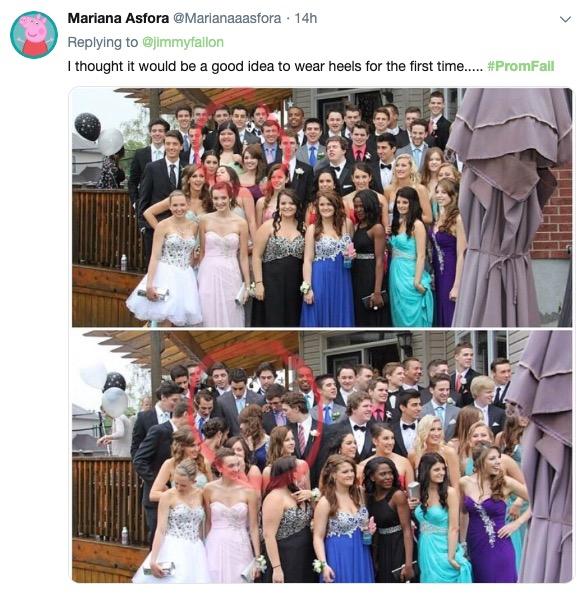 A little tip for anyone who wants to rock heels at a formal event: Always give those shoes a good test run before your big night, no matter what the occasion. Take it from a girl who almost fell down a flight of stairs on her way to the altar.
Article continues below advertisement
16.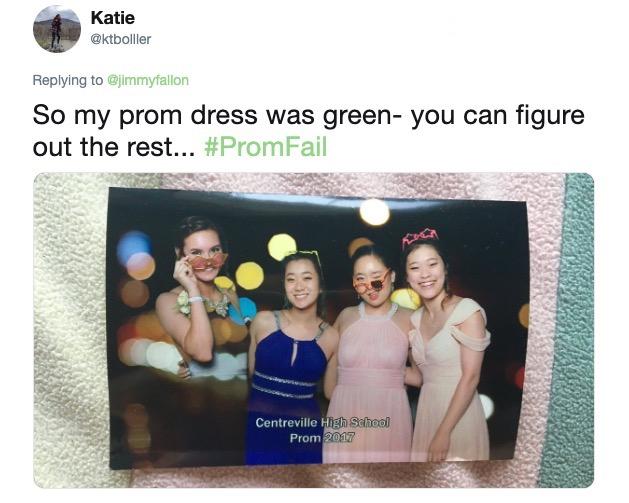 And it was as the DJ started playing "Bad and Boujee" by Migos that Katie discovered her mutant superpowers...
Article continues below advertisement
17.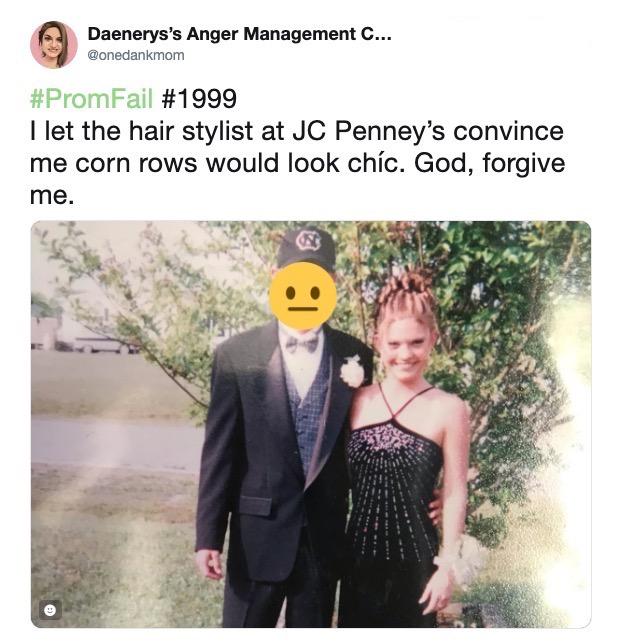 I applaud this woman for recognizing the error of her ways and seeking penance. Also super responsible of her to protect her date's identity, even though he deserves some public shaming for wearing that cap to a formal dance.
Article continues below advertisement
18.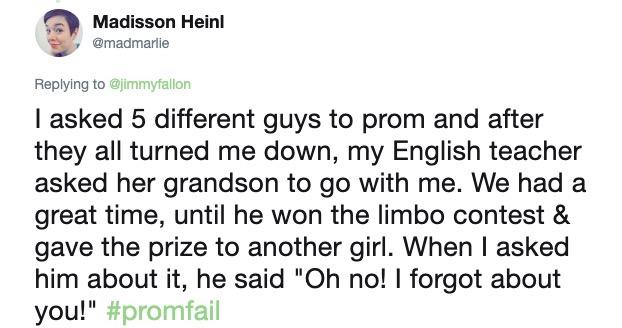 Madisson here is my hero. I admire how she stared rejection on the face five times and still went to the dance even if it was with a pity date who forgot she existed. We could all benefit from adopting that energy.
Article continues below advertisement
19.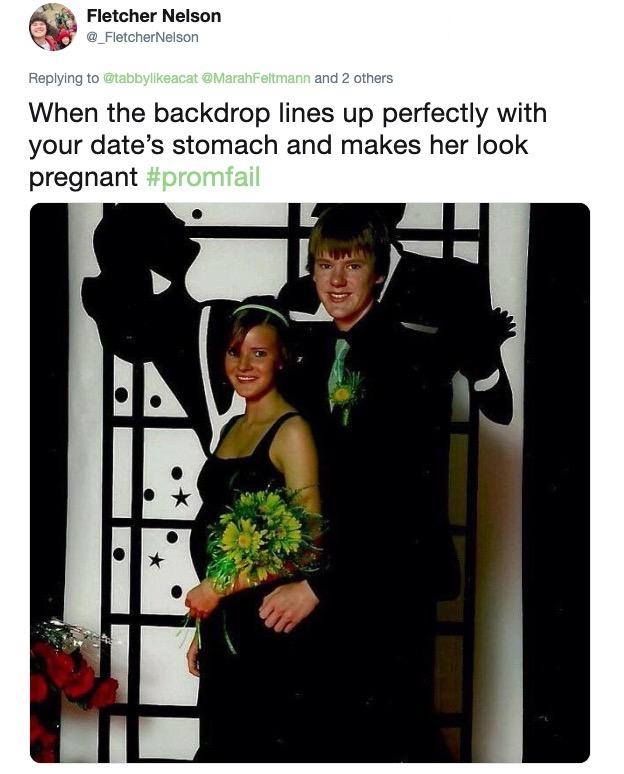 I don't know whether to blame the prom committee or the photographer on this one, but that is a very unfortunate angle. On the other hand, it distracts a little from that hideous corsage devouring her entire arm.
The good news is, 10 years later, prom really doesn't mean anything. Plus, embarrassing stories and unfortunate photos make for way better anecdotes. Happy prom, kids!
Article continues below advertisement