7 Crafts Tired Parents Can Give Their Kids to Do in Quarantine
Cooped up with your family? These quarantine crafts for kids will keep the young ones occupied with items most parents already have on hand.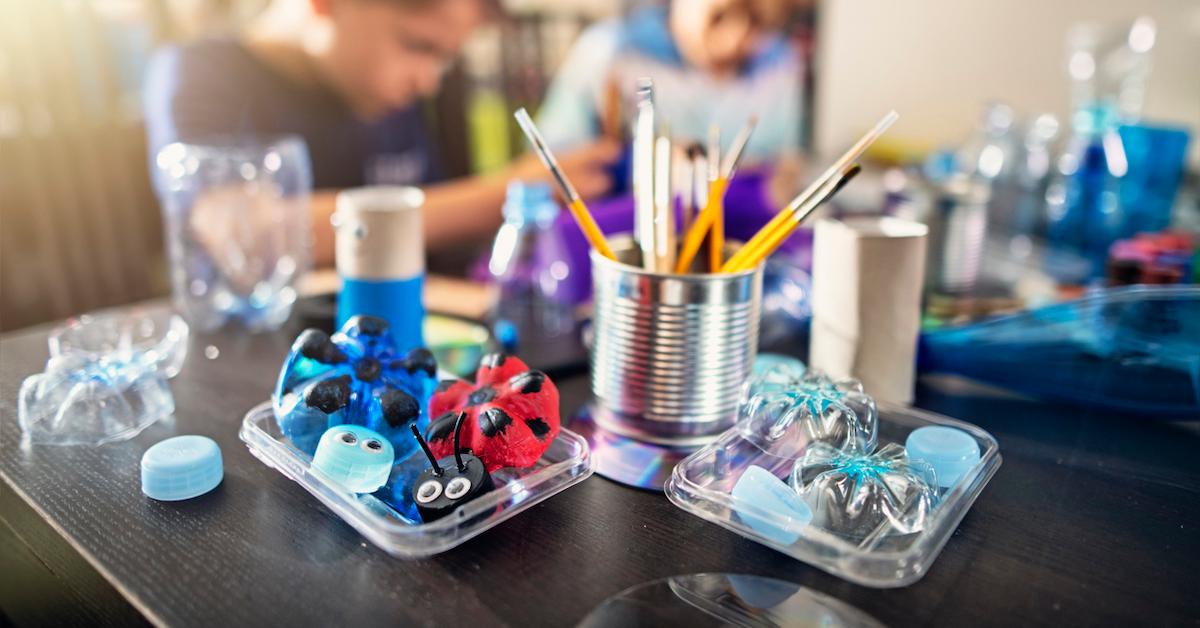 Parenting is already hard enough on a normal day, and these are not normal days! With families staying at home to curb the spread of COVID-19, keeping kids occupied with engaging activities has never been more crucial. It's a particularly mounting concern for parents who work from home all day.
Article continues below advertisement
Easy quarantine crafts for kids to do while you're working from home.
We're coming to your rescue with a few quarantine crafts for kids that will keep your young ones occupied for hours while you get a few things done. Best of all, most, if not all, the supplies are items most households with children already have on hand.
Salt dough for sculpting
Since so many of us have been baking up a storm during this social distancing period, surely you have flour on hand. All you need to make salt dough is white flour, salt, water, and an oven to dry out your creations. To make a batch, mix together 1 cup of salt, 2 cups of water, and 3/4 cup of water in a bowl until you have a uniform dough, then knead it on a floured surface until it is smooth.
It will keep for several days in an airtight container, so you can mix up a batch well in advance and then set your kids down to create anything they want. Once they're done sculpting, bake the figures on a cookie sheet in the oven at 350F until dried and hardened. After, the kids can use watercolor or tempera paints to color their creations.
Article continues below advertisement
DIY Marble runs
Use the cardboard tubes from your hoard of toilet paper and paper towels to construct a track for marbles on the wall using painter's tape. It's part craft, part physics exercise, as your kids will learn to set up ramps and tunnels and use gravity to move their marbles through the track. If you have multiple kids, they can even race their marbles on their respective runs, providing they use the same number of tubes to make things fair. Don't have marbles? Make some out of your salt dough!
Article continues below advertisement
Paper bag puppets
Since you're not packing them lunches, use those paper sacks to make puppets! Using markers, construction paper, and other art supplies, kids can construct a face, using the flap at the bottom as the mouth. This simple tutorial is for monster puppets, but you can make any sort of character. If you have some extra Amazon boxes around, you can even use the cardboard to construct a puppet theater!
Article continues below advertisement
Egg carton flowers
Repurpose cardboard egg cartons to make beautiful bouquets that never need to be watered. Cut each of the individual cups out and have your kids decorate them with paint. Poke pipe cleaners through the bottom for stems, then glue buttons, sequins, or pom-poms to the center of the open "flower" to create the pistil.
Article continues below advertisement
Bubble painting
We know you have soap. You had better, anyway! If you can spare a little for a project (after all, washing your hands takes top priority), bubble painting is fun, easy, and the results are really pretty. Dilute tempera paints in small cups of water with a generous squirt of dish soap and set them out on a placemat or butcher paper.
Article continues below advertisement
Then, put a straw in each cup and have your kids blow bubbles, like they do in their milk sometimes, until they reach the surface of the cups. Next, they can lay sheets of paper over the colorful bubbles to transfer the pattern. After repeating multiple times, layering the colors over each other, the patterns they create will be beautiful and unique. Once it's dry, the paper can be used to wrap presents and folded into cards they can send to loved ones.
Article continues below advertisement
Sponge sailboats
Take foam dish sponges — the best for this are the cheap dollar store ones without the scouring pad — and use scissors to make a small cut out for a drinking straw, being sure not to cut all the way through. Then construct a sail out of paper and attach it to the straw, which will serve as the boat's mast. Your kids can decorate their sails as they like, then sail their finished vessels in the bathtub or a plastic wading pool outside for a little backyard regatta.
Article continues below advertisement
Paper bead jewelry
Using glue and leftover scrapbooking paper, wrapping paper, or even strips cut from magazines, your kids can tightly roll strips of colorful paper around toothpicks or skewers into beads. This guide at The Spruce details the different shapes your paper strips should take to form different bead shapes. A thin coat of wood hardener or Mod Podge on the finished beads will harden them, and then your kids can get to work stringing together beautiful jewelry.