Here's How to Get the Rainbow Story Ring Around Your Instagram Profile Picture
Instagram has rolled out several new features for Pride Month this year, including a rainbow-colored Story ring. Here's how to get the rainbow ring.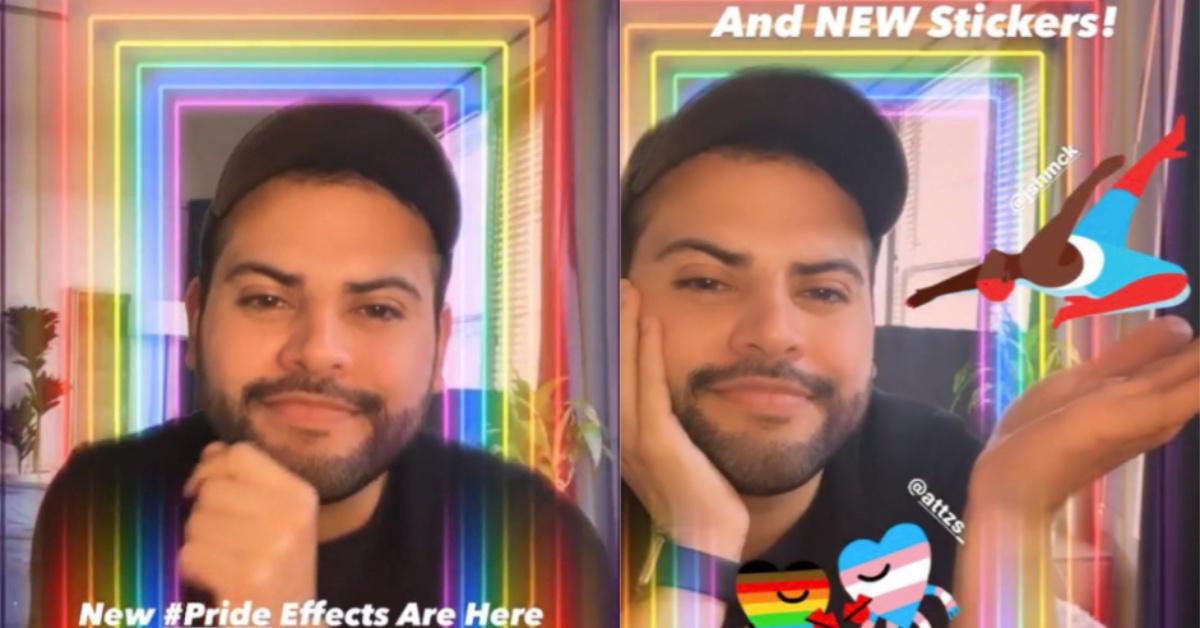 Happy Pride Month, everybody! As you celebrate the best month out of the year, we're guessing you'll probably be uploading some fun updates to Instagram — especially since a bunch of in-person Pride events have been canceled this year due to the pandemic. Luckily, Instagram has you covered. They've added a bunch of fabulous updates to the app specifically for Pride Month, making things at least a little bit better for those who can't celebrate in person.
Article continues below advertisement
One Pride Month feature you may have noticed on Instagram is rainbow-colored Story rings around some accounts' Instagram Stories. Usually, the Story ring is a gradient pink/orange color (like the Instagram logo), but not this month! Getting the rainbow Instagram Story ring couldn't be easier. Here's how to do it.
Article continues below advertisement
Here's how to get your rainbow Instagram Story ring:
So, the rainbow Story ring on Instagram is tied to the content in the actual story. Your Story ring will automatically be rainbow-colored whenever you use specific Pride-themed hashtags like #LGBTQ, #Pride2020, #PrideMonth, #BornPerfect, and #EqualityMatters. Those hashtags will also appear with a rainbow gradient — because you can obviously never have too many rainbows, especially during Pride Month!
The hashtags aren't the only new feature this month! Instagram also released a Pride sticker pack. You can find them by swiping up on the Story creation page and searching "Pride." Using a Pride sticker will result in a rainbow Story ring, too. Instagram also brought back rainbow hashtags on grid posts (in your main feed), which is a feature they've used in past years during Pride Month.
Article continues below advertisement
You might also notice a new photo effect when you go to take a selfie for your story. Instagram has added the Pride Frames filter for Pride Month, too. You can scroll through several different AR filters based on Pride flags, including LGBTQ+ Pride, Gay Pride, Transgender Pride, Lesbian Pride, Bisexual Pride, Asexual Pride, Pansexual Pride, Non-binary Pride, Intersex Pride, Agender Pride, Genderfluid Pride, and Genderqueer Pride. Whew! Way to be inclusive, Instagram!
Article continues below advertisement
The Pride Frames work for both still images and video and are most effective when used with the front-facing camera, so get ready to put those selfie skills to the test.
Instagram has also launched a well-being guide for the LGBTQ community.
One last thing Instagram has done for Pride Month this year is to release a well-being guide for the LGBTQ community. Instagram teamed up with The Trevor Project to provide 10 self-care tips "in the spirit of love, support, and unity." Each tip is accompanied by an illustration by Brooklyn-based artist Ohni Lisle. You can find them in the "Pride 2020" highlight on Instagram's account.
Even though Pride Month looks quite different this year, there are still plenty of ways to celebrate while still social distancing— these Pride Month features from Instagram are one easy way to do so! The rainbow Story ring will be in effect throughout the month of June, so be sure to keep updating your Stories if you want to see that rainbow all month long! Stay safe, and once again, happy Pride Month!