What Does a Red Dot Under Your Instagram Profile Icon Mean?
Instagram is filled with notifications, and getting rid of them all can be a pain. Here's what it means when you have a red dot under your profile photo.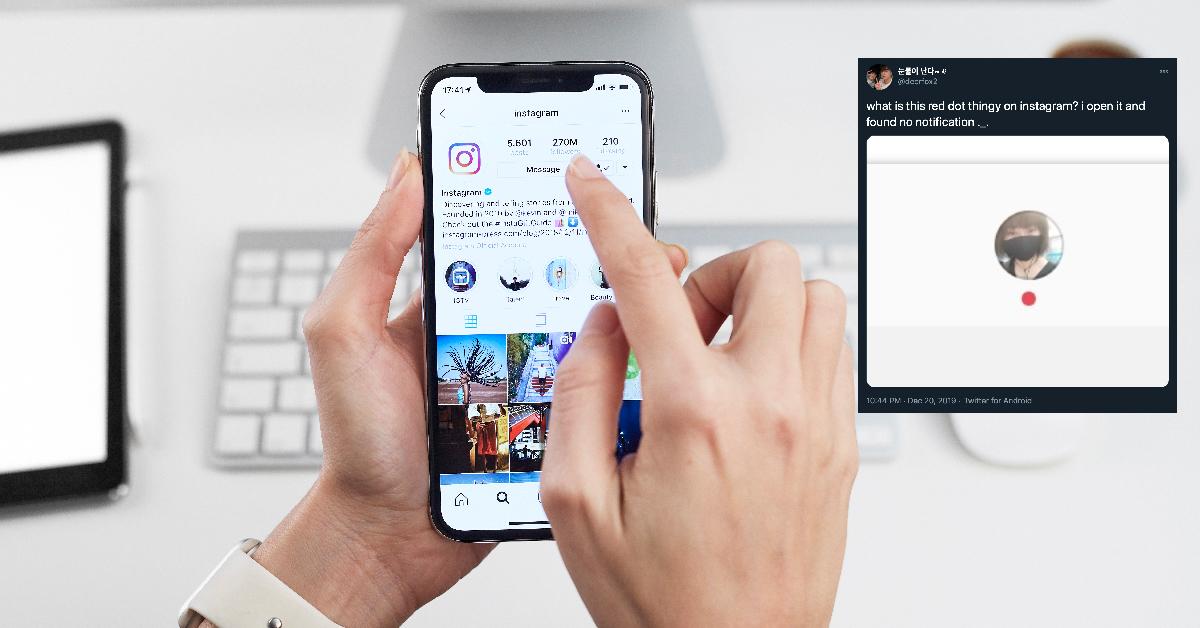 Popular photo-sharing app Instagram just celebrated its 10 year anniversary, and in celebration, it rolled out even more new features for users to try. But with all of those new features come new notifications that are sometimes confusing to users, leaving little red dots all over your feed.
All of these little red dots have different meanings, and to get your Instagram app to be notification-free, you'll have to go through all of them.
Article continues below advertisement
Some users are finding a persistent red dot showing up under the Instagram profile icon. It seems no matter what they try, this pesky dot won't go away, and for those of us who like to keep our phone's home screens free of those pesky badge app icons, this can be an issue.
Here's what that red dot means, and how to get rid of it.

Article continues below advertisement
What does a red dot mean on Instagram?
Whether the red dot you're dealing with is under your profile photo, the home tab, or any of the other countless tabs on Instagram, it usually indicates that you have a notification that needs to be checked.
Sometimes, these notifications are not directly related to activity on your profile. If Instagram feels you've been inactive lately, it'll send you notifications informing you of content you think you might like to interact with. To get rid of these dots, just click on the tabs they're under.
A red dot under your profile photo in the lower-right corner of the screen means you have a notification relating directly to your profile. This could be for a variety of reasons, such as someone tagging you in a photo (which will appear under your "tagged photos" tab), needing to update your profile, or something else entirely.
If you're looking to get rid of this icon, just go to your profile and try to find the source of the red dot. Once you see the notification it's indicating, it'll go away.
Article continues below advertisement
Why won't the red dot under my profile photo go away?
If you've checked all of the possible notification tabs on your personal Instagram profile, and the red dot has still not disappeared, it's possible that the notification is not for the profile you're on.
Instagram allows you to stay logged in to multiple accounts at once, all of which can be accessed from your profile. If you're looking to switch profiles, just go to your profile, then click your username at the top. This will show you all of the profiles you have saved to your device.
If the red dot has not gone away on your profile, it's possible that Instagram is trying to tell you another of your connected accounts has a notification. If there are any notifications on any of your other linked accounts, there will be a red dot under that profile's username, with some text indicating what notifications these profiles have.
To truly rid yourself of all notifications, you'll have to click through all of these, or sign out of any accounts you no longer want connected to your device.