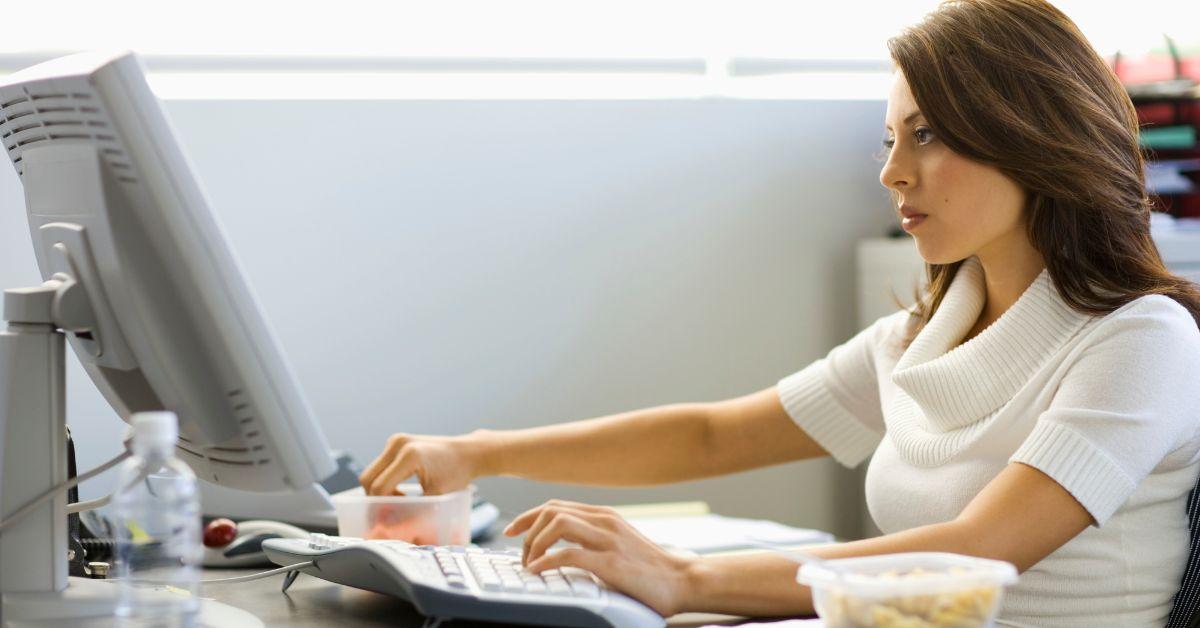 TikToker Points Out How Remote Work Has Ended Lunch Shaming
I remember what it was like to work in an office: I was self-conscious about everything I said, did, wore, etc. Even though I'm sure that literally no one was watching me (not a single soul), I had convinced myself that my desk was on an invisible stage and I was in the spotlight. Not only that, but everyone was judging me from their swivel chairs and making mental notes.
Article continues below advertisement
"Didn't she just use the bathroom 25 minutes ago?" they'd ask. "Is that her third cup of coffee?" they'd ponder. "Did she just read and ignore my Slack message?" they'd probe.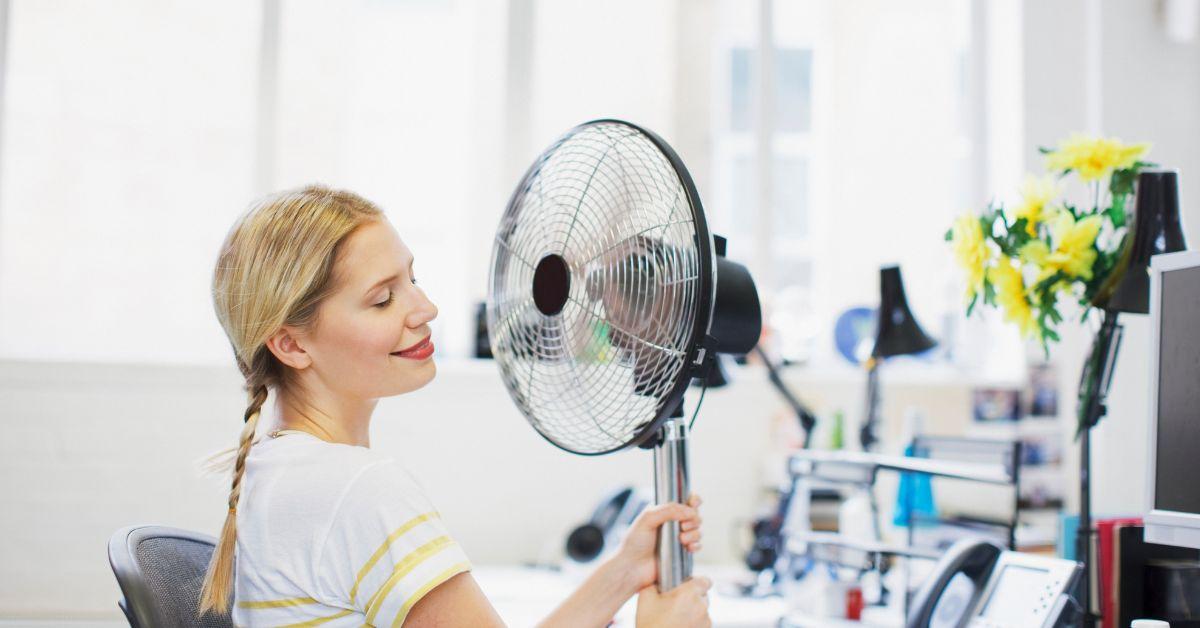 Article continues below advertisement
I wanted privacy. I wanted not to be seen. I wanted to be able to microwave a Lean Cuisine TV dinner or stress buy cookies at 11 a.m. in the morning and not be judged. I wanted to not be food-shamed, lunch shamed, and just shamed in general.
And it wasn't until I started working remotely that I gained the privilege to eat whatever foods whenever I wanted. In fact, I'm enjoying my placenta right now as we speak (Whoops sorry, wrong chat!).
Anyway, let me pass the baton on to TikTok creator Matt Jones (@mattandjones) who talks about the phenomenon that is lunch shaming and how working from home has eliminated this annoying coworker banter from his life.
Article continues below advertisement
TikToker Matt Jones explains why working from home is a major perk at lunchtime.
In a new video, TikToker Matt Jones explains the best perk of working remotely: "When I make myself lunch here in the comfort of my home, there's nobody around to comment on it," he says.
He continues, "When I make myself lunch, you know what doesn't happen?" he asks as he changes into character. Matt then plays the role of that nosy coworker who always has to comment on someone's food (every office has one!).
Article continues below advertisement
"Oh wow, a burrito, that looks good," Matt says as he does his impression. Still, in character, he adds, "No I'm actually doing keto and that's actually a lot of carbs and I'm trying to lose weight."
Did he nail it? Pretty much. Remote working allows you to eat whatever and whenever you want. You don't have to worry about others judging you or commenting on your food. You also don't have to worry about someone stealing your food from the office fridge. It's a pretty precious perk.
Article continues below advertisement
And it seems people in the comment section felt the same. "Someone ALWAYS needs to tell you they can't eat something you're having. I did NOT ask," wrote one user.
"Coworker asked how many calories in my trader joe's lunch. read package, 370. she goes 'oh so that's a TREAT then, I couldn't have that," recounted someone else.
Article continues below advertisement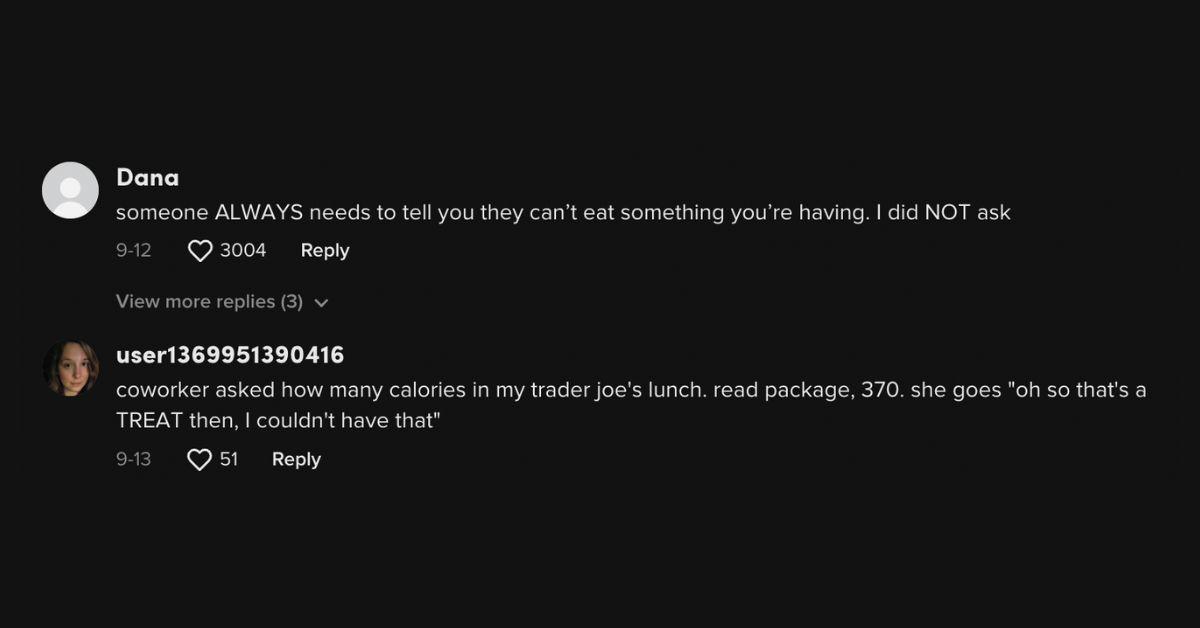 Another user shared how he avoided lunch shaming at work. "This is why I always ate in my car," he wrote followed by a laughing emoji.
Well, there you have it, folks! Lunch shaming is real and if you're trying to keep away from it, consider looking at remote opportunities. (Although, changing your entire career for the sake of eating in private may be a little too drastic). Anyways, if you don't mind me, I'm going to resume eating my snack (an ice cream sundae). Toodles!