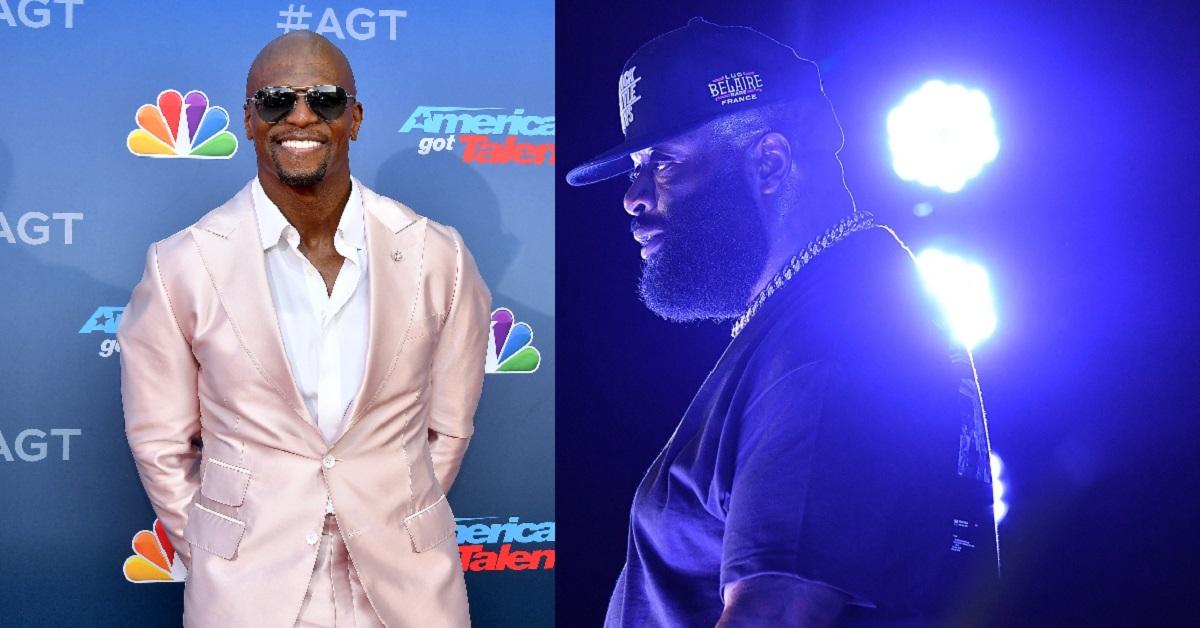 Rick Ross Put Terry Crews on Blast in His Lyrics for "Pinned to the Cross"
If they weren't in a feud before, Terry Crews and Rick Ross are definitely in one now. During the Verzuz showdown between Rick Ross and 2 Chainz, viewers were given a pretty keen understanding of how Rick feels about the comedian.
During the showdown, Rick played a portion of "Pinned to the Cross," a track that has pretty explicit lyrics about Terry.
Article continues below advertisement
What do Rick Ross' lyrics say about Terry Crews?
In the first verse, Rick raps that "Terry Crews is another c--n who was basically bought." After people on social media heard the line, many were eager to chime in with agreement. "Rick Ross line aimed directly at Terry Crews... I approve of that message," one user wrote on Twitter.
"Rick Ross got a Dub over Terry Crews. 2020 is a Wild Wild Land," another added.
Article continues below advertisement
What did Terry Crews do to offend Rick Ross?
Although Rick didn't elaborate further on his feelings about Terry in the song, many have assumed that the rapper was referring to recent comments that the actor made about the Black Lives Matter movement. In his comments, he suggested that the movement could create more racial disparity and eventually lead to a Black supremacy movement.
"Are all white people bad? No. Are all Black people good? No. Knowing this reality — I stand on my decision to unite with good people, no matter the race, creed, or ideology. Given the number of threats against this decision — I also decide to die on this hill," Terry wrote on Twitter. "Defeating white supremacy without white people creates Black supremacy. Equality is the truth. Like it or not, we are all in this together."
Article continues below advertisement
"If you are a child of God, you are my brother and sister. I have family of every race, creed, and ideology. We must ensure #blacklivesmatter doesn't morph into #blacklivesbetter," Terry concluded.
Since he first posted his comments, the Brooklyn Nine-Nine actor has faced a wave of backlash from activists who believe that he has misinterpreted what the Black Lives Matter movement stands for.
Article continues below advertisement
Terry Crews has yet to recant or apologize for his comments.
Although he faced controversy for expressing his thoughts, Terry has actually doubled down on his initial comments. In an interview with CNN's Don Lemon, he said he was trying to warn his followers. "There are some very militant type forces in Black Lives Matter and what I was issuing was a warning," the actor said.
Article continues below advertisement
"I've been a part of different groups and you see how extremes can really go far and go wild," he continued. "When a warning is seen as detrimental to the movement, how can you ever have checks and balances?"
It seems that Terry's warning didn't have the intended effect on Rick Ross, who was very willing to call the actor out in his lyrics.
Terry has yet to respond, but given the wave of support that Rick got, it'll be interesting to see what he says, if anything.