Rihanna and Nicki Minaj May Be Releasing New Music, but Are They Feuding?
Rihanna and Nicki Minaj have released music together before, but some people think there's been beef between them for several years now.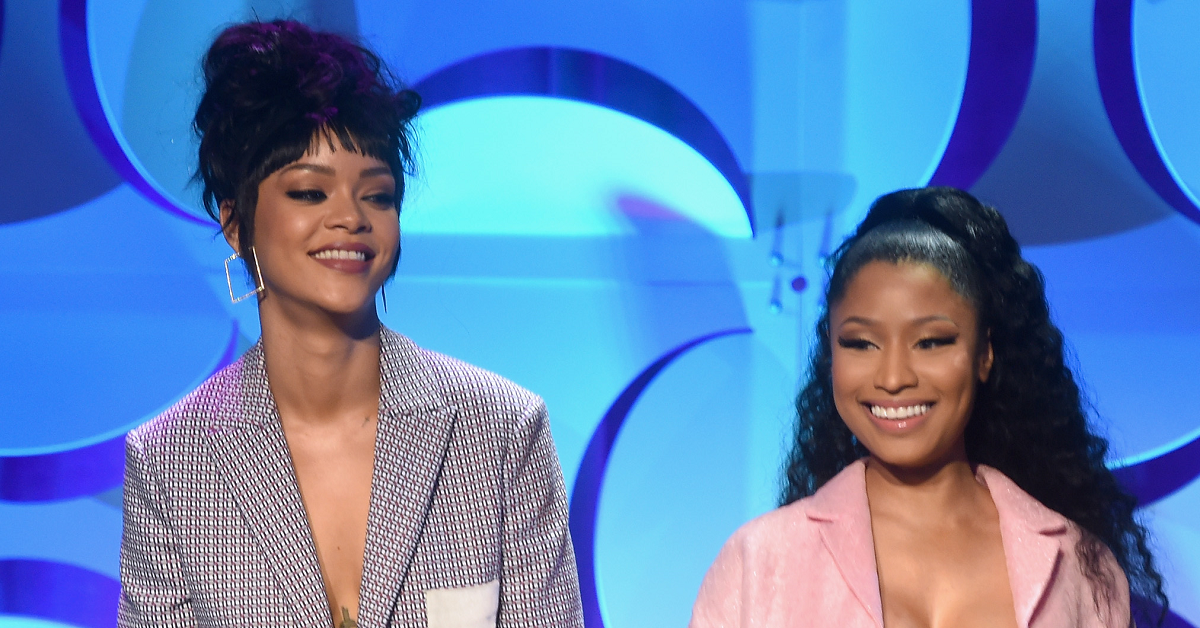 There are plenty of beefs in the world of popular music, but there are also some feuds that feel more like headlines than actual drama. Nicki Minaj and Rihanna have been rumored to be feuding since at least 2019, and many fans want to know whether that feud is actually real, or just fan speculation that got out of hand.
Article continues below advertisement
What's the beef between Rihanna and Nicki Minaj?
There's not a ton of solid evidence that Rihanna and Nicki Minaj are feuding, but much of the speculation seems to stem from a segment Nicki did on her radio show, Queen Radio, in 2019. During the segment, Nicki was taking questions from callers, and one called in to ask: "Is the Rihanna situation ever gonna be cleared up, or are we gonna talk about that?"
Article continues below advertisement
Nicki then responded, saying "what Rihanna situation?"
When the fan asked if she and Rihanna were still friends, Nicki appeared to hang up on the caller. "I'm so lost," Nicki said after the call ended. "What happened with that?"
Many people were confused by the call in part because they weren't aware that Nicki and Rihanna were in any sort of fight with one another.
The two were undoubtedly friendly in the past, but in the years prior to that call, there have been rumblings suggesting a rift between the two. They unfollowed each other on social media, although the reasons for that were never made clear.
There were also rumors that Rihanna had thrown shade at Nicki in 2017 when she posted a list of all the publications that had named her best dressed at the Met Gala after Nicki had mistakenly posted a fake list earlier in the day.
Article continues below advertisement
Nicki and Rihanna may be releasing new music together.
Whether there was an actual beef between the artists or not is still the subject of speculation, and now, fans are wondering if Nicki and Rihanna may be on the verge of releasing new music together. On May 10, Nicki posted a pair of photos to her Instagram with the caption "Friday," which left many eagerly anticipating what the date might mean.
Article continues below advertisement
Many have speculated that she could be releasing new music, and they further suggested that Nicki and Rihanna may have collaborated on whatever's coming, as they decided to re-follow one another on social media. The news left fans in a state of shock.
"Let me find out that it took the Queen of Rap to pull the Avon Lady out of retirement for a sickening collab and I will certainly lose my s--t," one user wrote. "I NEED THEM BOTH TO STOP PLAYING WITH ME!!
Rihanna and Nicki may not have actually been feuding, but whatever the case may be, it seems that they're on the verge of doing something major together. They've certainly got the internet excited for the potential of some new music, whether it means they've resolved their beef or it actually never existed to begin with.