'It's Always Sunny' Fans Are Freaking Out Over Rob McElhenney's New Apple TV+ Series
The trailer for Rob McElhenney's new show, 'Mythic Quest,' just dropped and as an 'Always Sunny' fan, I'm stoked. Details inside.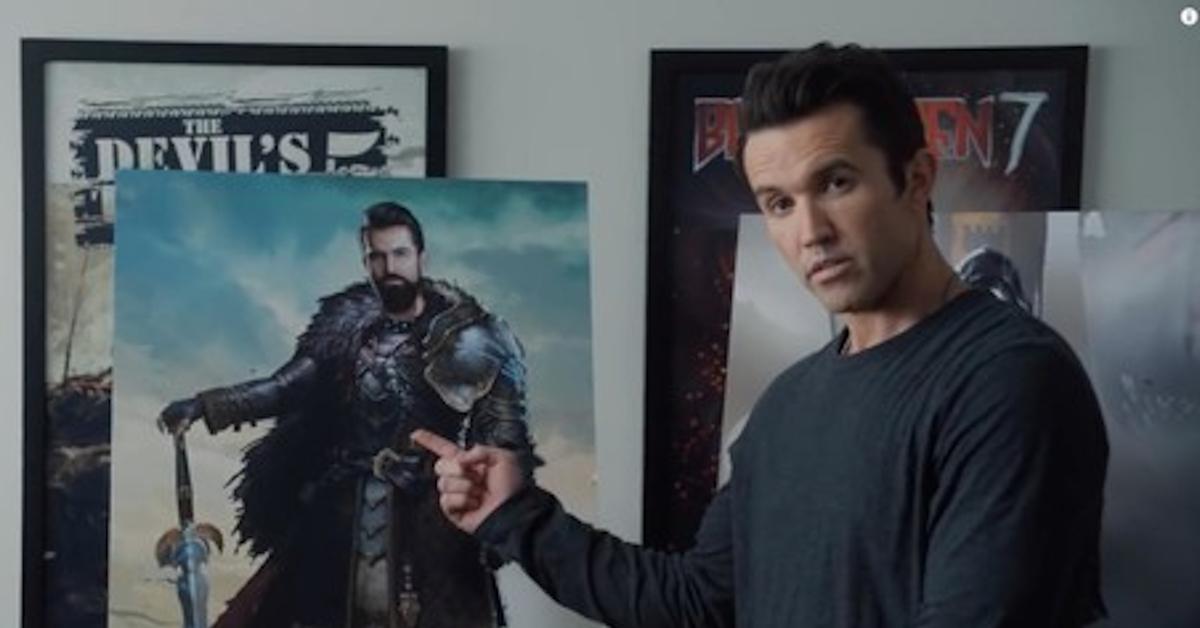 When It's Always Sunny in Philadelphia first debuted on FX, it was easily the most irreverent thing on TV and until this very day, with 14 seasons (making it the longest running sitcom in history), the show hasn't lost sight of its controversially hilarious roots. This is due to a lot of factors, mostly the undeniable chemistry and sheer enthusiasm that longtime cast members Rob McElhenney, Glenn Howerton, Charlie Day, Kaitlin Olson, and Danny DeVito have.
Article continues below advertisement
Rob McElhenney has a new show.
It's that passion that writers Rob, Glenn, Charlie, and Megan Ganz bring to the table for each of the series' episodes. Instead of focusing on traditional sitcom plot arcs, will-they-or-won't-they romances, and tired tropes, the show is always pushing the envelope of not just the insane shenanigans that the "gang" gets into, but in the development of their characters' individual psychoses.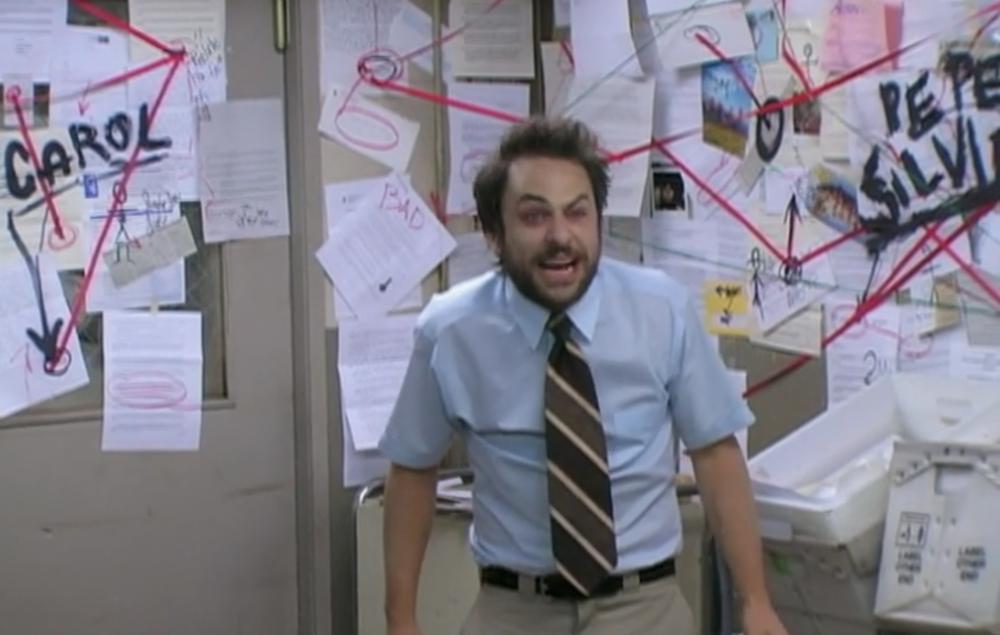 Article continues below advertisement
For example, Rob's character, Mac, has been through a number of personal and physical transformations. Extreme weight gain, getting Marvel-movie ripped, becoming more bigoted and close-minded, repressing his latent homosexuality and then coming out. Dennis (Glenn's) character becoming more and more of a serial-killer type sociopath, Dee being more and more self-absorbed and trying to "make it" as an actress, and Charlie somehow becoming more lovable but deranged in an endearing way... is gold.
It's clear that they've luxuriated themselves into their roles and aren't afraid to test their characters with either new conflicts, magnified selfishness, or even new production formats. The Charlie Work episode which was clearly inspired by Birdman's long take format was a masterful execution and experiment with the traditional sitcom format that resulted in a ridiculously memorable episode. Not something you see in many comedies on TV.
Article continues below advertisement
'Mythic Quest: Raven's Banquet' stars both Rob and Charlie (who is also one of the executive producers).
Rob tweeted about the show and nipped outrage from Sunny fans in the bud by saying that this in no way shape or form means that they're going to "give up" on the long-running series. "Here's the new show. Charlie Day & I would like to cut the death threats off by saying this will in no way affect Sunny. Sunny always. Always Sunny. But also @mythic_quest There's room for both you animals. Enjoy!"
Article continues below advertisement
Rob plays the show's self-centered video game designer protagonist, Ian Grimm, who is attempting to establish an epic legacy with the titles he and his team of developers create.
The show's been commissioned for an initial nine, 30-minute episode run and will be one of the new streaming service's highlighted comedies. From the looks of the trailer, It's Always Sunny fans will feel right at home, at least I do.
It appears to have captured the same kind of cynical comedic tone as the long-running FX series. Rob plays an unabashedly, I'm-better-than-you-and-my-ideas-are-right leader, which is perfectly captured in several hilarious moments. Like when he laments that the watermelons he's attempting to mocap smash aren't exploding like real human heads, or when he delivers an impassioned speech to a fellow employee by comparing their team to The Beatles... but calls her Ringo in the process.
Article continues below advertisement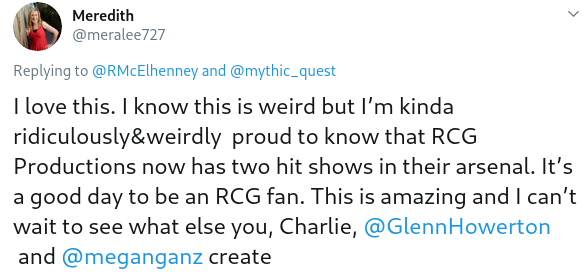 What is clearly different from Sunny, however, is how the show's produced. One of the main reasons the FX series is staying alive isn't just solid viewership, but also because, compared to many other shows, it's relatively inexpensive to produce. A huge portion of the show is shot on the Paddy's pub set. The aesthetic of Mythic Quest, from a visual perspective is also different from the "dirty" camera style in which Sunny is shot.
Article continues below advertisement
Not that it's necessarily a bad thing; Mythic Quest is clearly a different kind of program with a different narrative, and that's OK. It stars F. Murray Abraham (I know, amazing, right?) Danny Pudi, Imani Hakim, Charlotte Nicdao, David Hornsby, Ashly Burch, and Jessie Ennis. It premieres on Apple TV+ on Feb. 7. Like other shows on the platform, all episodes will be available from day one.
Are you excited to check Rob, Charlie, and Megan's new show out? Personally, I'm a bit pissed off because it's bad enough I'm signed up for Netflix, Disney+, and Hulu and now this just means I'll need to sign up for a new service. Thanks a lot, ROB.