The Roro Chan Challenge Is a Popular New Internet Trend With Severe Consequences
The Roro Chan challenge is named after a 14-year-old Japanese girl who committed suicide in 2013 and was livestreamed on the internet.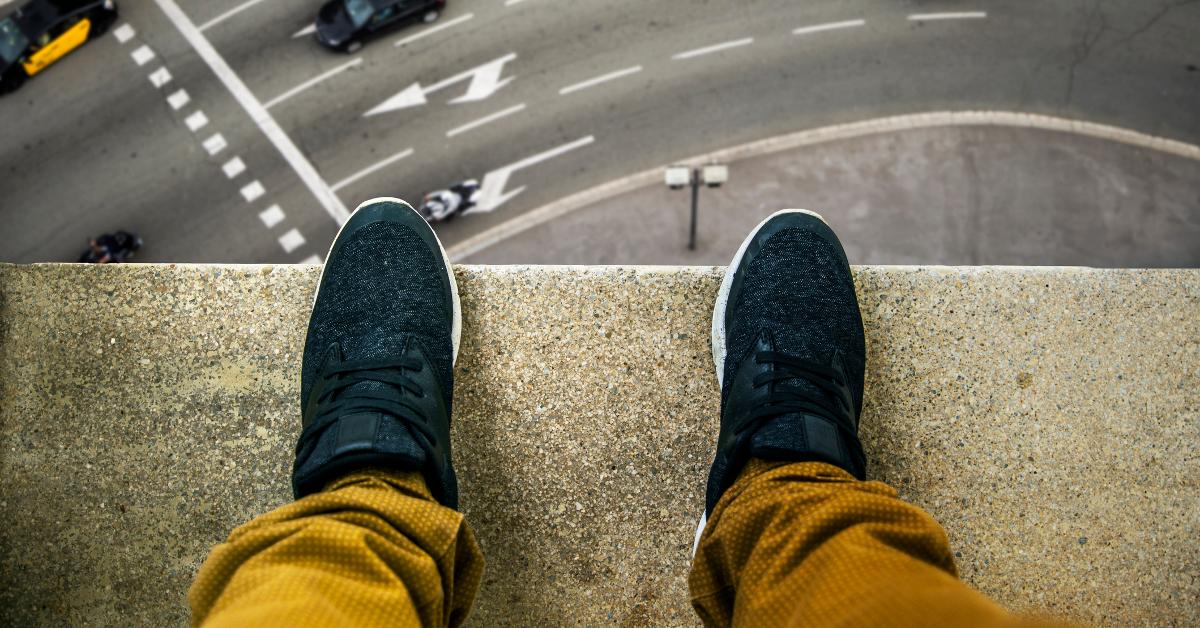 Social media has featured its fair share of harmful "challenges" that run the gamut of being careless and stupid to downright fatal. However, it's hard to argue that one is as blatantly supportive of self-harm as the recently trending Roro Chan Challenge, which is urging users to step-by-step, end their lives.
Article continues below advertisement
What is the Roro Chan challenge?
It's named after a 14-year-old Japanese girl who committed suicide in 2013. What makes her death truly disturbing is that her suicide was livestreamed and the events leading up to the streamer's decision to take her own life seemed completely innocuous at first.
Roro Chan's online activities have become somewhat of an internet urban legend and it's difficult to get the full story on who Roro Chan was.

Article continues below advertisement
Redditors have shared her story in a variety of posts, like this one condemning someone who made an animation glorifying her short time on earth.
According to this now-deleted user's post, Roro Chan's tale goes like this: she began livestreaming in 2012. Her videos featured her performing a variety of tasks like playing piano and singing to vlogging in front of camera, some of which have been uploaded on YouTube by others. However, some of her clips took on a darker turn.
Roro Chan reportedly would run across heavily trafficked roads with high speed limits to tempt fate and would sometimes stand on top of ledges at great heights during her streams. There were no signs of mental distress or that she was being bullied at school in her streams, reportedly. What's more is that her personal friends and family members supposedly had no knowledge of her live video sessions, either.
Article continues below advertisement
On Nov. 24, 2013, during one of her live streams she went onto the 13th floor of her building and began talking about becoming a "legend." She thought that committing suicide "live" with viewers watching would cement her as some sort of forever celebrity. It's said that during the stream there were several people urging her to jump, with others begging her to become a legend some other way.
The former group won out, it seems and Roro Chan jumped.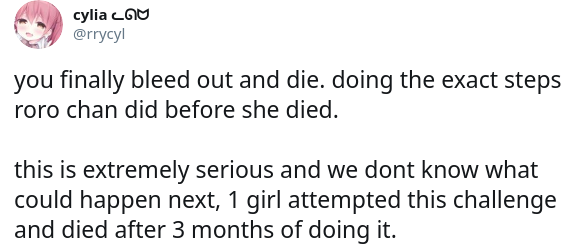 Article continues below advertisement
Her mother reported hearing noises from her teenage daughter's room but didn't know her child had jumped until it was too late. While video of the full incident is difficult to come by on the internet, there are several alleged GIFs made of Roro Chan's jump that can be found online, however, these are usually taken down as they allegedly depict suicide.
The Roro Chan Challenge culminates in users livestreaming self-harm.
There are several "ways" users are asked to partake in the challenge, but many of them are affiliated with the actions that the livestreamer partook in prior to her death. Chain-smoking on camera, running across traffic, and doing increasingly more dangerous activities that can result in death are a part of the challenge, including jumping from a great height like the 14-year-old girl.
Article continues below advertisement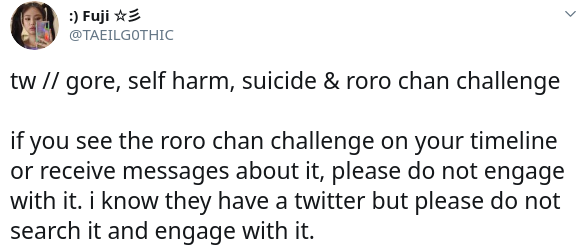 In the tragic video, Roro Chan reportedly steps on a box to get herself over the balcony holding her phone in hand. After climbing over the box, the phone spins and spins — clear that it's precipitating very quickly. It finally falls on the ground and is still. Users who reportedly watched the video live say they hear Roro Chan scream "either out of human instinct or sudden regret."
Article continues below advertisement
Many believe the video to be genuine, as Roro Chan can't be seen in the clip, save for her legs at first: "The camera would've shown her if it was dropped and she didn't jump or if she wasn't holding on to it."
Several people expressed their hope that the video is an elaborate hoax planned by Roro Chan beforehand, who duped a bunch of folks online into thinking she actually died. However there are a lot of sources online that unfortunately seem to confirm she actually committed suicide.
Article continues below advertisement
Whatever the truth behind the story is, here's hoping people don't actually engage in the Roro Chan challenge.