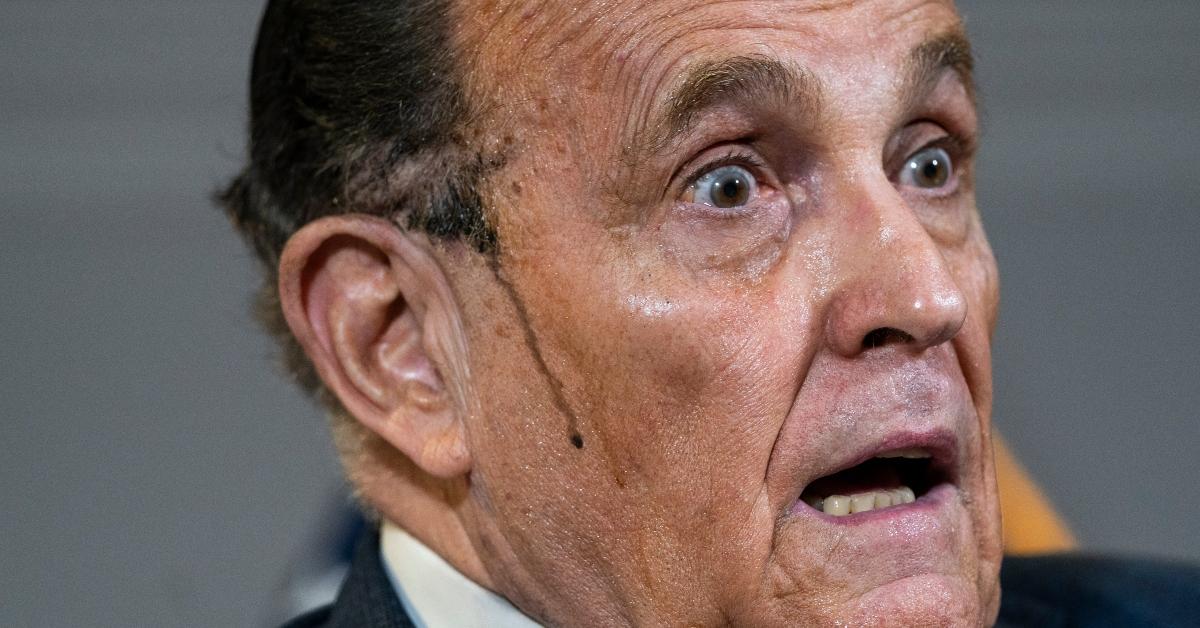 Rudy Giuliani's Head Seemed to Be Leaking Hair Dye During a Press Conference
Viewers noticed that a dark stream of liquid was dripping down the side of Rudy Giuliani's face during his lie-laden press conference.
Rudy Giuliani is falling apart. In every sense of the word. During a recent press conference, which CNN called "wild" and "fact-free," viewers noticed that some sort of dark liquid seemed to be dripping down the side of his face.
Article continues below advertisement
This is not a euphemism. Something that most people concluded must be hair dye was trying to escape Rudy Giuliani's head by way of dripping down his face in a gross stream of sweat. No one could look away.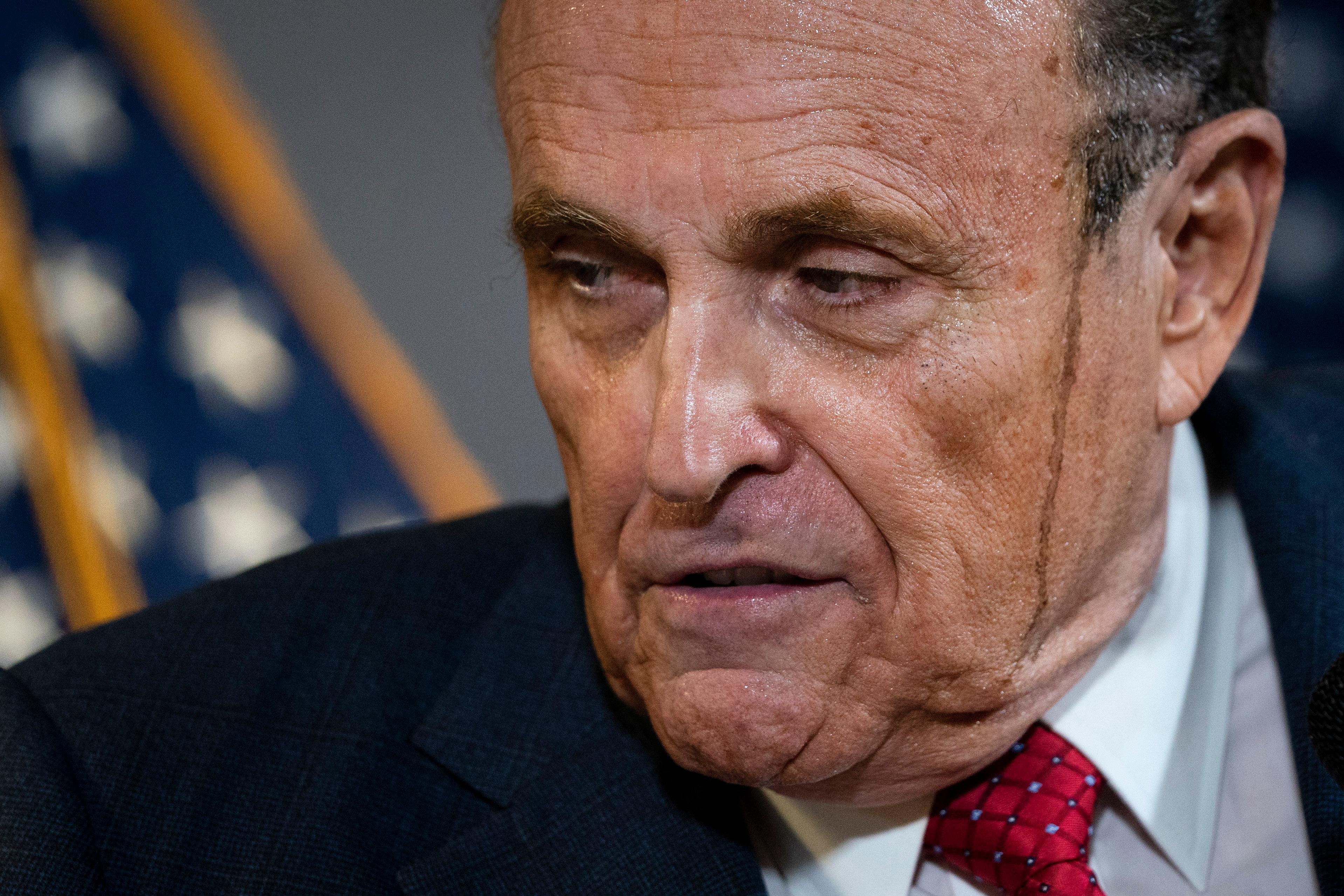 Article continues below advertisement
People started tuning in just to see what was going to happen with the mysterious liquid fleeing Rudy's scalp. Almost immediately, it was decided that it must have been hair dye. A bad, grocery store hair dye that was, perhaps, applied haphazardly before he walked out on screen.
No one paid attention to what he was saying. It was all lies about the election anyway. Everyone just tuned in to watch a man literally melt in front of us.
Article continues below advertisement
The jokes and comparisons immediately started pouring in, much like Rudy's hair dye started pouring down his face. Several people pointed out his resemblance to certain movie characters.
Article continues below advertisement
Article continues below advertisement
It's just absolutely an insane thing that happened that doesn't even register as out there because of all the other things that have happened. Remember when Rudy was tricked into a compromising cameo in the second Borat film?
This is the president's lawyer! The guy who used to be "America's Mayor"! And he's now spending his days peddling lies, either in the parking lot of a landscaping business that happens to share its name with a fancy hotel or on TV, while his head leaks mysterious fluid.
Article continues below advertisement
As one Twitter user put it, "Every day it's something like 'the president's lawyer's head is leaking' and we just gotta be like 'OK.'" This is not normal. And yet, it has become our everyday life.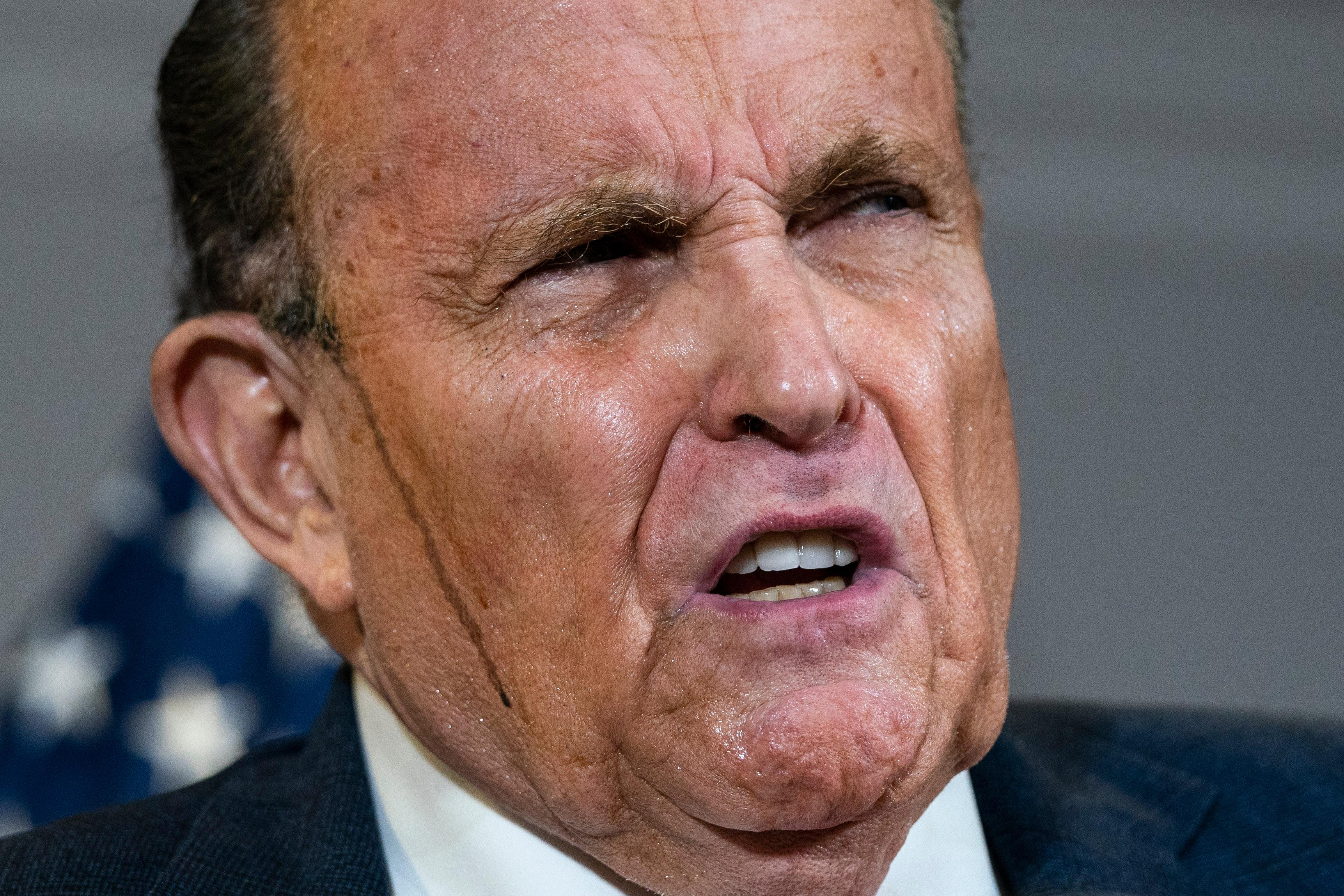 Article continues below advertisement
For what it's worth, The New York Times spoke to a few hairdressers who said that whatever was dripping down Rudy's face, it probably wasn't hair dye. David Kholdorov of the Men's Lounge Barbershop and Spa said, "Hair dye doesn't drip like that unless it's just been applied."
Mirko Vergani, the creative color director at the Drawing Room, said that it was more likely that Rudy used "mascara or a touch-up pen to make sure his sideburns matched the rest."
Article continues below advertisement
He said, "Sideburns are more gray than the rest of the head. You can apply mascara to touch the gray side up a bit so it looks more natural." He thinks that whoever applied Rudy's makeup put on too much product, so when Rudy started to sweat, it started to bleed almost immediately.
It's truly bonkers that this is the world we live in. Did I ever think I'd read a New York Times article wherein they consult several hair care professionals to explain what could possibly be happening with the mysterious goo that's dripping off the side of the president's lawyer's head while he grasps at straws trying to prove that the president won an election he actually lost by a landslide? No. I definitely did not. But here we are.