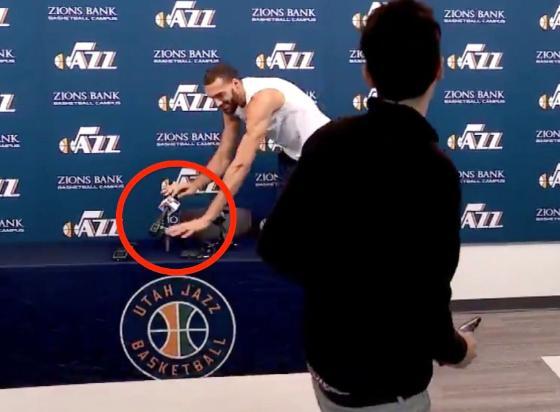 NBA Star With Coronavirus Touched Every Reporter's Mic as a Joke
Several reporters who were at a press conference with Utah Jazz star Rudy Gobert are being tested for coronavirus after Gobert tested positive for the virus. And being in close contact with the player isn't the only reason that they're being tested.
Article continues below advertisement
After Gobert tested positive last night, a video emerged of the star wiping his hands against every reporter's microphone in an apparent joke just days before he was diagnosed.
Article continues below advertisement
Gobert was apparently mocking new rules the NBA put into place that required 6 to 8 feet of distance between players and reporters during press conferences.
The video shows Gobert waving his hands over the microphones before going back to touch each and every one.
That press conference took place on Monday, and on Wednesday Gobert was listed as sick prior to a game in Oklahoma City. Just before the game began, reports emerged that the star had been diagnosed with coronavirus.
In response, the game was cancelled and the NBA suspended the season.
Article continues below advertisement
While the joke may seem malicious now, one reporter waiting to be tested following the incident took to Twitter to defend Gobert.
Andy Larsen of The Salt Lake Tribune wrote: "One thought: Rudy Gobert was one of last season's nominees for the Magic Johnson Award, which 'recognizes the player who best combines excellence on the court with cooperation with the media and fans.' He's honestly been great to work with."
Article continues below advertisement
ESPN reported on Monday morning that Jazz star Donovan Mitchell had also tested positive.
"Jazz players privately say that Rudy Gobert had been careless in the locker room touching other players and their belongings," ESPN Senior NBA Insider Adrian Wojnarowski wrote. "Now a Jazz teammate has tested positive."
Article continues below advertisement
Many social media users weren't so happy about the joke in the context of the outbreak, with one user writing: "Coronavirus takes longer than 2 days to show symptoms, especially in healthy adults. If he has it, he had it before then. The scary part is he probably gave it to everyone in that room."
Article continues below advertisement
While another added: "I hate to say this but the NBA has to fine him for being so careless and childish."
The best way to prevent contracting or spreading coronavirus is with thorough hand washing and social distancing. If you feel you may be experiencing symptoms of coronavirus, which include persistent cough (usually dry), fever, shortness of breath, and fatigue, please call your doctor before going to get tested. For comprehensive resources and updates, visit the CDC website. If you are experiencing anxiety about the virus, seek out mental health support from your provider or visit NAMI.org.