Where Is Salt-N-Pepa Now? Get the 4-1-1 on the Legendary Female Group
Many hip-hop fans have been wondering where is Salt-N-Pepa now? The all-female group is one of hip-hop's legendary acts.
It's no secret that the hip-hop industry has been dominated by men since it's humble beginnings. So, once Salt-N-Pepa stepped on the scene in the late '80s, featuring members Salt, Pepa, and DJ Spinderella, the group commanded major attention, scoring chart-topping hits, and five successful albums.
Article continues below advertisement
Not to mention, the group's hit single "Push It" was one of the first rap songs ever nominated for a Grammy, according to All Music. There was no denying that the ladies were riding high on their success and getting major love for their risqué wardrobes and lyrics.
However, things came to an end when the group disbanded in 2002.
While the legendary trio did have a reunion in 2005, things were never quite the same. So, it has led fans to wonder where Salt-N-Pepa are now.
Sure, the ladies have been quiet on the music front, but they are still making moves in their personal and professional lives.
Article continues below advertisement
Salt (Cheryl James)
Founding member Cheryl "Salt" James went on to leave the music industry behind. After changing her life and becoming a Christian, she spent her time strengthening her relationship with God and devoting time to her children, Chapele and Corin.
Article continues below advertisement
"That meant to me that I needed to shut down a lot of things and focus on God because that was where my healing was, she tells Star Tribune. "I needed to take a beat for myself."
And while she continues to uphold her faith, she stepped back into the entertainment world with the reality television show, The Salt-N-Pepa Show. Since tensions were high between group members after breaking up, Salt took the opportunity to make amends with Pepa. The show was on air for two seasons.
After patching things up, she then returned to the stage performing their hits on the Mixtape Tour and Rock The Vote promo tours with Pepa by her side.
Article continues below advertisement
Pepa (Sandra Jacqueline Denton)
While Pepa still has music in her heart, she has taken her talents to the reality television and film circuit. She was featured on VH1's hit show The Surreal Life Season 5, The Surreal Life Games, The Slat-N-Pepa Show, and recently Growing Up Hip Hop.
She has also landed roles in Joe's Apartment, the HBO film First Time Felon and TV drama Oz. Plus, she was featured on the TBS sitcom Are We There Yet?
Article continues below advertisement
Pepa released her autobiography Let's Talk About Pep, which highlighted her career in the group and touched on her volatile marriage with Naughty by Nature rapper Treach, in 2008.
"He's the one person I'm nervous about reading this, but I had to do it, she tells ESSENCE. "How do I not tell that part of my life story? This book is not so much about my abuse, but my road to recovery."
She is also a devoted mother. Pepa has very close relationships with her daughter, Tyran, and son, Egypt.
Article continues below advertisement
DJ Spinderella (Deidra Muriel Roper)
Spinderella has continued to be a permanent fixture in the entertainment world. She's worked as a radio personality in LA co-hosting The BackSpin from 2003 to 2006. DJ Spinderella also made appearances on the VH1 series, The Salt-N-Pepa Show.
Like her former group members, she also made appearances on television. She was a DJ on The Comedy Central's Roast of Flavor Flav and MTV's Hip Hop Squares.
Article continues below advertisement
In between television appearances, she DJs all over the country for various events hosted by organizations and celebrities alike. DJ Spinderella also stepped into the beauty world by opening up a beauty salon.
She has a daughter Christy, who has been following in her footsteps as a DJ.
Let's be honest: Salt-N-Pepa did have their share of controversy.
After the group disbanded and got back together in 2005, things seemed to be business as usual. The group had a residency in Las Vegas and performed on national tours with acts, including SWV, Naughty by Nature, Big Daddy Kane, and more.
However, tensions began to rise once DJ Spinderella felt that she was getting her fair share of compensation from the group.
Article continues below advertisement
"Spinderella agreed to do a residency with the band from fall 2018 through spring 2019, but claims her payments rarely came on time," according to The Grio. "She also claimed that she hasn't been paid all of her royalties."
Article continues below advertisement
Naturally, the other bandmates were not pleased to hear DJ Spinderella claims. "After decades of friendship, Spinderella has embarked on a smear campaign, and sued her friends, based on blatantly erroneous assertions, Pepa told The Blast. "The truth, however, is that Salt-N-Pepa have always tried to do right by Spinderella."
Since then, the bandmates have been in and out of court since 2019.
Despite all of the drama, a Salt-N-Pepa biopic is coming our way!
There's no argument that Salt-N-Pepa are hip-hop pioneers. They made history as one of the top-selling groups of all time, influenced today's female rappers, and have become cultural phenomenons. So, it makes sense that Lifetime has created a biopic on the group.
Article continues below advertisement
"This biopic follows the acclaimed musicians as they first fall into the world of hip-hop after recording a song for a friend," according to Variety.
"It will track their impact on the music world, becoming one of the first all-female rap groups, changing the look and sound of the genre as they were unafraid to talk and sing about sex and their thoughts on men, and then going on to reach platinum status as recording artists and win a Grammy. "
Fans can also expect to see how the ladies tackle motherhood, the group breaking up and getting back together for their 2005 reunion.
G.G. Townson and Laila Odom will be playing Salt and Pepa, while Cleveland Berto stars as music producer Hurby Azor, Jermel Howard as rapper Treach, and Monique Paul as DJ Spinderella, the publication reports.
Article continues below advertisement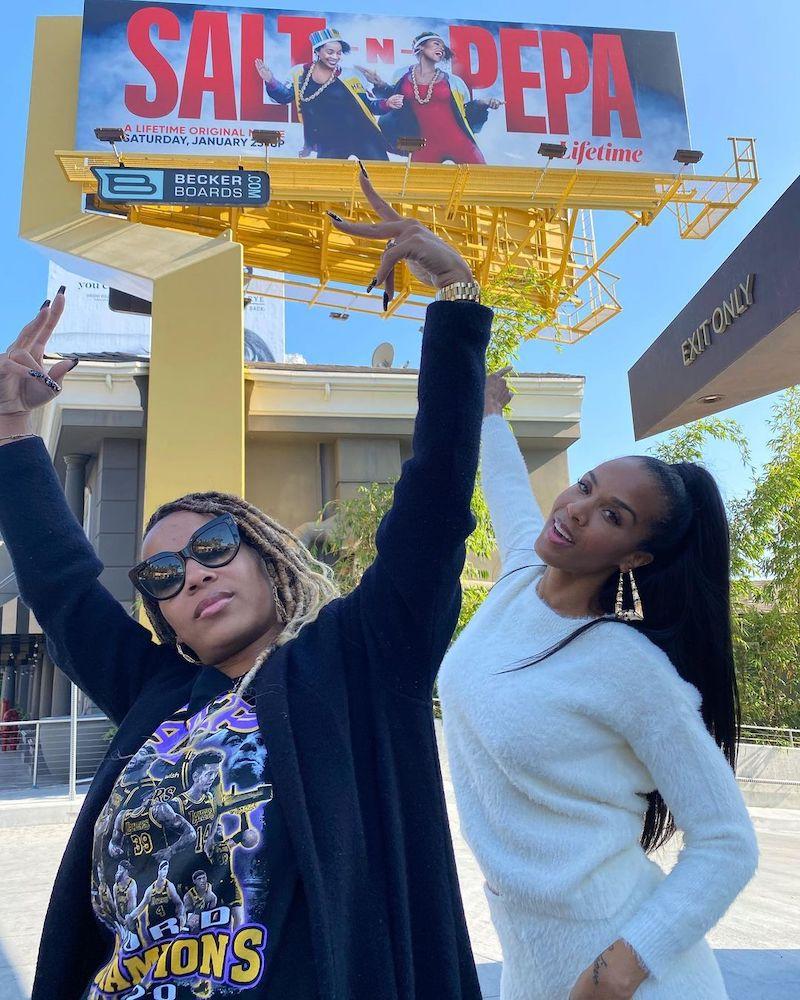 Robert Teitel from Slate Street Pictures serves as executive producer, along with Salt, Pepa, Shakim Compere, and Queen Latifah.
While there is no word on the current relationship between DJ Spinderella and bandmates Salt and Pepa, hopefully, the premiere of the biopic will bring the ladies together so they can settle their differences.
The Salt-N-Pepa biopic is set to air on Lifetime on January 23, 2021, at 8 p.m. on Lifetime.