'3 in the Morning's Sam Jay Is Our Newest Crush
We're in love with Sam Jay following her latest Netflix special, '3 in the Morning.' Keep reading to learn more about her and her girlfriend.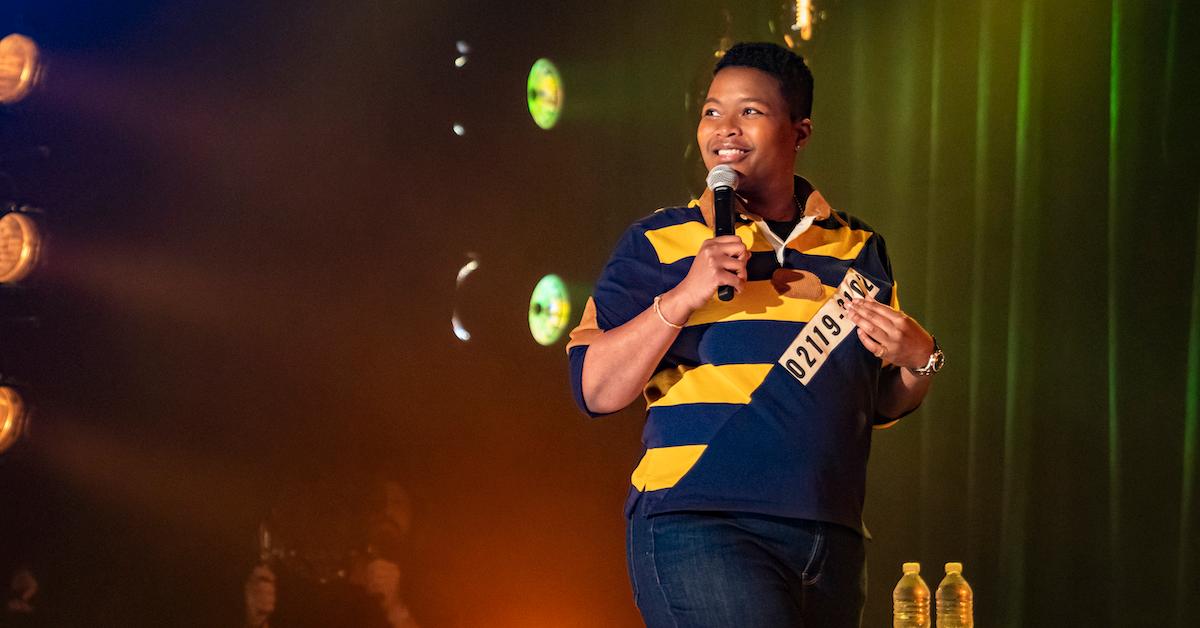 Netflix's recent release of comedian Sam Jay's live show, 3 in the Morning, has renewed our faith in the power and hilarity of stand-up comedy. The Saturday Night Live writer and comic tackles topics across the board, from fear of flying to a bad shroom trip in a London museum, and brings meaning to the almost hackneyed phrase "representation matters." ("I'm from Boston, bro," she says in her Netflix special. "We didn't have Black dykes.")
Article continues below advertisement
Keep reading to learn more about Sam's life, comedy career, and girlfriend, who often features in her 3 in the Morning jokes.
Article continues below advertisement
Who is Sam Jay?
Sam started performing stand-up around the age of 29 in Boston. The 38-year-old, who joined the SNL in 2017 and became the show's first Black lesbian staff writer, brought the show some of its funniest skits in recent memory, including the Neo-Confederate Meeting sketch, John Mulaney's Cha Cha Slide piece, and "Permission," the rap video about consent, and Black Jeopardy, which she co-wrote.
Sam grew up a fan of the sketch show, and cites Eddie Murphy, Maya Rudolph, Amy Poehler, and Tina Fey as some of the cast members who kept her tuning in. "I mean, I think it's a show that like you just go through phases, so there was a time when I watched it, and there was a time that I stopped," she told INTO.
Article continues below advertisement
But now that she writes for SNL, she tells Fast Company she brings "what I know I can bring — and that is being authentic." "And in that, there will be a Black voice and a queer voice, and a voice of a woman, because I am all those things, and I can't contain those things and those things are always going to be expressed through my artistic endeavors. But I don't want anyone depending on me to do something because I may not do what you want done."
Article continues below advertisement
Who is Sam Jay's girlfriend?
Sam's girlfriend features prominently throughout 3 in the Morning. Whether she's kidding around about how her girlfriend overpacks for trips, or about how Sam will probably end up adopting a child because her partner wants one so badly, her significant other is all over Sam's jokes.
From what we could discern on social media, Sam's longtime love seems to be Yanise Monét, who she mentions in the special she's been with since Sam was in her twenties. It sounds like the two of them have been riding out the pandemic in New York City, "playing old board games," she tells Fast Company. Yanise appears to be Sam's biggest fan and is able to handle oftentimes being the butt of Sam's jokes.
Following the premiere of 3 in the Morning, Yanise took to Instagram to gush about Sam's special. "You hoes get flowers, I got a comedy special! We are NOT the same!," she writes, urging her followers to tune in to the "trash talk & the comedic genius of Sam Jay!!"
Follow Sam and Yanise on Instagram, and run over to Netflix to stream 3 in the Morning if you haven't already!