Charlie Sheen and Denise Richards' Daughter Sami Has Made Headlines for Her TikTok and OnlyFans
Who is Sami Sheen on TikTok and Only Fans? Charlie Sheen and Denise Richards's daughter has continued to make waves for her content.
Actor Charlie Sheen and Real Housewives of Beverly Hills star Denise Richards' eldest daughter, Sami Sheen, may come from famous parents, but she's carving her own lane in the entertainment world.
Article continues below advertisement
It may be a little different from her parents' paths, but Sami has been unapologetic about her controversial career choices.
Learn more about Sami below.
Article continues below advertisement
Sami Sheen first made headlines because of her TikTok.
Sami first made headlines with her TikTok account in September 2021 when she announced she'd been previously trapped in an "abusive household" and had "finally moved out of the hell house, had a spiritual awakening, own two cats, happy[ily] single, full of self-love, and dropped out of high school."
At the time, Sami had reportedly moved out of mom Denise's home and was living with dad Charlie.
"Denise set normal rules that any parent would be setting," a source explained to Page Six at the time. "She's a mom and a parent and there are rules. [Sami] didn't want to follow the rules." The source added, "Charlie didn't support implementing Denise's rules. He has a different way of parenting and Sami decided to live with her dad."
According to reports, Sami eventually reconnected with her mom and moved back in with her in 2022.
Article continues below advertisement
Sami Sheen continued to make headlines because of her OnlyFans.
Sami joined OnlyFans in June 2022, three months after she turned 18.
At first, her dad didn't condone it, but he later said he had a change of heart when he talked to Denise about it. He then announced that he and Denise were a "united front" in supporting Sami in her endeavors. Meanwhile, Denise said in July 2022 that after she looked into what OnlyFans was all about, she found it "empowering" and decided to join too.
Article continues below advertisement
In June 2023, Sami caused a stir when she posted a GRWM ("Get Ready With Me") video on TikTok where she referred to herself as a "sex worker." After this blew up online, she posted another TikTok soon after to address some things.
"OK, I need to clear some things up," she said. "I'm not a [porn] star and I don't meet up with people, i don't film myself having sex. I don't do that but I also have no judgment toward the people who do do that; that's just not my line of work and that's not something I'm comfortable doing."
Article continues below advertisement
"The only reason I said I'm a [sex] worker is because my main source of income is from my [OnlyFans]," she continued. "And if people did their f------ research, they would realize that there are multiple forms of [sex] work."
Article continues below advertisement
Sami explained that she loved her job, and that there's "absolutely nothing that anyone could say to make me want to get a different job at the moment." She said the job makes her happy, boosted her confidence, and allowed her to work from home and set her own hours.
"I could go on for hours explaining myself but I don't need to do that, I shouldn't have to do that," she noted.
Denise previously opened up about Charlie, Sami, and more on 'Real Housewives of Beverly Hills.'
Denise previously opened up on an episode of The Real Housewives of Beverly Hills in Season 10 about raising teenage girls. Sami dyed her hair bright pink without asking the actress' permission.
Article continues below advertisement
"Sami, I think, sometimes she does things hoping to get a reaction out of me," she told producers. "It's not easy," said Denise, explaining to the cameras that she's "really struggling with parenting right now."
The former Bravo star also shares daughter Lola (born in June 2005) with Charlie, and she adopted a daughter named Eloise in 2011.
Charlie and Denise married in 2002 but officially ended their relationship in 2006.
Article continues below advertisement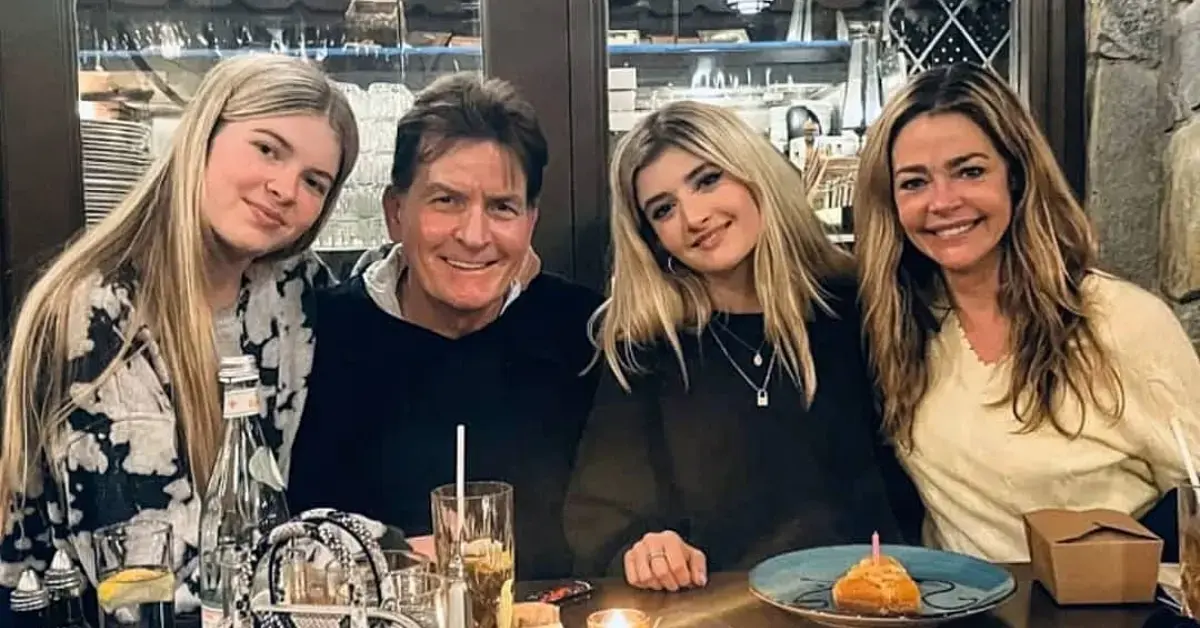 Denise previously opened up about the former couple's "toxic" marriage but explained how the two continue to co-parent for the sake of their daughters.
"I always did whatever I could to hide Charlie's behavior," she explained on the popular Bravo series. "How do you tell kids what's really going on? I would say, 'Dad had to go to work, but he loves you so much. He wants to be here for you girls.'"