Denise Richards Thought It Might Be "Odd" to Join OnlyFans With Her Daughter
Actress and Real Housewives of Beverly Hills alum Denise Richards rose to fame in the 1990s after she starred in 1997's Starship Troopers. Following her first significant film role, Denise landed other movies, including Wild Things and Love Actually. She's also been a Bond girl and snagged some soap opera roles.
Article continues below advertisement
In the 2000s, though, she gained more recognition for her publicized marriage to Charlie Sheen. During their marriage, which lasted from 2002 until 2006, the couple had two daughters — Sami, 18, and Lola, 17. In 2019, years after their divorce, Denise signed on for Season 9 of RHOBH, where she discussed being a single mom and co-parenting with Charlie.
Denise left RHOBH in 2020 after two seasons. Since then, she's taken on more acting and appeared on Paper Empire in 2021. Additionally, she decided to launch an OnlyFans page to better connect with her fans. Recently, Denise shared that her eldest daughter inspired her to join the controversial platform. Here's everything to know about their OnlyFans accounts!
Article continues below advertisement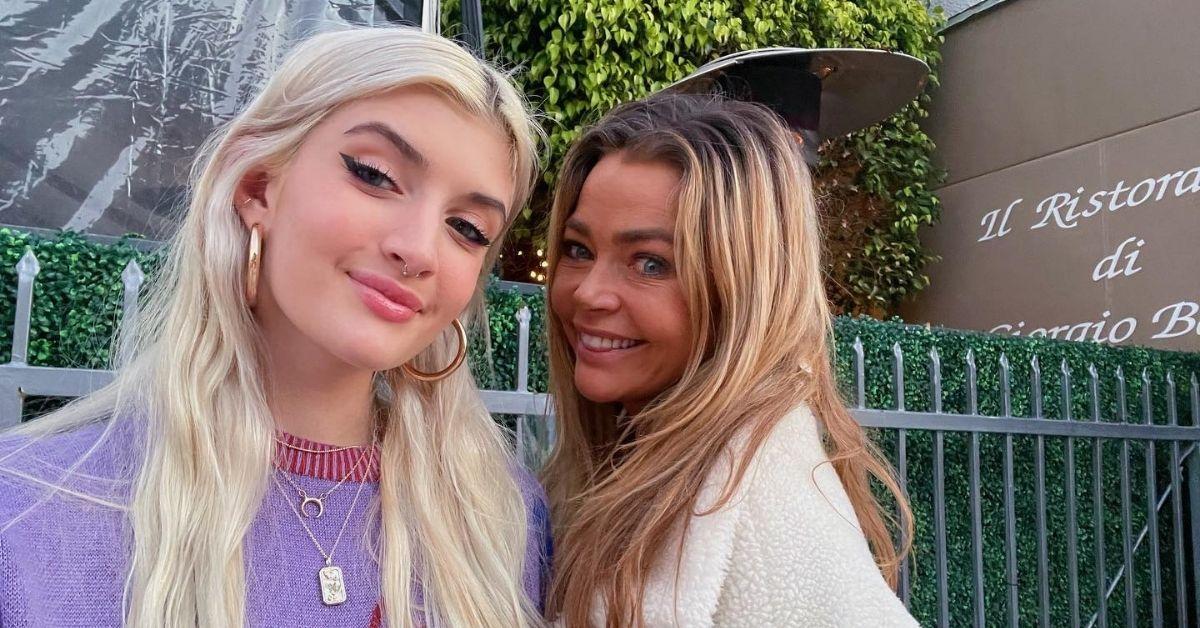 Denise Richards and her daughter Sami Sheen both have OnlyFans accounts.
In June 2022, Denise's daughter Sami added her OnlyFans page to her Link Tree account on Instagram. The influencer stated in her OnlyFans bio that she updates her content three times a week. Since the launch, Sami has received over 7,000 "fans" and likes as of this writing.
Article continues below advertisement
Shortly after Sami's debut, Denise created an OnlyFans account for herself and posted the link in her Instagram bio. The 51-year-old Drop Dead Gorgeous star gained over 30,000 fans in a few weeks and charged $25 monthly for a subscription. While Denise's new venture has been successful thus far, she admittedly questioned if she should have the same business plan as her child.
Article continues below advertisement
"I thought, 'Is that going to be a little odd?'" Denise explained to KTLA in July 2022. "Then she said, 'We're both on Instagram,' and I said, 'You're right!'"
Denise also stated that while Sami encouraged her to join OnlyFans, social media commenters bashed the 18-year-old for creating her page.
"My daughter got a lot of backlash for opening the account," Denise said. "I had heard of OnlyFans, but I wasn't educated on what OnlyFans was, and once I started to learn about it, I really think that the creators of the site really took the best of every platform of social media and put it into one site."
Article continues below advertisement
Denise Richards' ex-husband, Charlie Sheen, didn't approve of their daughter having an OnlyFans account.
While Denise offered Sami plenty of support when she joined OnlyFans, Charlie expressed his disapproval after the page came out. In June 2022, the Two and a Half Men star seemingly blamed Sami's decision on his ex-wife.
Since their divorce, Charlie and Denise have had joint custody of their daughters. However, he declared he wouldn't have allowed Sami to create the page if she was at his home full-time.
"She is 18 years old now and living with her mother," Charlie told Page Six. "This did not occur under my roof."
Article continues below advertisement
Before Charlie's interview, Sami reportedly chose to stay with her mother full-time after claiming on TikTok that her father's house was abusive. But, Denise has since stated that she and her ex are on good terms and are doing their best to navigate their co-parenting relationship.
"I think it's great to be able to support one another and to not have judgment of what something may or may not be," she said of her ex in July 2022 to Us Weekly.